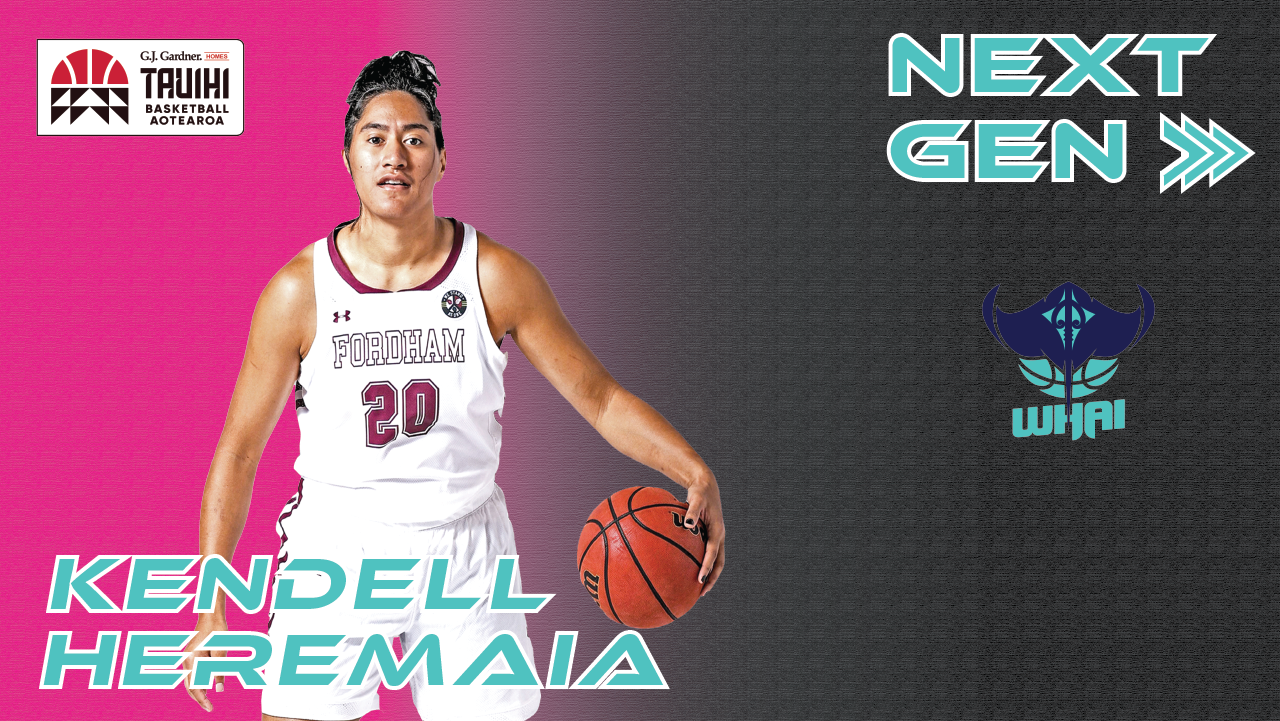 Posted on Tuesday, April 19th, 2022
Next Gen: Kendell Heremaia thrilled to return home after five-year stint in USA
Kendell Heremaia was unsure where her basketball journey would continue after an impressive five-year stint at Fordham University in the United States, but an offer to play for the Mid-North Whai in the inaugural Tauihi Basketball Aotearoa season was one she didn't hesitate to accept.
It wasn't until recently that Heremaia found out her friends and whanau were unable to watch live streams of her games while playing NCAA Division 1 basketball in New York, instead having to resort to an online radio stream or by simply watching the live stats update. Now, Heremaia is just one of many New Zealanders who will return home and play in front of friends and whanau for the first time in many years and she can't wait.
"When I was in college all my whanau could do was listen to the game or watch the live stats. I didn't know that until recently either. Mum and them made it out to seem like they could watch the games live, but that wasn't the case. I'm excited that they'll be able to watch me play in person again," said Heremaia.
Friends and family aside, Heremaia is a player that everyone should be keeping an eye on in 2022. She totalled 1,291 Division 1 points during her stint at Fordham, a mark which places her fifth amongst New Zealand women all-time and is surrounded by elite names such as Stella Beck (1,439), Megan Compain (1,497) and Micaela Cocks (1,195). Heremaia was also named to All-Conference teams in both 2020 and 2021.
The 23-year-old posted averages of 11.3 points, 5.9 rebounds and 2.2 assists in 28 games during her senior season, highlighted by a record-breaking 35-point performance against the University of Massachusetts earlier this year. Heremaia dropped 11 3-pointers in that outing, breaking a programme record that had been in place since 1994.
"Before we even left for the game, I had this funny feeling. Usually, I go with one of my teammates to shootaround before warmups and I wasn't hitting every shot, but I just felt comfortable," she said.
"I became aware of this new record after the game. First thoughts, really cool feeling but I know my Dad would say 'do that every game'. I'm stoked to have my name on something that another baller can work hard to beat. And wow 1994, I wasn't even born yet!"
Heremaia said she not only grew a lot as a basketball player during her time in the United States, but she made strides off the court as an individual and she credits Fordham Rams head coach Stephanie Gaitley for the impact she had.
"I have changed a lot from this experience both as an athlete and as an individual. My independence and making good decisions are probably my biggest reflection of the achievements I have accomplished. I was taught from an early age that goal setting was going to be an important part of my life. Five years is a long time to be away from my family, but I came home as often as I could which helped to keep me focused on my goals.
"I will always be grateful for Coach Gaitley. She taught me some great lessons about what my role is professionally and independently in the team, she enforced what I knew instinctively. While at school I was a student first and an athlete second," said Heremaia.
Heremaia will be hoping to use a strong 2022 season to springboard her into Tall Ferns contention, something she says will always be on her radar no matter where she is in the world.
"The Tall Ferns are always going to be a tough goal for me to achieve because I must work really hard to be recognized as someone to be a worthy participant. I haven't been able to achieve that yet. The Tall Ferns will always be on my radar."
Heremaia will be joined by the likes of Sharne Robati and Esra McGoldrick at the Whai, both of whom helped the Tall Ferns qualify for the FIBA 3x3 World Cup in June. The Whai begin their season on July 2 against the Tokomanawa Queens. You can find the full schedule HERE.
--
Check out highlights from Kendell Heremaia's record breaking 35-point game vs. UMASS: