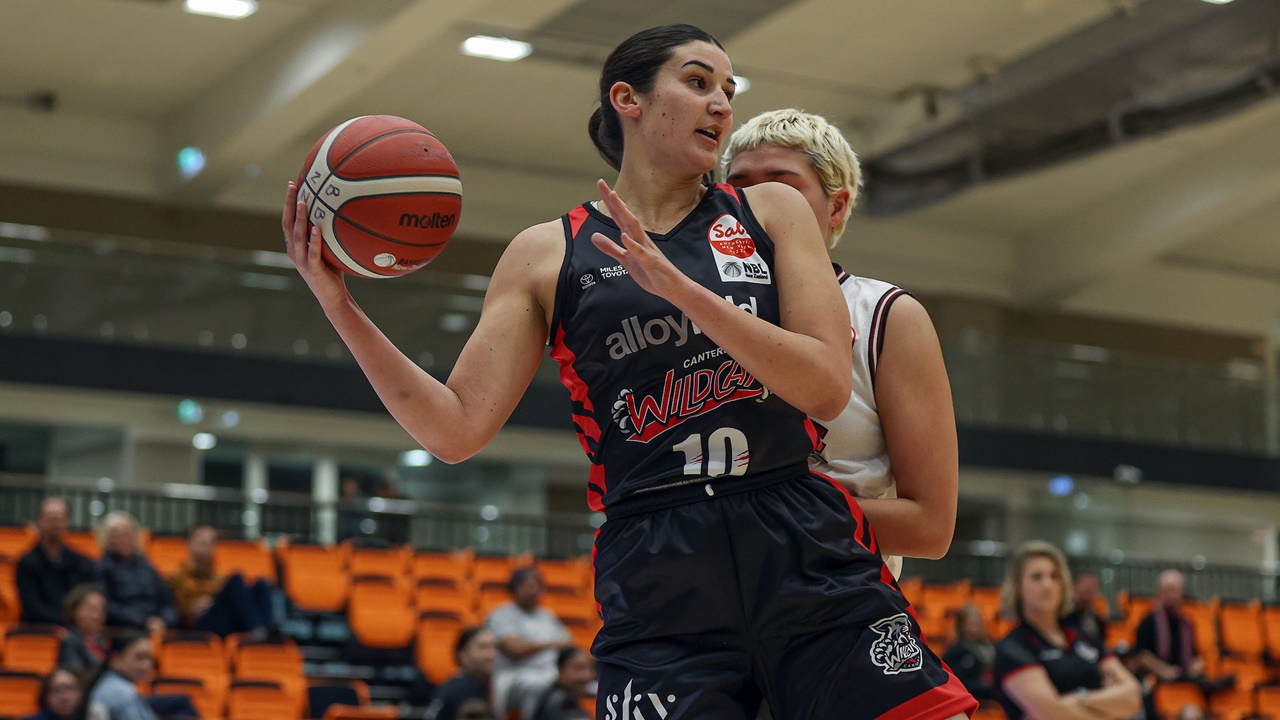 Posted on Friday, August 13th, 2021
WILDCATS SNEAK PAST BREEZE IN OVERTIME
Tessa Boagni was the star of the show as Alloyfold Canterbury Wildcats beat Platinum Homes Harbour Breeze 75-70 after overtime in the late game of the Sal's NBL on Friday evening at Pulman Arena in Auckland.
The Wildcats centre knocked down a three to tie tied the game (62-62) with 9.2 seconds left in regulation to force overtime. She scored 8 points in the additional spell and finished with a huge double-double of 34 points and 21 rebounds.
It was the perfect start for coach Mel Downer and her charges after failing to win a game last season.
Earlier Ella Fotu scored the opening points of the game but it was the Wildcats that grabbed the early initiative opening an 11-6 lead – Hannah Mischewski draining a three with her first shot in the NBL.
Tessa Gush and Tiarna Clarke replied from long range enabling Breeze to take a 19-15 advantage into the first break.
Boagni, returning to action after a 12 months absence, opened the second quarter scoring from inside and when a long three followed the Tall Ferns forward was the first player into double figures – the scores locked at 22 points apiece.
Fotu's corner three reinstated the Breeze lead but a Nicole Cutler score on the half-time buzzer tied proceedings at 30 points each.
Harbour breezed to an 11-0 start to the second half before Boagni snared her tenth rebound with an offensive board and a put back bucket.
Lauryn Hippolite and Gemma Etheredge trimmed the deficit further – Andrea Gleeson tying the game once again.
Clarke had the last say of the quarter to give the Breeze a 48-44 lead at the last break.
Gleason made it a one point game with 6 minutes to play and Boagni kept it that way with a baby hook – 3:30 remaining.
Neither team could land the killer punch down the stretch, an extra five minutes and Boagni's heroics needed to separate the two.
Canterbury Wildcats (75) defeated Harbour Breeze (70) AOT - BOX SCORE
BREEZE: T Boagni 34pts/21rebs/5steals, L Hippolite 9/10a, A Gleason 8, H Mischewski 6
WILDCATS: T Clarke 30, E Fotu 13, J Kailahi-Fulu 12, A Anderson 6, K Tini 2/9r
Talking Points
In 2020 Harbour Breeze didn't lose a game while Canterbury Wildcats failed to win one, would those result sequences continue? It's only the first game but Boagni has rejuvenated the Wildcats and the Breeze have a little soul searching to do
Tessa Boagni claiming a huge double-double on her return to the NBL is pleasing for Wildcats and Tall Ferns fans alike – what a performance.
Tiarna Clarke and Lauryn Hippolite, two of the up and coming guards in the NBL, had a ding-dong battle – your referee scored the contest a draw!
Bartercard MVP Votes
10 points - T Boagni (Wildcats)
8 points - T Clarke (Breeze)
5 points - E Fotu (Breeze)
3 points – L Hippolite (Wildcats)
2 points – T Elia (Wildcats)
2 points – J Kailahi-Fulu (Breeze)
All games are at Bruce Pulman Arena in Takanini, Tāmaki Makaurau Auckland
Photo Credit: Photosport