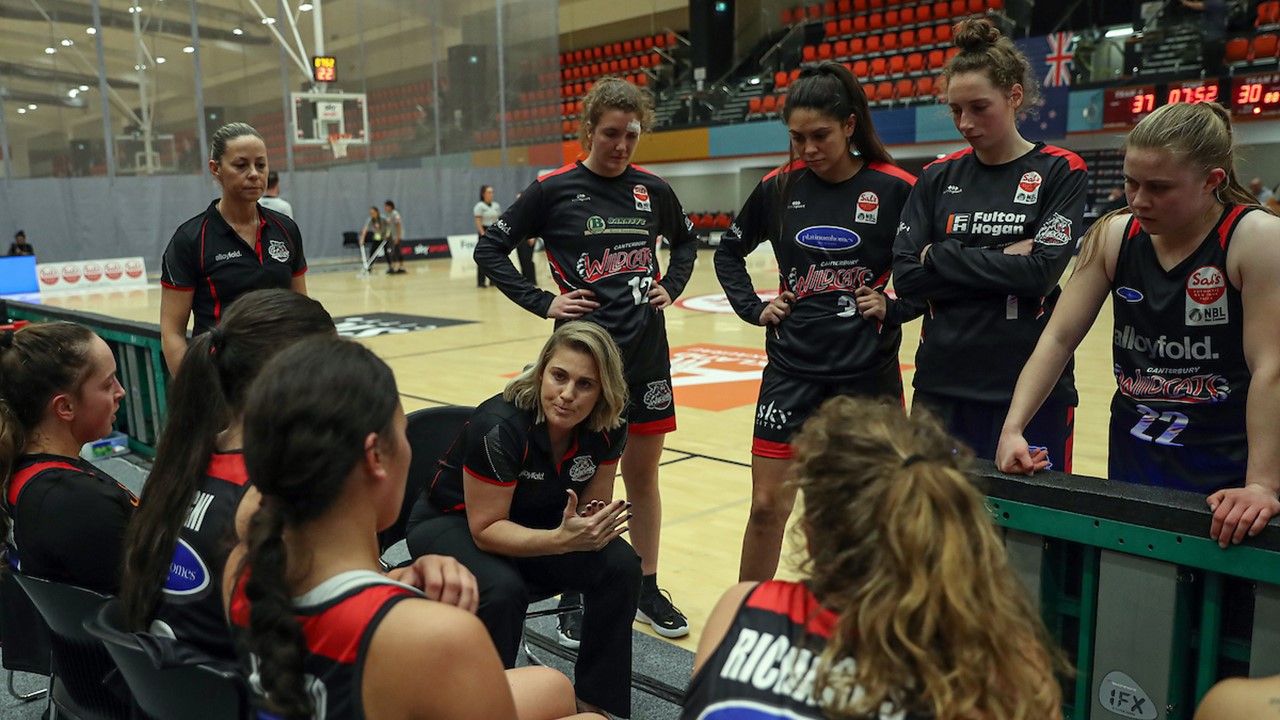 Posted on Sunday, August 15th, 2021
Wildcats Celebrate Second Win To Remain Unbeaten
The Alloyfold Canterbury Wildcats secured their second win of the 2021 Sal's NBL season with a 78-58 victory against ETCO Auckland Dream at Pulman Arena in Auckland on Sunday.
Tessa Boagni continued her sparkling early season form with another big haul of 27 points and 11 rebounds while rookie guard Hannah Mischewski impressed with 15 points and Nicole Gleason scored a dozen.
For the Dream Esra McGoldrick (11 points and 15 rebounds) and Amanda Wayment (15 points and 14 rebounds) were both in double-double territory. 
In early action the guard trio of Nicole Gleason, Lauryn Hippolite and Hannah Mischewski had knocked down threes to propel the Wildcats to an early lead.
In contrast Esra McGoldrick and Amanda Wayment went inside to accumulate their points – Wildcats ahead 21-12 at quarter time.
Wayment put up a rare three that found nothing but net and Lauren Whittaker did likewise either side of an Emma Trolove basket.
Neither side was finding scoring straightforward but Boagni's banked three and Sapphire Wairau's effort from the corner helped the Wildcats cause.
Olivia Berry's transition bucket and Casyn Buchman's triple got the Dream scoring moving again but successful trips to the charity stripe from Boagni and Hippolite helped the wildcats to a 41-28 half-time lead.
Mischewski started the second half in the same fashion as the first and at the other end Wayment was the go-to player for the Dream although they trailed 48-33 at the mid-point of the third.
The dependable Terai Elia added points to her defensive work before McGoldrick, after an athletic block went coast-to-coast for a couple of points.
Gleason moved her tally into double figures alongside Mischewski and Boagni meaning the Wildcats were 56-40 ahead with a quarter to play.
The Dream needed a good start to the final quarter to work their way back into the contest but it was the diminutive Mischewski that made the move pushing the Wildcats out to a 20-point lead.
Boagni added to the Dream's woes, her second successive double-double ensuring a Wildcats victory.
Canterbury Wildcats (78) defeated Auckland Dream (58)
DREAM: Wayment 15/14r, Berry 13, McGoldrick 11/15r, Vucinic 6
WILDCATS: Boagni 27/11r, Mischewski 15, Gleason 12, Hippolite 9, Etheredge 8, Elia 2/8r/6a
Talking Points
1. Would three games in four days take it's toll on the Dream effort later in the game? It certainly looked a tired performance from the Aucklanders.
2. The dual between the Cantabrian centres Tessa Boagni and Esra McGoldrick (wearing Dream colours) was an intriguing affair. Both produced quality double-double performances.
3. The Wildcats failed to win a game last season but two wins from two outings will have delighted players and supporters alike – especially against the two Auckland sides!
Bartercard MVP Votes
Tessa Boagni (Wildcats) 7
Esra McGoldrick (Dream) 7
Amanda Wayment (Dream) 7
Hannah Mischewski (Wildacts) 5
Olivia Berry (Dream) 3
Nicole Gleason (Wildcats) 1
Looking Ahead
The Sal's NBL takes a three day break before resuming again on Thursday August 19 when Platinum Homes Harbour Breeze will meet Firebrand Otago Gold Rush at 6.00pm followed by Alloyfold Canterbury Wildcats against Te Wānanga O Raukawa Capital Swish at 8.00pm.
All games are at Bruce Pulman Arena in Takanini, Tāmaki Makaurau Auckland