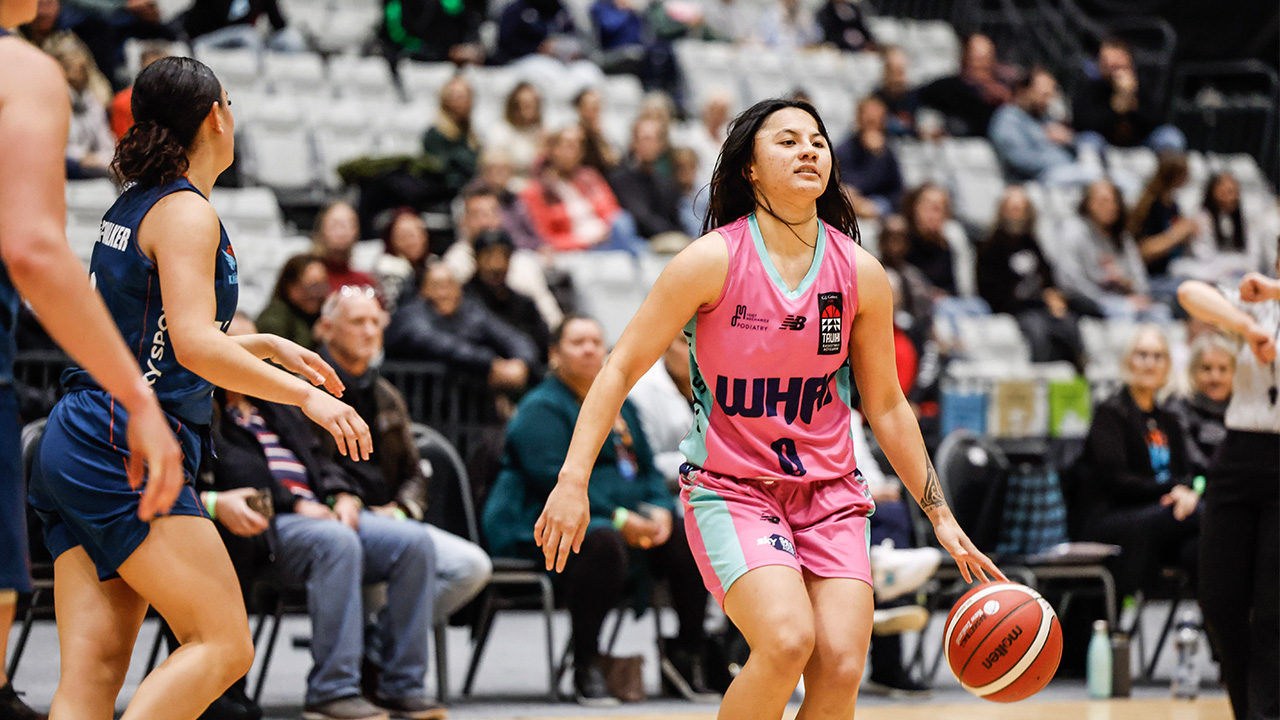 Posted on Monday, July 18th, 2022
Whai Guard Tiarna Clarke Hits Record-Setting 11 Triples Versus Pouākai
Tiarna Clarke has today broken the all-time record for most 3-pointers made by a woman in a New Zealand professional basketball game; the Whai and 3x3 Tall Ferns guard draining an incredible 11 shots from beyond the arc, in her team's 99-69 win over the Mainland Pouākai in round 3 of GJ Gardner Homes Tauihi Basketball Aotearoa.
Clarke scored 34 points in the game to lead her team, shooting 11-of-20 overall on her 3-point attempts. She hit nine shots from beyond the arc in the second half, including six triples in the third quarter when her team erupted for a season-high 41 points in the period.
The 23-year-old has steadily developed a reputation as a lethal shooter this year - as evidenced in the 3x3 Tall Ferns unbeaten run at the FIBA 3x3 Asian Qualifiers in Doha earlier this year, when she led the squad in scoring.
Clarke says that even though a good shooting night felt overdue for her, she didn't come into this game expecting to have a performance quite like this.
"After not being able to find my shot over the last few games, then hitting this many threes this game, it's indescribable – honestly it's just the greatest feeling to be able to help my teammates to a win, and then afterwards having my teammates support me and show the love for what I've done," says Clarke.
"I came in knowing I had to lift my game to help the team get a win, so I knew I had to come in tonight and play a role; then I saw the Canterbury side were going under every screen and I was open – my teammates were like 'if you're open just shoot it', so the support and the confidence they gave me was huge."
Clarke says that confidence in her own abilities, and knowing that she has the 'green light' to shoot from her teammates and coaches, is key to being a successful shooter.
"I'm a big believer in confidence, I think confidence is everything; but you have to be able to have that support through the good and the bad and then confidence comes from that.
"If my teammates are backing me, then through miss or through make, I know I'm able to put up those shots and they've got my back no matter what."
As Clarke prepares to head to Birmingham with the 3x3 Tall Ferns at the end of the month, she is hopeful this historic performance will give her and the team an added boost.
"Having this performance tonight means there's a bit of pressure to bring that form into Birmingham, and I still have one more Whai game [in Tauihi] to play before I head off too.
"So I'm hoping that this isn't just a one-off thing, and I'm able to bring this kind of shooting into my next game and then carry it across with me to the Commonwealth Games - and that the team can medal off of that."
Clarke and the Whai take on the Northern Kahu in GJ Gardner Homes Tauihi Basketball Aotearoa on Tuesday 19 July, before the hot-shooting guard heads to Birmingham with the 3x3 Tall Ferns from 28 July – 8 August.
Find out more about GJ Gardner Homes Tauihi Basketball Aotearoa at https://tauihi.basketball/
Find out more about the 3x3 Tall Ferns team for the Birmingham Commonwealth Games at https://nz.basketball/birmingham-2022-commonwealth-games-3x3-basketballers-ready-for-games-debut/