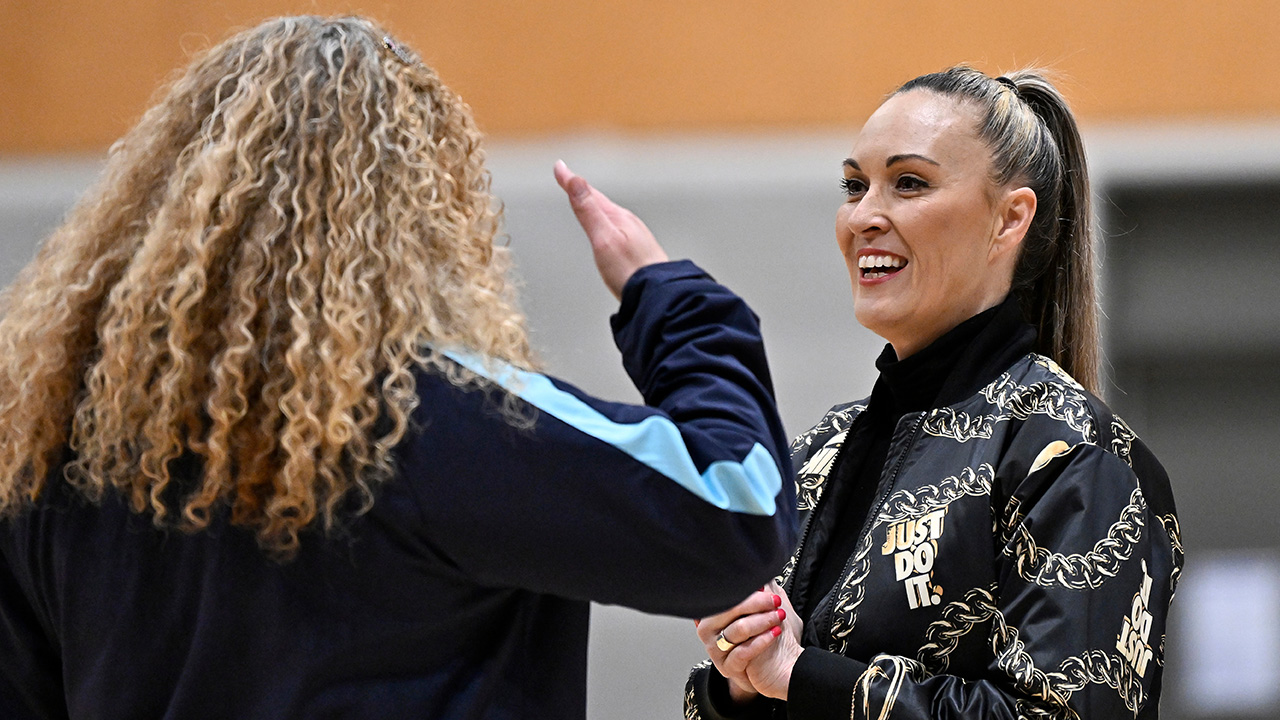 Posted on Tuesday, September 5th, 2023
The Lacey Log – Round 8
Photo credit: Masanori Udagawa
The eighth and final round of GJ Gardner Homes Tauihi Basketball Aotearoa finally cleared up the regular season standings and with it the semi-final matchups. 
Northern Kāhu, for the second successive season, claimed the regular season title following an away win at Tokomanawa Queens while Whai secured the fourth semi-final berth following a convincing win at Mainland Pouākai thus ending the championship aspirations of the Mainlanders. 
Some outstanding individual accomplishments were also achieved in Round 8, most notably by a pair Kāhu players, although the performances of a duo of point guards can't be overlooked. 
But firstly the Final Four semi-final lineups have been confirmed with northern neighbours Whai and Kāhu facing off in one semi and the Queens and Southern Hoiho matching up in the other. 
Regular Season Tauihi Standings
33 points – Northern Kāhu (P12, W9, L3) 
27 points – Tokomanawa Queens (P12 W6 L6) 
23 points – Southern Hoiho (P12 W7 L5) 
21 points – Whai (P12 W6 L6) 
16 points – Mainland Pouākai (P12 W2 L10) 
Back to the individual achievements and they came thick and fast in the final game of the round between Kāhu and Whai. 
Two days after Chrislyn Carr had become the third player to score 34 points in a single game, Kāhu's Tess Madgen set a new mark of 37 points in the victory against Whai. 
In the same game Kāhu forward Ilmar'I Thomas became the first player to score over 300 points in a single season when she scored her 14th point of the game. 
Earlier in the round Pouākai's facilitator extraordinaire Kennedy Leonard dished 17 dimes to set a new Tauihi record for assists in a single game. 
The Sky Broadband Rapid League title had already been decided with Mainland Pouākai the inaugural champions. With no play-offs involved Pouākai, boasting a 10-2 record, have claimed the inaugural championship.    
GJ Gardner Homes Tauihi Basketball Aotearoa -  Round 8 Results
The Recruitment Network Mainland Pouākai 84, ANZCO Tokomanawa Queens 96  
The Recruitment Network Mainland Pouākai's season came to a disappointing end after suffering a 96-84 home loss to ANZCO Tokomanawa Queens at Cowles Stadium on Thursday night. 
Needing a win to keep their slim play-off hopes alive the Pouākai's chances were dealt a big blow with a knee injury ruling Tall Ferns guard Ash Taia out for all but the opening seconds of the game. 
Trailing 45-37 at half-time the Pouākai's chances looked promising when they drew level at the start of the second half but after then conceding ten straight points they were unable to put much of a dent in the Queens lead. 
The Queens entered the final period 71-55 ahead and although a Leonard score reduced the deficit to eight points with four minutes remaining that was a close as the Pouākai would get. The loss meaning Whai claim the fourth semi-final berth with two games in hand. 
Pouākai were well served by Sharne Robati (18 points) while Esra McGoldrick, recently signed by the Bendigo Spirit, also scored 18 points. Jasmine Dickey added 14 rebounds to ten points but had a disappointing shooting night making just 4 from 20 from the field. Kennedy Leonard was on the cusp of a triple double as she scored 10 points, grabbed 9 rebounds and also dished a staggering 17 assists to set a new Tauihi record, while Australian centre Nat Burton tallied 14 points on 6 from 9 shooting.  
For the Queens Chrislyn Carr tallied 27 points with Stella Beck adding 11 rebounds to a season best 21 points – the pair making 14 from 15 free-throws in the process. There was also season best for Josie Trousdell (10 points) and Grace Hunter (11 points) while Steph Watts returned after missing the previous game through injury to post 15 points. 
A-Early on McGoldrick scored 9 first quarter points but it was the Queens that grabbed a 24-16 lead with their first 18 points made in batches of three – Hunter with a brace from beyond the arc. 
Carr scored 7 quick points and when Josie Trousdell and Hunter added points the Queens were 36-23 ahead. 
Burton's inside make prompted a 10-0 Pouākai run although Steph Watts would close the first half scoring as the visitors headed to the locker room ahead 45-37. 
Pouākai scored the first 8 points of the second half to tie proceedings but were outscored 26-10 in the remainder of the third ahead of their season coming to a disappointing close. 
Whai 89, Southern Hoiho 67 
Southern Hoiho were dealt a massive blow in the lead up to the game against Whai with the news that star centre Ashten Prechtel will be unavailable for the remainder of the season. Prechtel sustained a foot injury last weekend against the Kāhu and her recovery time means she was not available for the trip to Porirua for to the Final Four next weekend. 
Prechtel, in addition to averaging 20.4 points per game, is the league leader in rebounds (15.5 RPG) and blocks (3.0 BPG) and the Hoiho just couldn't cover for those numbers eventually going down 89-67 at Queen Elizabeth Youth Centre in Tauranga on Friday night despite a career night form Zoe Richards.  
The Tall Ferns forward posted a career best 30 points on 12 from 17 from the field an 6 from 8 from the free-throw line to go with 11 rebounds. Richards received good support from Ahlise Hurst (14 points) and Paige Bradley (9 points, 6 rebounds and 7 assists) but just one point from the bench players was a telling factor in the defeat. 
Aaliyah Wilson scored a season best 20 points for Whai while fellow American Mikayla Cowling impressed with 26 points, 14 rebounds and 6 assists. McKenna Dale posted 19 points, with useful hands also played by Matangiroa Flavell (6 points and 8 rebounds) and Jade Kirisome (4 points, 3 assists and 3 steals).   
Cowling raced to 11 points as Whai opened up a 20-14 first quarter lead. 
Despite Richards putting on a shooting clinic – 23 first half points on 9 from 11 from the field – Whai were able to take a narrow 38-37 lead into the half-time break with 8 points apiece from Dale and Wilson lending support to Cowling's thirteen. 
A pair of Hurst triples, mirrored by Dale, highlighted the third frame before a driving basket from Amy West plus and And-1 play from Wilson kept Whai in the ascendancy (64-58). 
Bradley reduced the margin with a three-point play but when Wilson was successful from deep the Whai lead was 11 points (74-63) with 5:12 to play. 
Cowling and Flavell pushed the lead out towards twenty and with the brave Hoiho effort finally fading Honey Cooney and Tatiana Kaumoana put the finishing touches to the win. 
ANZCO Tokomanawa Queens 75, BNZ Northern Kāhu 87 
BNZ Northern Kāhu locked up topseeding at the Final Four next weekend with an 87-75 victory against ANZCO Tokomanawa Queens at Te Rauparaha Arena in Porirua on Saturday afternoon. 
The Kāhu led by as many as 29 points at one stage but had to hold off a stirring Queens comeback led by livewire guard Chrislyn Carr who scored 34 points to equal the Tauihi single game scoring record. 
Trailing by 16 points with under seven minutes to play Carr reeled off ten straight points to make it a six-point game (78-72) with four minutes to play. 
The experienced Tess Madgen scored much needed points for Kāhu before three free-throws from Carr equalled the Clarke record and kept the margin at six points with 3:08 on the clock.   
Carr and Co engineered a couple more good looks down the stretch but it was Tera Reed and Ilmar'I Thomas that made scoring plays to thwart what would have been the largest comeback in Tauihi history. 
Carr received good support from Tall Ferns guards Stella Beck (15 points and 8 rebounds) and Grace Hunter (13 points). 
Thomas led the Kāhu effort with 28 points missing just two of her 16 shots in the game. Krystal-Leger Walker scored 12 points while there were double-double performances from Reed (17 points and 12 rebounds), Penina Davidson (15 points and 15 rebounds) and Madgen (15 points and 10 assists). 
Kāhu began the contest with a 19-4 run in the first 6 minutes and racked up a 32-8 advantage by quarter time with 11 points provided by Thomas. 
The Queens put together a much improved second quarter with Carr scoring 9 points in the period but with Thomas and Davidson, on her birthday, in double figures the Kāhu lead was 53-33 at the interval. 
Reed and Leger-Walker dropped triples but Carr and Hunter reduced the margin below 20. Madgen and Thomas restored the 20-plus lead only for Beck and Steph Watts to give the Queens hope with the deficit 15 points (73-58) at three-quarter time. 
Thomas and Davidson kept the advantage at 15 before the Carr blitz had the home crowd on their feet. 
The former University of Louisville star looked as if she could make the impossible happen before Kāhu regained their collective composure to close out a win that in the end was far less straightforward than the 12-point margin suggests. 
In addition to sealing top spot on the Tauihi ladder the result brings to an end the Kāhu's sequence of five straight losses against the Queens.  
BNZ Northern Kāhu 99, Whai 88 
In a precursor to Saturday's semi-final in Porirua BNZ Northern Kāhu won a free scoring contest 99-88 at Eventfinda Stadium in Auckland on Monday night, an occasion when numerous records were set. 
For a start there were three players that topped the 30-point mark in the game with that in itself a first. 
Australian Opals captain Tess Madgen set a new Tauihi single game record by scoring 37 points (11/18FG, 4/7 3PG, 11/12FT) while teammate Ilmar'I Thomas scored 28 points (11/16FG) and in so doing became the first player to score 300 points in a Tauihi season. 
For Whai, McKenna Dale and Mikayla Cowling posted career high's with Dale tallying 33 points (12/25FG) and Cowling 32 points to go with 9 rebounds. 
Madgen indicated her intent scoring 16 points in the opening quarter as Kāhu established a 27-21 lead.  
A brace of threes from Dale kept the margin in single figures until a barrage of treys from the Kāhu opened up a sizeable advantage. Thomas, Madgen, Tera Reed (10 points) and Azure Anderson (10 points) all converted from deep enabling the hosts to take a 49-33 lead into the half-time break. 
Missing the services of injured centre Sarah Sagerer, Whai made light of the inconvenience as they charged back into contention either side of the three-quarter time mark. 
Ten points from Dale in the third, plus contributions from Jade Kirisome (9 points), brought the margin back to 11 points (68-57) at the last break. 
Cowling and Dale continued to pile on the points, the pair combining for 17 straight Whai points as they closed to 81-74 with 4 minutes to play. With Aaliyah Wilson (12 points) adding a free throw the deficit became just 6 points.  
However with timely triples from Awatea Leach and Reed, and Madgen and Thomas adding to their record numbers, the spirited Whai challenge was finally overcome. 
Next up the semi-final clash! 
Sky Broadband Rapid League - Round 8 Results
Sal's Mainland Pouākai 27, ANZCO Tokomanawa Queens 42  
Both teams loaded up their lineups for this key clash with imports and Tall Ferns scattered liberally through the two teams. 
Natalie Burton scored the first four points of the game before triples from Chrislyn Carr and Letava Kenny (9 points) helped Queens forge a 9-4 quarter one advantage. 
A brace of threes from Carr, headed for a game high 14 points, extended the Queens lead although a trey late in the quarter from Lauryn Hippolite (8 points) kept Pouākai in the hunt as they were only down 18-14 at half-time. 
A quartet of threes from the Pouākai courtesy of Hippolite, Esra McGoldrick and Kendell Heremaia (8 points) – cancelled out Kenny and Kalani Purcell efforts as the margin was trimmed to a single point at the three-quarter mark. 
From the riches of twelve third quarter points Pouākai could manage just a solitary free-throw in the fourth. A Parris Mason three in the closing seconds meant the Rapid League champs had been outscored 15-1 in the final period as they slumped to just their second loss of the season.   
Whai 26, Southern Hoiho 33 
The first Rapid League overtime game of the season went the way of the Southern Hoiho who claimed a 33-26 victory over Whai in Tauranga on Friday. 
When Pahlyss Hokianga (9 points) gave Whai a 26-23 lead with just 14 seconds left in regulation time a home victory looked almost certain. However fellow Youth Player of the Year nominee Tyler Mitchell (10 points) knotted the scores with just 8 seconds remaining to send the game into overtime. 
Brittany Richards put Hoiho ahead before Jenn O'Connell doubled the margin. O'Connell finished with 8 points and a Rapid League record that may stand for a very long time – she had EIGHTEEN rebounds! 
Mitchell put the icing on the win, just the second of the season for the Hoiho. 
Alyssa Hirawani had an assist and 7 first quarter points as Whai opened up a 9-6 lead before the visitors had the better of the second period to lead 16-13 at half-time. 
A brace of Hokianga baskets tipped the advantage back the way of the Whai as they took a 19-18 lead into the fourth frame. 
The lead changed hands a couple of times in the fourth ahead of the dramatic finish and that inaugural overtime period. 
ANZCO Tokomanawa Queens 39, BNZ Northern Kāhu 34 
ANZCO Tokomanawa Queens produced a stunning fourth quarter comeback to defeat BNZ Northern Kāhu 39-34 in Porirua on Saturday afternoon. 
Trailing 30-22 entering the final period they outscored the Kāhu 17-4 in the final five minutes to steal the victory – Eva Langton (8 points), Grace Hunter (7 points) and Tegan Graham (15 points) the destroyers. 
12 straight points gave the Queens the lead which was nullified by Ash Udesike (10 points) before the afore mentioned trio made a score apiece to ease the hosts to victory. 
Azure Anderson and Udesike gave Kāhu an early 8-5 lead which became 17-13 at the main break. 
Five points each from Awatea Leach and Riana Rangi-Brown gave Kāhu that sizeable three-quarter time advantage before Langton set the ball rolling for the dominant final frame from the Queens. 
BNZ Northern Kāhu 27, Whai 17 
The final Rapid League fixture of the season resulted in a 27-17 win for BNZ Northern Kāhu at Eventfinda Stadium, on Aucklands North Shore, on Monday night. 
The Tini's, Keeley and Jaycin, gave Kāhu the lead prior to 7 straight points from Alyssa Hirawani. 
Anika Hyland's reverse layup tied the scores before Awatea Leach (8 points) and Ash Udesike gave the hosts a 15-12 half-time lead. 
Triples from Jaycin Tini (7 points) and Azure Anderson increased the Kāhu lead but a couple of Amy West scores kept Whai in touch, trailing 21-16 at three-quarter time. 
The Tini's would have the final say as the curtain came down on the inaugural Rapid League season.