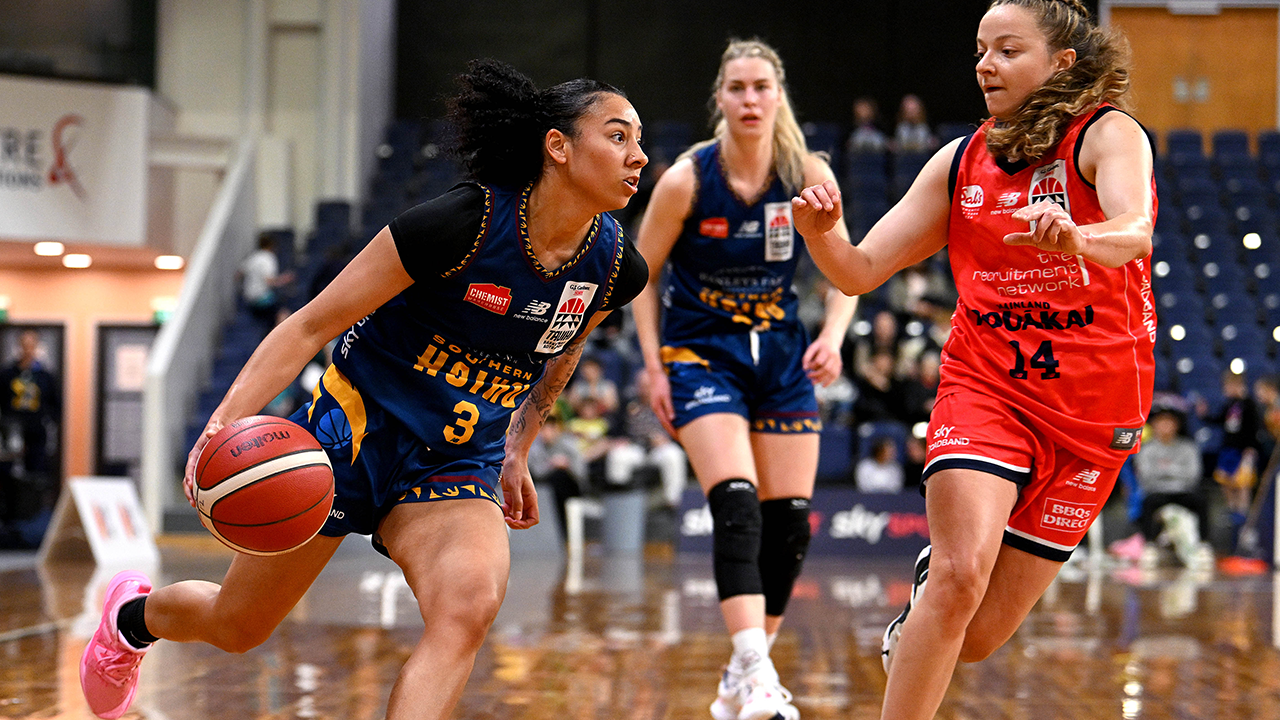 Posted on Monday, August 28th, 2023
The Lacey Log – Round 7
Photo credit: Joe Allison
The muddy waters of the play-off positions cleared a little during Round 7, the penultimate round of GJ Gardner Homes Tauihi Basketball Aotearoa. 
The most significant move came from Whai who propelled themselves into fourth place on the ladder with wins against Tokomanawa Queens and their rival for the coveted fourth place, Mainland Pouākai. 
The Pouākai loss guaranteed a semi-final berth for the three teams at the top of the table.  
Northern Kāhu moved into outright top spot on the ladder with a home victory against Southern Hoiho in the last game of the round on Sunday night. 
Tauihi Standings with one round remaining: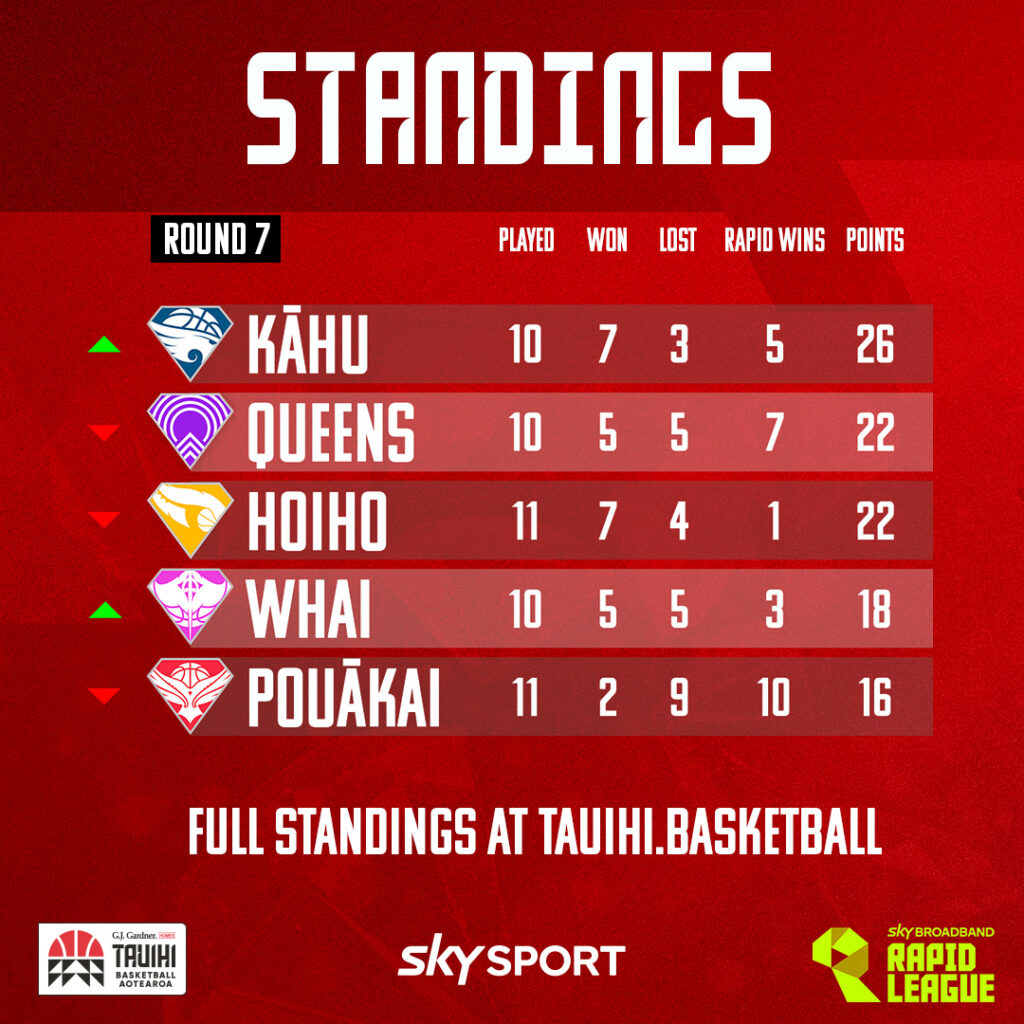 The Sky Broadband Rapid League title has already been decided with Mainland Pouākai the champions. With no play-offs involved Pouākai, boasting a 10-1 record, have claimed the inaugural championship with a game remaining. 
GJ Gardner Homes Tauihi Basketball Aotearoa Round 7 Results
Whai 85, ANZCO Tokomanawa Queens 68 
Despite the inclusion of new signing Kalani Purcell the ANZCO Tokomanawa Queens couldn't overcome the loss of the import duo of Steph Watts and Maya Dodson going down 85-68 to Whai at Queen Elizabeth Youth Centre in Tauranga on Thursday night. 
Whai's first home win of the season came on the back of 21 points apiece from Sarah Sagerer and Mikayla Cowling, 16 points from McKenna Dale and 8 points and 10 assists from Aaliyah Wilson. There was also a valuable 9 points and 5 rebounds cameo from Matangiroa Flavell. 
Chrislyn Carr led the way for the Queens making 21 points with skipper Stella Beck posting 17 points on 7 from 11 shooting. Tegan Graham pulled down a game high 12 rebounds to accompany 9 points with fellow forward Josie Trousdell notching 8 points. 
The sight of Kalani Purcell back on court, just a few weeks after giving birth to baby daughter, will have delighted all New Zealand basketball fans. The 74-capped Tall Fern didn't disappoint making both of her field goal attempts and all four free throws for 8 points in just 11 minutes of action. 
Tegan Graham had 8 points in the opening quarter as did Cowling -  the period shaded 19-15 by the hosts. 
Back-to back mid-range jump shots from star guard Carr trimmed the margin to three points (29-26) mid-way through the second period. 
Flavell, making a welcome return to Whai colours, nailed a triple and when Cowling did likewise the Whai had an 11-point lead. 
Queens had marginally the better of the closing stages of the half, as Carr took her tally into double figures, but still trailed 42-35 as the teams headed to the locker room at the main break. 
Despite the considerable efforts of Beck and Carr and the first Tauihi points for Purcell it was Sagerer's 13-point quarter that made the difference as Whai took a 62-51 lead into the final period. 
A fourth Sagerer three of the contest stretched the Whai lead to 19 points before Carr and  Purcell combined for eight straight points.  
Flavell and Wilson ensured their would be no late dramas while Anika Hyland put the icing on the first home win – the Tauranga Girls High guard nailing a corner three in the closing seconds. 
Southern Hoiho 84, The Recruitment Network Mainland Pouākai 74 
Southern Hoiho defeated The Recruitment Network Mainland Pouākai 84-74 at the Edgar Centre in Dunedin on Friday night, the victory creating a three-way tie at the top of the Tauihi ladder with Hoiho joining Northern Kāhu and Tokomanawa Queens on 22 competition points. 
In contrast Pouākai slipped to a third successive loss with their game against Whai on Sunday taking on increased significance as the two teams battle for a top four finish. 
Hoiho were paced by former Oregon Duck Ahlise Hurst, the Australian guard scored with her first five shots and eventually posted 28 points. Centre Ashten Prechtel produced her ninth double-double (17 points and 17 rebounds) in ten games while floor general Paige Bradley posted 20 points, 8 rebounds and 8 assists. Also with an impressive stats line was Zoe Richards who added 8 rebounds, 5 assists and 4 steals while going past 200 Tauihi career points in the process.   
Jasmine Dickey put together a game high 31 points but she was the only Pouākai player in double figures. Ash Taia scored 9 points on debut, Kennedy Leonard added 10 assists to 8 points but Esra McGoldrick (5 points) and Sharne Robati (7 points) were well marshalled by the Hoiho defence.  
Hurst converted all four of her three-point attempts for 14 points as Hoiho outscored Pouākai 24-11 in the opening quarter. 
Lauryn Hippolite's triple was cancelled out by Richards and when Prechtel scored on consecutive plays Hoiho had doubled the Pouākai score (34-17) and the visitors needed a timeout. 
Tall Ferns guard Ash Taia dropped her first triple in the Tauihi although with Prechtel and Hurst also netting from deep, the Hoiho lead climbed to 22 points.  
Dickey scored much needed points for Pouākai in the shadows of half-time but they would have had plenty to discuss in the changing rooms at the break with a 46-29 deficit to overcome. 
Whatever message coach Josh Thompson delivered had the desired affect as his team delivered 9 straight points on the resumption. The momentum was short lived however with Hurst and Bradley taking charge after Richards had benefited from a Prechtel assist delivered whilst sitting in the key!   
Richards also scored the last points of the quarter as Hoiho enjoying the comfort of a 70-52 lead. 
That comfort became concern as the home side were outscored 16-3 in the first 5 minutes of the fourth to have the lead trimmed to 73-68. 
Prechtel and Bradley eased the anxiety of the home crowd and although Dickey crossed the  30-point mark for the second time this season the Pouākai comeback had been repelled. 
The Recruitment Network Mainland Pouākai 83, Whai 92 
The Recruitment Network Mainland Pouākai are on the outside looking up at the top four after suffering a 92-83 home defeat to Whai at Cowles Stadium on Sunday afternoon. 
A fourth successive loss leaves Pouākai fifth on the Tauihi ladder meaning they will have to beat Tokomanawa Queens in their final game, and hope Whai lose both of their remaining fixtures, in order to claim a semi-final berth. 
For Whai it was their second win of the round and their play-off spot is now in their own hands as they look forward to meetings with Southern Hoiho and Northern Kāhu in the final round of the regular season. 
Whai, paced by Sarah Sagerer and Mikayla Cowling, rode a strong third quarter to set up the victory. 
Leading by just four points early in the third, after a Lauryn Hippolite trey, Sagerer, Cowling and McKenna Dale stretched the Whai lead to 14 points (66-52). 
Esra McGoldrick and Jasmine Dickey reduced the margin before Cowling and Dale pushed Whai ahead 71-62 with a quarter remaining. 
That lead quickly became double digits again as Sagerer free-throws moved the margin to 12 points with under five minutes to play.  
McGoldrick, Kennedy Leonard and Dickey led the exciting Mainland charge in the closing minutes as the deficit was reduced to four points (85-81) with 2:56 to play. 
The excellent Cowling steadied the Whai nerves with the next two scores before Jade Kirisome iced the win from the foul line. 
Cowling, in scoring a team high 28 points, passed 200 points for the season (at 22.2ppg) while Sarah Sagerer scored a season best 27 points on 11 from 19 shooting. Dale, one of the finds of the season, posted 15 points, 6 rebounds and 7 assists, with the dependable Kirisome scoring 10 points. 
For Pouākai, Leonard dished a Tauihi best 15 assists to accompany 11 points while Jasmine Dickey piled on 31 points for the second time in the round. Tall Ferns Esra McGoldrick and Lauryn Hippolite scored 13 and 9 respectively while former Australian Opals forward Natalie Burton added 7 rebounds to 9 points in just her second appearance. 
Earlier, all three imports got on the board as Whai scored the first 11 points of the game. The  response was in threes as five different Pouākai players converted from deep to tie the scores at quarter time (24-24). 
Cowling restored the Whai lead and after an exchange of scores McGoldrick gave the hosts their first lead of the game. A Matangiroa Flavell three reinstated Whai's advantage; 46-45 ahead of that second half action. 
BNZ Northern Kāhu 82, Southern Hoiho 75 
BNZ Northern Kāhu moved to the top of the Tauihi ladder with a hard fought 82-75 victory against a resilient Southern Hoiho at Eventfinda Stadium on Sunday evening. 
Hoiho trailed for the majority of the contest but never allowed Kāhu to build a comfortable lead as the probing Paige Bradley (20 points and 4 assists), shooting guard Ahlise Hurst (14 points) and the forward duo of Ashten Prechtel and Zoe Richards pounded the paint. Prechtel finished with 14 points and 9 rebounds while the energizer Richards equaled her season best score with 19 points to go with 12 rebounds. 
Trailing 64-54 at three-quarter time Hoiho demonstrated their intent scoring the first seven points of the final frame but they were then dealt a punishing blow with Prechtel hobbling to the sideline with a right foot injury and unable to see the game out. 
Penina Davidson scored back-to-back baskets but undaunted by the loss of their star centre Hoiho refused to go away. 
Hurst, the possessor of the sweetest jump shot in the league, and Richards reduced the margin to four points inside the final four minutes. 
Tess Madgen and Ilmar'I Thomas free-throws held the Hoiho at bay but when Hurst made a brace from the charity stripe Hoiho were within striking distance (75-70) with 2:08 to play. 
The visitors played outstanding defence for 23 seconds on the next possession only for Krystal-Leger Walker to beat the shot clock with a triple for her first points of the game. 
There was time for Bradley to make her fourth three of the night but Madgen and Leger-Walker scores finally saw of the spirited Hoiho challenge. 
Thomas, the leading scorer in Tauihi '23,  finished with a game high 29 points (10/15FG, 9/10FT), Madgen added 8 assists to 18 points, Akiene-Tera Reed scored 10 with Davidson constructing a double-double of 15 points and 16 rebounds.  
After a tight opening quarter was shaded by Kāhu 19-16 a Madgen three followed by a Thomas jumper took Kāhu to a ten point lead ahead of a typical Richards effort play. The Hoiho forward nailed a three following her own offensive rebound. 
A Prechtel put back pulled Hoiho within three points before another Madgen triple closed out the first half scoring – Kāhu ahead 39-31 at the interval. 
Bradley and Prechtel ensured the difference remained in single digits until Thomas and Awatea Leach combined for the last six points of the third to give the hosts a 64-54 advantage with ten minutes to play. 
Hoiho were far from finished! 
Sky Broadband Rapid League Round 7 Results
Whai 19, ANZCO Tokomanawa Queens 37 
The ANZCO Tokomanawa Queens, with Letava Kenny scoring 11 points, enjoyed a comfortable 37-19 road win against the Whai at the Queen Elizabeth Youth Centre in Tauranga on Thursday night. 
A couple of tripes from Grace Hunter propelled Queens to a 9-3 opening quarter lead which, after six straight points from Kenny, midway through the second quarter was extended to 19-7. Jade Kirisome and Matangiroa Flavell scored late in the period to cut the margin to seven points (19-12) at half-time. 
Eva Langton and Teararoa Sopoaga quickly re-established a double figure lead as the visitors, with a dominant 14-1 third frame, put the result to bed. 
Southern Hoiho 15, Sal's Mainland Pouākai 34  
Sal's Mainland Pouākai claimed the inaugural Rapid League championship after collecting their ninth win from ten outing with a 34-15 victory over Southern Hoiho at the Edgar Centre in Dunedin on Friday night. 
Jen O'Connell and Tyler Mitchell got Hoiho on the board but a brace of baskets from Esra McGoldrick and Natalie Burton, fresh off a flight from Western Australia, took Pouākai to a 9-4 quarter time lead. 
Alexa Duff, out of Columba College, made the first score of the second period although with McGoldrick hitting double figures the Pouākai lead crept up to 15-6 by half-time. 
Hoiho also scored the first points of the third stanza courtesy of Sophie Adams but they were outscored 14-3 in the period to trail 29-12. 
McGoldrick finished with 14 points and Tsubasa Nisbett with 9 points as Pouākai eased to the win and the title.  
Sal's Mainland Pouākai 44, Whai 26
Sal's Mainland Pouākai, with the luxury of four Tall Ferns in their line-up, reaffirmed their status as 2023 Rapid League champions with a 44-26 victory against Whai at Cowles Stadium in Christchurch on Sunday afternoon. 
Three of that quartet were instrumental in Pouākai charging to a 28-10 half time lead – Esra McGoldrick, Lauryn Hippolite and Jacinta Beckley making telling contributions. 
Whai, with four teenagers in their ranks, responded in positive fashion scoring eight unanswered points in the third period before going on to share the spoils (16-16) in the second half. The Jones sisters Sophie and Emma, playing together for the Whai for the first time, both made scoring contributions. 
Another teenager, Lauren Whittaker, top scored for Pouākai with 14 points (3/5FG, 7/7FT) while Jade Kirisome led the way for the visitors with a well compiled 12 points. 
That's 10 wins in 11 Rapid League outings for the Pouākai. 
BNZ Northern Kāhu 32, Southern Hoiho 20 
BNZ Northern Kāhu dominated the second half to record a 32-20 come from behind victory against Southern Hoiho at Eventfinda Stadium in Auckland on Sunday. 
Former North Harbour representative Millie Simpson, returning to her home court, scored four points as Hoiho established a 10-6 quarter time lead. 
Eliana Tuaiti got Kāhu on level terms briefly before triples from Brittany Richards and Tyler Mitchell gave the visitors a 17-12 half-time lead. 
Kāhu increased their defensive effort in the third quarter while at the offensive end Keeley Tini gave them a 20-18 advantage at the three-quarter time advantage. 
Kāhu kept the defensive clamps on in the fourth, their victory sealed after successive threes from Awatea Leach and Tuaiti.