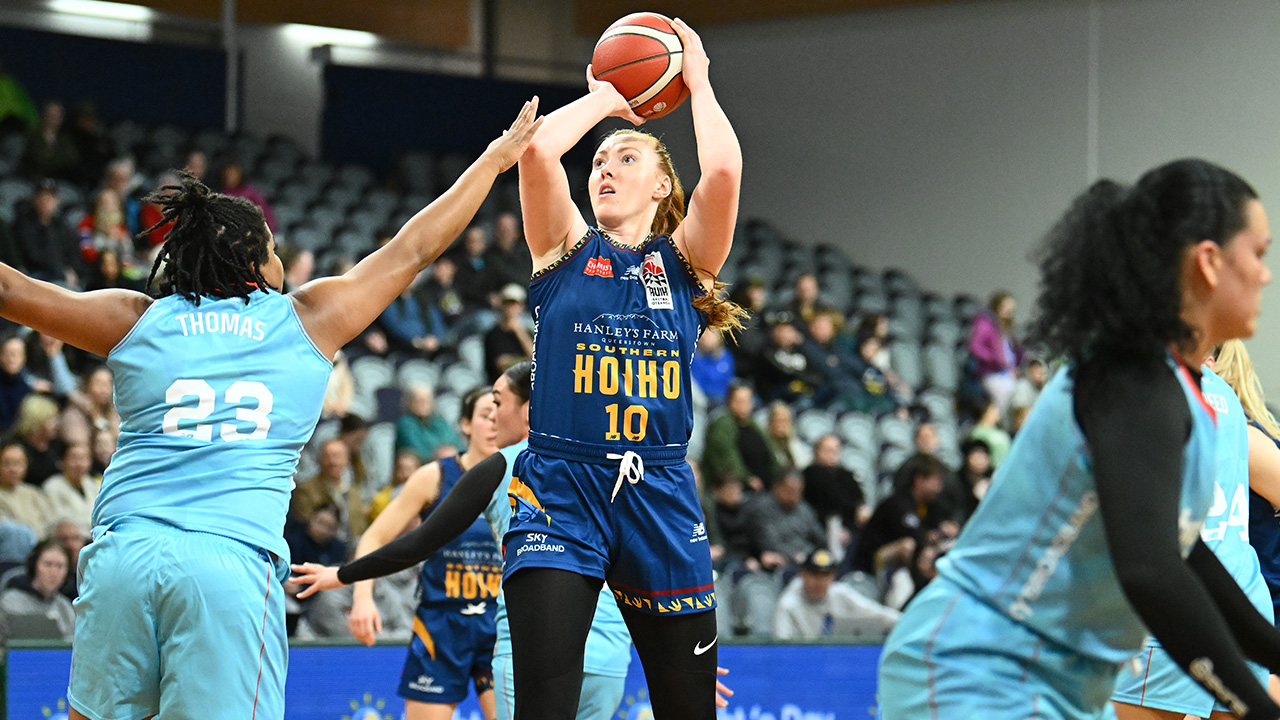 Posted on Monday, July 17th, 2023
The Lacey Log – Round 1
Photo credit: Blake Armstrong
The opening round of the GJ Gardener Homes Tauihi Basketball Aotearoa season showed that Southern Hoiho, unlike last season, will be a competitive force in 2023.
With just a single win in the whole of last season the 2022 cellar dwellers would have been at long odds to pick up a victory against the reigning champions on their home court. Those odds would have been even greater for successive victories but that's what they accomplished.
Two wins in four days – Todd Marshall and his charges have hit the ground running!
Also up and running are Whai. Despite being without Head Coach Mel Bennett – heading the New Zealand U16 Women's success at the Asia Cup in Jordan – Whai were able to grab an away win in Christchurch against Pouākai.
GJ Gardener Homes Tauihi Basketball Aotearoa - Round 1 Results
Tokomanawa Queens 75, Southern Hoiho 82
Whilst Hoiho enjoyed double figure contributions from all five starters their success can largely be attributed to Ashten Prechtel's stunning professional debut. Her 25 points and 21 rebounds against the 2022 champions was not only a player of the game performance but also the first occasion, in the relatively short history of Tauihi, that a 20-point and 20-rebound double-double has been accomplished.
It was fascinating to witness her match up with former Stanford University teammate Maya Dodson. Whilst Dodson produced a more than useful 10 points, 7 boards and 5 blocks performance you have to say the first meeting of the two was won by Prechtel.
Hoiho's success wasn't solely down to their centre however. Fellow imports Ahlise Hurst scored 16 points while Paige Bradley, who only met her new teammates on the morning of the game after arriving from playing in Australia, had a nice double of 12 points and 11 assists. Also to the fore were Samara Gallaher (10 points) and Zoe Richards.
Richards had arguably her finest game in Hoiho colours snaffling 12 rebounds to accompany 15 points. Four of those rebounds came off the offensive glass where Hoiho had a massive 22-4 advantage.
Whilst her team were far from overrun that rebound count disparity is an area Queens head coach Tania Tupu will be looking to address before their next outing.
She will take solace from the fact that all three new imports showed glimpses of class and Paris Lokotui, on debut, provided a spark off the bench.
Southern Hoiho  82, BNZ Northern Kāhu 76
Twelve months ago, BNZ Northern Kāhu would have looked certain to bank a win on their trip to Dunedin. However the 2023 Hoiho are made of sterner stuff as victories against both of last year's grand finalists demonstrates.
This win came on the back of a dominant third quarter after the scores were tied 37 points apiece at half-time.
Kāhu mounted a comeback in the fourth and when Tera Reed completed a tough layup with 1:17 to play the Hoiho lead had been reduced to four points (76-72).
However, Zoe Richards was able to convert a pair of freebies before Ahlise Hurst sealed the victory with a deep three – her fourth triple of the game.
Kāhu had made the better start – nine first quarter points from Reed giving them a 20-24 lead.
Reed (27 points) and American forward IImar'I Thomas (17 points and 9 rebounds) combined to give the visitors a double figure lead before the in-form Hoiho front court duo of Richards and Ashten Prechtel  combined for 14 points. The teams locked up at 37-37 at half-time.
It was all Hoiho in the third quarter as they ran up 28 points to lead 65-50 at the last break.
All five starters made contributions in addition to Gracie Roberts-Hare. Back from playing four years in the Dutch League the Nelson native's layup capped off a dominant quarter from the hosts.
A Sophie Adams score stretched the lead to 19 points before Ahlise Hurst made it 21. But last season's finalists weren't finished as they rattled off 12 straight points. When Ash Udesike converted a pair of free throws with 2:29 to play the Hoiho lead had been whittled down to 7 points.
That became 5 points when Tahlia Tupaea (24 points) took advantage of a trip to the charity stripe. Hurst made a freebie at the other end before Reed made the driving layup to test the Hoiho nerves.
Richards and Hurst provided the response the home fans craved as both capped fine individual performances.
Hurst finished with 19 points while Richards (19 points and 11 rebounds) and Prechtel (17 points and 12 rebounds) contributed double-doubles for the second time in as many games.
For now Hoiho coach Todd Marshall can enjoy the warm glow of successive victories while Kāhu coach Jody Cameron will be checking flight times at Auckland Airport as she awaits reinforcements in the shape of Tall Ferns Penina Davidson and Krystal Leger-Walker.
Will they be here in time for Kāhu's game against Mainland Pouākai on Wednesday? We will know shortly.
Mainland Pouākai 73, Whai 79
In a cracker at Cowles, where there were 13 lead changes and 10 tied scores, Whai outlasted Mainland Pouākai to claim a valuable 79-73 road win.
When an Esra McGoldrick turn around jump shot gave Pouākai a 73-68 lead with just over three minutes to play a home win looked on the cards. However, Whai would close out the contest with an 11-0 run – Amy West tied proceedings, Aaliyah Wilson (12 points) scored the go ahead basket in transition before Mikayla Cowling iced the tie with four from four from the foul line.
Cowling, the former University of California Golden Bears star, was outstanding with 27 points and 10 assists. Equally impressive was former Junior Tall Fern McKenna Dale who with 32 points (8/13 3PG) was only two points shy of equalling the Tauihi individual scoring record.
For Pouākai, Great Britain international point guard Kennedy Leonard tallied 20 points and 7 assists while Sharne Robati and McGoldrick were thorns in the side of their former team. Robati finished with 18 points and 8 rebounds while McGoldrick continued the good form she displayed with the Tall Ferns at the Asia Cup earlier this month accumulating 20 points, 11 rebounds and 4 blocks.
Dale's 10 points helped the visitors shade the opening spell 25-22 while Leonard's half-time three-point buzzer beater gave Pouākai a 39-37 lead at the interval.
Rookie Karereatua Williams thrilled the large home crowd with a couple of threes though Dale was damaging for Whai – the ex-University of Virginia wing nailed five triples in the third term as her team took a one-point lead (59-58) into the fourth.
Through McGoldrick, Robati and Leonard Pouākai worked their way into a winning possession before their scoring dried up in those critical final three minutes thus opening the door for Whai to claim the win.
Sky Broadband Rapid League
Tokomanawa Queens 30, Southern Hoiho 17
The inaugural Rapid League encounter went the way of Tokomanawa Queens
The innovative new format, that sees teams play four by four minute quarters ahead of each Tauihi fixture, saw Queens defeat Southern Hoiho 30-17.
Te Araroa Sopoage, Parris Mason and Letava Kenny scored 9, 7 and 6 points respectively for the Queens.
Sopoaga had the distinction of scoring the first ever Rapid League points – Caitlin O'Connell the first points for Hoiho that trailed 8-4 at quarter time.
Sopoaga and Letava Kenny, with a brace of baskets apiece, extended the Queens advantage to 17-7 at half-time.
Four points from Caitlin O'Connell aided the Hoiho cause ahead of a Grace Hunter driving layup.
The start of the fourth saw Jennifer O'Connell and Tyler Mitchell trim a ten point deficit marginally. The Hoiho threat was then snuffed out as Parris Mason's five points secured a Queens victory.  
Southern Hoiho 33, Northern Kāhu 20
Twelve points from Tyler Mitchell (3/5 3PG) and nine from Gracie Robert-Hare propelled Southern Hoiho to a convincing 33-20 win against Northern Kāhu at Dunedin's Edgar Centre.
Mitchell, the former Hamilton Girls High standout, hit a triple to open the scoring ahead of an Ash Udesike bucket for  the visitors.
Teenage Tall Fern Ritorya Tamilo scored her first points before the O'Connell's - Caitlin and Jennifer - added to the Hoiho lead – the home side 17-8 ahead at half-time.
The second half began in the same fashion as the first with a Mitchell three. Riana Rangi-Brown hit back with a triple of her own though Brittany Richards and Sophie Adams then took the hosts to a 27-13 three-quarter time advantage.
Kāhu threatened a comeback with seven straight points before triples from Roberts-Hare and Mitchell saw off that threat in emphatic fashion.
Mainland Pouākai 39, Whai 18
In the highest scoring Rapid League game of the opening round victory went the way of Mainland Pouākai with 17 year-old Ashlyn Rean a standout. The leading scorer at the Girl's 2023 U19 National Championship Rean went a perfect 6 from 6 from the field as she accumulated a game high 14 points.
Both teams began the game with a pair of Tall Ferns in their starting lineup – Lauryn Hippolite and Esra McGoldrick for Pouākai and Alyssa Hirawani and Amy West for Whai.
Initially Wai coped admirably with Pouākai's full court pressure trailing by just 5 points at half-time (17-12).
Hirawani made the opening score of the second half although Hippolite's triple was the immediate response.
From there Pouākai were able to reel off 17 unanswered points to run away with the win.
McGoldrick (9 points), Hippolite (5 points) and Olivia O'Neill (2 points and 6 assists) gave Rean good support. Making a welcome return to top level basketball Hirawani (5 points and 4 rebounds) was the leading light for Whai.