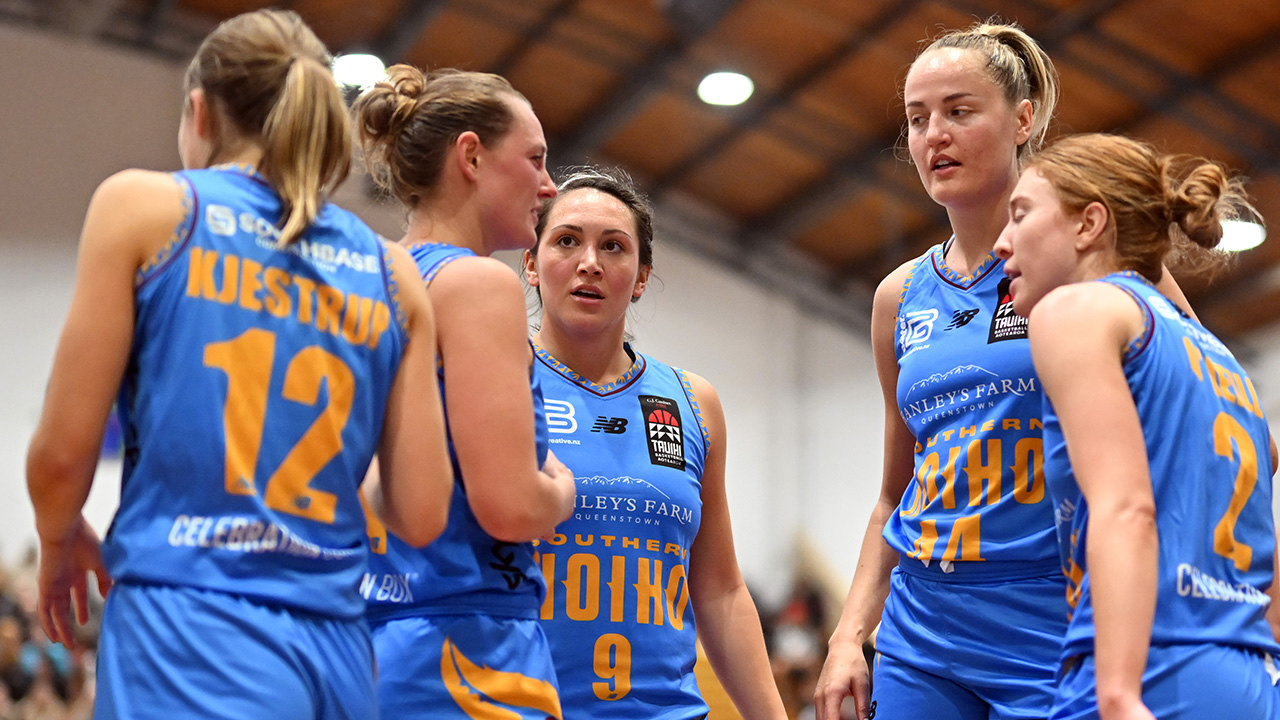 Posted on Friday, July 29th, 2022
Shonny's Summary: Hoiho fly high in first win
The Crusaders may have defeated the Blues in the Super Rugby final, but the Northern Kāhu are keeping the rivalry alive, defeating the Pouākai and adding another famous Auckland victory over Canterbury to the books. (Yes, we proud Aucklanders exist)
After being down by 14 points, the Kāhu's counter-attack was led by a 27 point showcase from Australian star Tahlia Tupaea. The 36th pick in the 2017 WNBA draft willed her team to success creating space and forcing defenders to watch as she dominated in the lane.
She didn't have it easy though, taking on one of the most unstoppable players in Tauihi - Trinity Baptiste. The opponents exchanged back-to-back points as the American used her distinctive fadeaway and mid-range jumper to pressure the Northerners. Tall Fern, Mary Goulding was a menace on the boards, grabbing nine rebounds to add to her 15 points.
Shout out to the Southern Hoiho, who after much persistence and adversity clinched their first win of the season against the Whai. Even with the odds stacked against them, they fought back from 12 points down with Laina Snyder, Samara Gallaher and Zoe Richards fueling the win. Arguably the toughest player in the league - Hoiho Captain, Gallaher set the tone, leading with aggression and desperation to fight for every possession.
Snyder stuffed the stat sheet with 21 points, eight rebounds, four assists, four steals and a block while Richards added 12 points and six rebounds. It was great to see them get on the winners board with this giving them momentum in the business end of the season.
The Whai stepped up big time in their win over the Tokomanawa Queens, just a day after losing to the Hoiho. Their determined zone defence caused the Queens turnover trouble early in the match.
After being down by 24 points and 17 at half-time, the Queens were on the brink of a remarkable comeback getting within a few possessions in the final minutes. But some crunch time heroics from Kyra Lambert sealed the game as she drained a couple of 3-pointers. Matangiroa Flavell also shot an impressive six goals from beyond the arc.
To close the round the Kāhu won their eighth consecutive game and started strong in their most complete performance of the season. Their depth truly shined with Martè Grays and Tera Reed co-starring in their side's 48-point domination of the Southern Hoiho - the biggest win of Tauihi.
They were influential both on offence and the defensive end, combining for 46 points, with Reed adding nine rebounds and two steals. Grays also shot an impressive 9-of-13 from the field and snatched three steals. Tupaea added 12 assists, showing her ability to get her teammates involved.
Worth mentioning:
The Whai continue to be dangerous from 3-point land and this round it was thanks to Matangiroa Flavell who shot an outstanding 6-of-9 from deep against the Queens. She also recorded 22 points, five rebounds and four assists. She could not be stopped as she got some good looks and executed. In just three games, the Tall Fern is averaging 11.7 points and 47.6% from three.
Kyra Lambert is now second on the MVP rankings, behind Tahlia Tupaea and just above Micaela Cocks. Despite her small stature, she is second in the league in rebounds averaging 8.9 per game and leads in assists with 5.5. Her versatility and athleticism is unmatched, and like many fans I can't wait to see more incredible performances from her as the season progresses.
Martè Grays is one of the quiet achievers of Tauihi. She plays on average only 24 minutes per game but has been a big reason for the Kahu's success. She showed up and showed out against the Hoiho this round, with a game-high 25 points. Just when you thought Tupaea and Cocks were causing enough issues for the league, Grays has shown she's another threat to look out for.
Round 5 Preview
Mainland Pouākai vs. Tokomanawa Queens | Saturday, July 30th @ 5pm
The Pouākai host the Queens with both teams holding the same record of three wins and four losses. They also have similar shooting stats with Mainland averaging 71.3 points while the Queens are averaging 72.4 points per game.
However, a big difference is that Tokomanawa are averaging 10.7 steals per game compared to the Pouakai with 4.7. In their recent matches, the Queens have shown how they can capitalise on their opponents errors with defensive pressure.
It's been fun to watch the Queens' Stella Beck and Pouākai's Mary Goulding bring grit and spirit to their respectives teams, making an impact even without scoring the most points. Expect to see another tenacious effort from both.
Goulding is averaging 9.4 points, 7.6 rebounds and 3.4 assists in only 25 minutes of play while Beck has recorded an average of 11.3 points, 6.0 rebounds, 3.3 assists and 2.1 steals.
Whai vs. Northern Kāhu | Sunday, July 31st @ 2:30pm
The Whai host the Kāhu who don't look like they'll be losing anytime soon. With just one win separating the Stingrays from the Queens and Pouākai on the ladder, they'll be looking to find the extra edge to beat the Kāhu and achieve something no other team in Tauihi has.
Leading the competition in rebounds with 11.9 per game - Nikki Greene will be tough to contain in the post as she matches up with fellow American Madison Wolf.
It won't be hard for the guard-heavy Kāhu to find offensive options when they go up against the attacking prowess of Lambert and Flavell which will make for an entertaining game.
Southern Hoiho vs Mainland Pouākai | Monday, August 1st @ 7pm
As seen in their victory over the Whai, when everyone can impact the game offensively, especially the star three of Snyder, Gallaher and Richards, they can challenge other teams.
With four matches left of the regular season, the Hoiho will want to finish with a bang despite where they are on the standings. In four of their eight matches, the Hoiho have been down by less than five points at halftime but gone on to win only one of these matches.
Consistency and a full team effort will be key to getting more wins for the Hoiho. As for the Pouākai, they will no doubt be the favourites to take the game as they look to get back on track with their last victory being in round three over the Queens.
Tokomanawa Queens vs Southern Hoiho | Wednesday, August 3rd @ 7pm
Coming off their loss to the Whai, the Queens will be looking for a more polished performance after almost spoiling the Whai's run in their game this round. They look to finish their head-to-head series with the Hoiho after winning their two previous encounters.
Florencia Chagas is expected to put on a show while Nared will also be one to look out for. Despite shooting 4-of-16 against the Whai this round, Nared persisted and recorded a double-double. Queen's Swedish centre, Elin Gustavsson had a quiet game and will want to redeem herself against the Hoiho. 
One thing that has stood out this season from the Southerners is not only Snyder's finesse but also her ability to maintain the same energy through every single match. She may look quick on TV, but she's even faster in person - I can definitely vouch for this.
The globally experienced forward leads her team in every key statistic and has kept her foot on the gas no matter the result. No doubt she'll come out firing once again in this game.