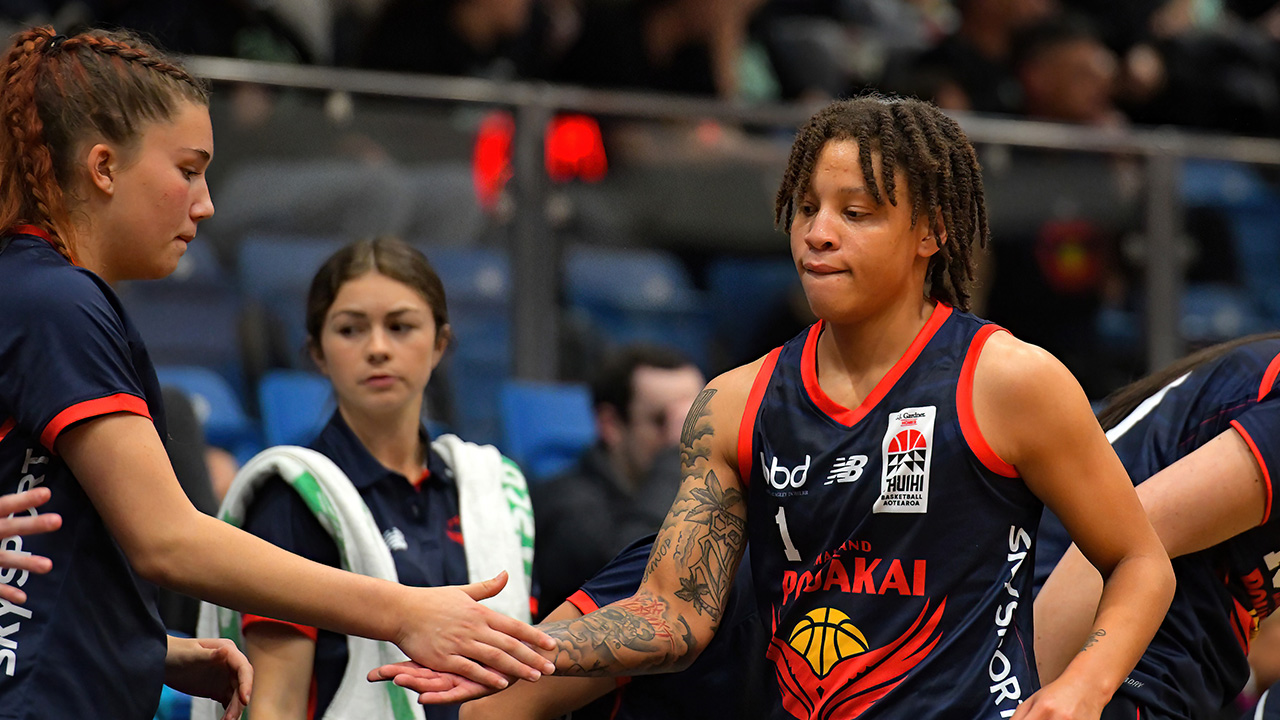 Posted on Thursday, September 8th, 2022
Inaugural season showcases local and international talent | Mainland Pouākai
This is the second instalment of a five-part series written by Jake Fitzgibbon.
Read the Tokomanawa Queens instalment HERE.
--
It was a turbulent season for the Mainland Pouākai with key players in and out of the lineup due to international commitments, and injuries that dealt big blows. The Pouākai were without Ella Fotu and Mary Goulding at various points when they were overseas representing the 3x3 Tall Ferns, Goulding would then tear her Achilles midway through the season and captain Tessa Boagni took a hard elbow to the face from Nikki Greene in the final week, leaving her with a broken nose and concussion and ruling her out of the Final 4. With two key Tall Ferns out of the equation, it made life that much more difficult for the Pouākai, who would eventually fall to the 2022 champions the Queens in the semi-finals.
Mainland also swapped imports late in the season, bringing in Jailin Cherry for Cierra Walker. Cherry showed flashes of her offensive talent once she got comfortable but having her on board earlier in the season could have shifted the season outlook for the Pouākai. An ankle injury would hit her right before the Final 4, limiting her practice time and adding to the list of woes for Mainland this season. Cherry only played in five games for the Pouākai but she rattled off back-to-back 18-point outings to conclude her brief Tauihi stint. 
Regardless of their misfortunes, the Pouākai possessed one of the most talented players in the league in Trinity Baptiste. Baptiste's offensive game was unlike any other in Tauihi this season, with her fadeaway midrange jumper almost automatic and a nightmare for teams to guard. The American forward knew how to get to her spots and would make the defence pay 9 times out of 10, posting averages of 19.1 points (3rd), 7.3 rebounds and 1.5 assists on 57.7% (1st) from the field and 42.9% from range - she was unlucky to have missed out on an All-Star Five spot with production like that.
Tall Fern Tessa Boagni led the league in blocks for the duration of the season, swatting 1.7 shots per game for the Pouākai. Boagni's toughness and grit can be admired by all, as even after taking the elbow from Greene she would still return to play in that game and would appear in the following game, too. The 26-year-old was her team's fearless leader and defensive stalwart, and head coach Tully Bevilaqua showed her appreciation for Boagni by sporting her Tall Ferns jersey on the plane ride home to America - how cool is that!?
American Erin Whalen was a vocal leader for the Pouākai and a steady source of offence. She recorded averages of 15.3 points, 5.5 rebounds and 2.3 assists per game on 43.2% shooting from the field and 37.2% from distance (5th). Whalen's best game of the season came against the Hoiho where she dropped 22 points, six rebounds and four assists on a 6-of-11 clip from three. 
The 17-year-old Maia Jones only made a few brief appearances for the Pouākai this season, but when she was on the court you certainly knew about it. With shades of her parents, former Nelson Sparks star Kat Jones and Tall Blacks centurion Phill Jones, Maia plays tenacious defence and has a sweet stroke from beyond the arc.

One of her most notable appearances of the season came against the Tokomanawa Queens, in which she subbed into the game and was tasked with defending star import Jaime Nared. Jones immediately got under Nared's skin with some incredible defence, forcing turnovers and at one point not even allowing Nared to make it over halfcourt.
"My debut for the Pouākai was a huge adrenaline rush. Because I had been away for most of the season and missing most trainings; I was nervous going on at first. Once I got on the court, most of my nerves went away and I just played. I wanted to show what I could do," said Jones.
"We played the Queens who had the likes of Jaime Nared and Stella Beck. Nared being the talented and experienced player she is, gave me a shock when I got on the court. The physicality that Nared brought was unexpected to me but also an eye opener for what a professional league will bring."
Jones recently announced that she has committed to attend St Mary's College of California to play basketball, joining fellow kiwi Tayla Dalton. The news is huge for Jones, who oozes potential on the basketball court and will be one to keep an eye on without a doubt.
"As a younger player, the Tauihi season was such a great opportunity for me to learn and compete against some of the best players in New Zealand. With the new league bringing in imports from all over the world, it gave me a completely different perspective on basketball," said Jones.
"The season has definitely helped me a lot in recognising the level I need to be at for my future in basketball. With my recent commitment to Saint Mary's of California, I can confidently say that the Tauihi league has taught me many things about the game and myself that I will be able to bring with me to Moraga, California in 2023."
Jones is hopefully the first of many Tauihi amateurs that can secure a college pathway through this exciting new league.
--
The next instalment will feature the Whai. Hear from American import and Whai captain Kyra Lambert on how she found the inaugural season and the experience of playing in New Zealand.