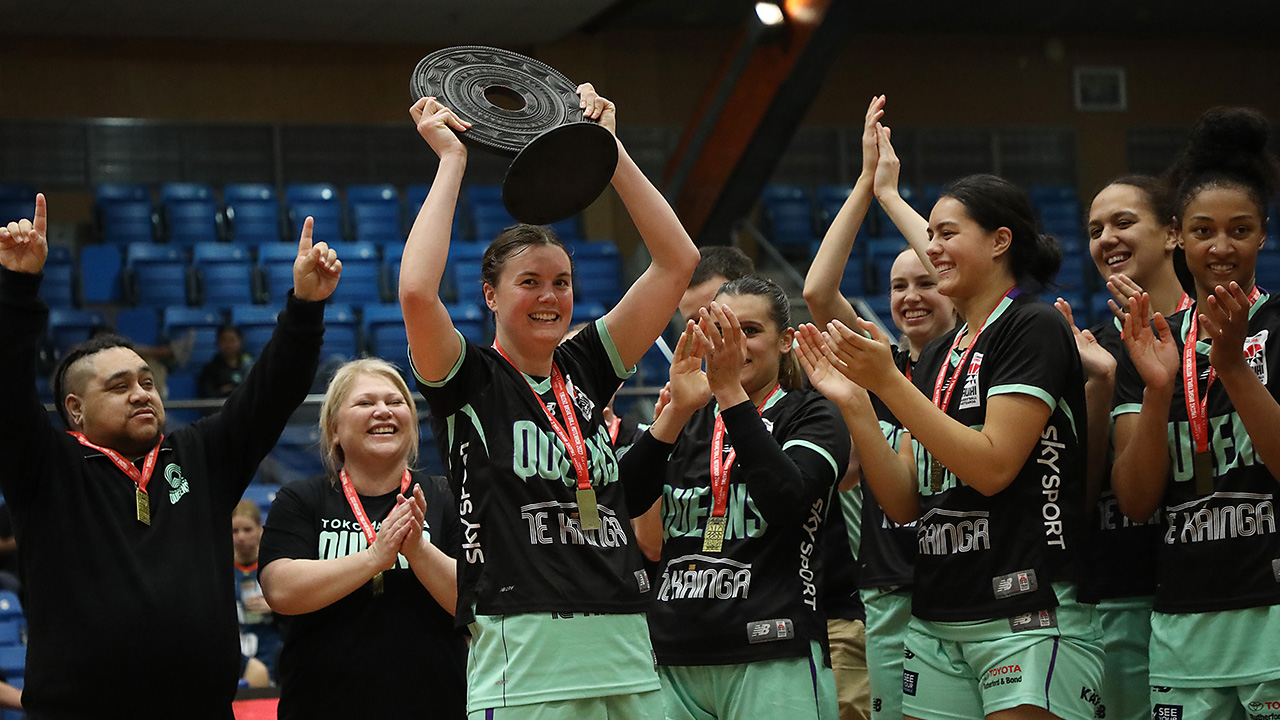 Posted on Tuesday, September 6th, 2022
Inaugural season showcases local and international talent | Tokomanawa Queens
This is the first instalment of a five-part series written by Jake Fitzgibbon.
--
The Tokomanawa Queens stood tall at the conclusion of the inaugural Tauihi season, claiming a deserved crown with seven straight wins down the stretch to shake off a 3-4 start to their campaign.
Their slow start was a surprise to many with the talent on the roster, but once the found their footing and gelled together on the court, it was hard to stop the Queens. We'll get to their imports shortly, but it's hard not to begin with the contributions in all facets by captain Stella Beck.
For those who hadn't watched the 26-year-old Beck before, they would have learned very quickly just how talented she is with her ability to make a notable impact on both ends of the court. She posted averages of 11.5 points, 6.1 rebounds, 3.4 assists and 2.5 (3rd) steals per game in 13 appearances with the Queens. Beck shot 52.7% (3rd) from the field and 44.1% (2nd) from three – one of the most efficient players this season.
"I couldn't be happier with the Tauihi's inaugural season – the players felt supported, and we got to do what we do best, just playing the game we love. Winning the whole thing was the cherry on top," said Beck.
"The Queens had a great run, all season we focused on what we do, rather than what other teams do. The seeds that Tania, Sam and Buzz planted early on continued to grow right through to the final minutes.
"We were extremely well supported by each other and by our fan base and it produced a confident team, comfortable without our roles and systems.
"I will miss playing in a great league with the Tokomanawa Queens every week!"
You could see the influence Beck has on her teammates. They're constantly engaged whenever she has something to say, and her gritty and relentless style of play on the court naturally makes her someone players will feed off.
It's easy to overlook what Beck does on the court. She's not going to go out and drop 25 points each game like some of her teammates have the ability to do – Beck will do whatever is needed to get her team the win and that's what makes her so valuable.
Youth Player of the Year Florencia Chagas stepped up in a big way during the Final 4. She dropped 22 points in each of the Queens' appearances and was deservedly named Finals MVP. The Argentinian guard struggled at times with her shot throughout the season and often took a backseat to fellow import Jaime Nared in the scoring column, but it was Chagas' presence on the court and ability to drive the offence that made other teams play her honestly.

Despite only being 21 years old, Chagas plays beyond her years with her high basketball IQ and feel for the game. And that's exactly what was on display during the Final 4, with her poise and calmness during big moments helping her pace the Queens to the title.
American Jaime Nared shook off some early season back issues to lead the Queens in scoring and earn herself an All-Star Five spot, averaging 19.5 points (2nd) and 7.0 rebounds in 13 games. She wasn't afraid to let it fly on offence and that's something that benefitted the Queens, as Nared was given the green light and it meant the opposing defences always had to pay close attention to her.
Swedish import Elin Gustavsson was a quiet, yet key contributor for the Queens this season. She didn't put-up eye-popping stats, but she scored efficiently and did whatever was asked of her by coach Tania Tupu. Her frontcourt running mate Josie Trousdell ranked fourth in blocks per game with 1.1, providing a nice balance of defence and offence between the two. Trousdell was impressive for the Queens, particularly down the stretch during their winning streak with her defensive prowess and energy lifting her team when they needed it most.
We cannot talk about the Queens without mentioning some of their talented young players that played key roles. Cross-code star Parris Mason made strides before our very eyes on the basketball court this season. A naturally talented athlete, Mason made her mark defensively throughout the year and really started to show just how good she is with some high impact plays during the Queens' 7-game winning streak.
Mason's offensive game went to another level, too, with her finishing around the rim improving game-to-game and she's developed the confidence to let it fly from beyond the arc as well. The 19-year-old might still lean towards netball if offered a choice, but there's no denying that Mason has a future playing basketball at a high level if she so chooses.
Grace Hunter was a key cog for the Queens before departing prior to the Final 4, heading to Cal State Bakersfield to join her college basketball team ahead of their season. Hunter started multiple games for the Queens with her athleticism enabling her to make an impact, particularly on defence. The 21-year-old was a nominee for Youth Player of the Year, an award her teammate Florencia Chagas would go on to win.
--
The next instalment will feature the Mainland Pouākai. Hear from 17-year-old star prospect Maia Jones ahead of her departure to the United States to play for Saint Mary's of California.