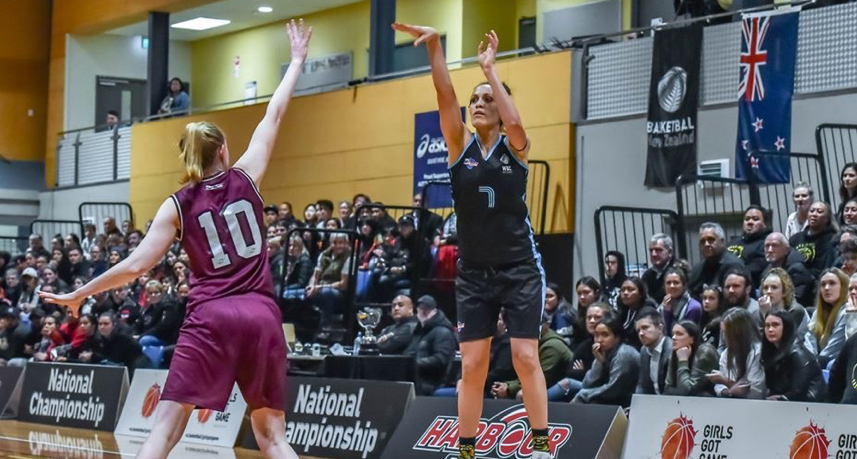 Posted on Friday, January 24th, 2020
Sal's NBL Women's 2020 Schedule Released
The season 2020 schedule for the Sal's NBL Women has been released.
The schedule will see all teams attend an opening-round tournament at the Edgar Centre in Dunedin. From there teams will participate in six rounds of home and away games, before coming together at a yet-to-be-named venue for the 2020 Sal's NBL Women's finals.
The finals will feature all six teams with the top two placed teams receiving automatic progression through to the Semi-Finals.
As previously announced by the league, all 37 games in the Sal's NBL Women will be broadcast on Sky Sport.
Wednesday nights will be a standalone fixture for the Sal's NBL Women with no other games, men or women, being played at the same time.
A Round 7 showdown between Canterbury Wildcats and Otago Gold Rush will be the first of two games at Cowles Stadium on Sunday June 21 at 2pm, with the Canterbury Rams clashing with Southland Sharks in the Sal's NBL Men at 4pm. 
"We're really looking forward to what's ahead of the teams and the league in season 2020," said NBL General Manager, Justin Nelson.
"I think we can expect a close race to the championship, a number of top players are expected to be playing in the league, and then of course we have the huge increase in coverage on Sky Sport coming up as well.
"I really like that the spotlight every Wednesday night will shine brightly on this competition and showcase the very high level of elite players we have in New Zealand. I have no doubt a lot of people will be tuning in to those games in particular," added Nelson.
Sal's NBL Women 2020 Schedule
Round 1 
Wednesday April 29 / Auckland vs Harbour / 7:30pm / Trusts Arena
Thursday April 30 / Canterbury vs Capital / 6:00pm / Edgar Centre 
Thursday April 30 / Waikato vs Otago / 8:00pm / Edgar Centre 
Friday May 1 / Waikato vs Harbour / 4:00pm / Edgar Centre
Friday May 1 / Auckland vs Canterbury / 6:00pm / Edgar Centre
Friday May 1 / Otago vs Capital /8:00pm / Edgar Centre 
Saturday May 2 / Auckland vs Waikato / 4:00pm / Edgar Centre
Saturday May 2 / Capital vs Harbour / 6:00pm / Edgar Centre
Saturday May 2 / Otago vs Canterbury / 8:00pm / Edgar Centre
Round 2
Wednesday May 6 / Otago vs Auckland / 7:30pm / Edgar Centre 
Thursday May 7 / Canterbury vs Auckland / 7:00pm / Cowles Stadium
Friday May 8 / Capital vs Waikato / 7:00pm / Walter Nash Stadium 
Saturday May 9 / Harbour vs Waikato / 5:00pm / AUT
Round 3
Wednesday May 13 / Harbour vs Auckland / 7:30pm AUT
Friday May 15 / Capital vs Otago / 7:00pm / Walter Nash Stadium 
Saturday May 16 / Waikato vs Canterbury / 5:00pm / Hamilton Boys HS 
Sunday May 17 Harbour vs Canterbury 4:00pm AUT
Round 4
Wednesday May 20 / Canterbury vs Harbour / 7:30pm / Cowles Stadium 
Thursday May 21 / Otago vs Harbour / 7:00pm / Queenstown Events Centre 
Saturday May 23 / Waikato vs Capital / 5:00pm / Hamilton Boys HS 
Auckland - BYE
Round 5
Wednesday June 3 / Canterbury vs Waikato /7:30pm / Cowles Stadium 
Thursday June 4 / Otago vs Waikato / 7:30pm / Edgar Centre
Saturday June 6 / Capital vs Auckland / 7:00pm / Wellington 
Harbour - BYE
Round 6
Wednesday June 10 / Harbour vs Otago / 7:30pm / AUT
Thursday June 11 / Auckland vs Otago / 7:00pm / Trusts Arena
Saturday June 13 / Capital vs Canterbury / 7:00pm / Wellington 
Waikato - BYE
Round 7
Wednesday June 17 / Harbour vs Capital / 7:30pm / AUT
Thursday June 18 / Auckland vs Capital / 7:00pm / Trusts Arena 
Saturday June 20 / Waikato vs Auckland / 5:00pm / Hamilton Boys HS 
Sunday June 21 / Canterbury vs Otago / 2:00pm / Cowles Stadium (NBL Double-Header with Rams)

Finals
Thursday June 25 / Qualifying Final 1 / 11am
Thursday June 25 / Qualifying Final 2 / 1pm
Friday June 26 / 5th Pace Playoff / 4pm
Friday June 26 / Semi Final 1 / 6pm
Friday June 26 / Semi Final 2 / 8pm
Saturday June 27 / 3rd Place Playoff / 1pm
Saturday June 27 / Championship Final / 3pm