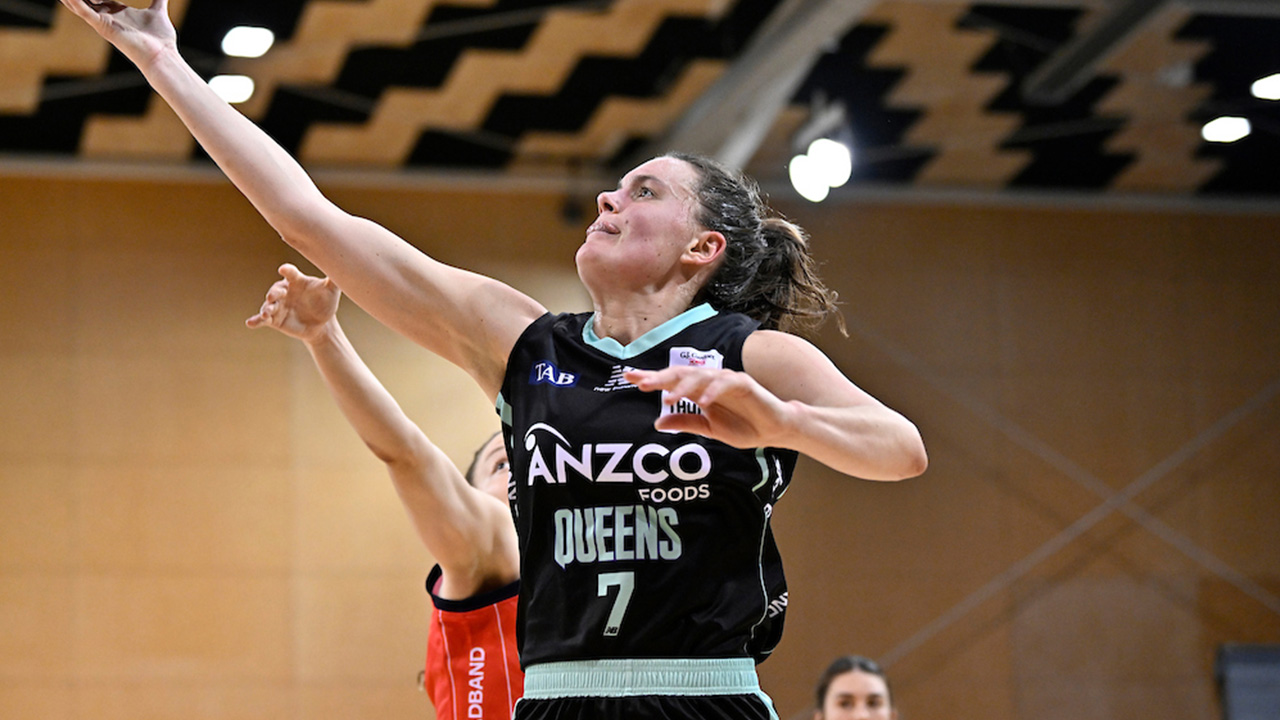 Posted on Thursday, August 31st, 2023
Round 8 – Preview
Photo credit: Masanori Udagawa
The Recruitment Network Mainland Pouākai vs. ANZCO Tokomanawa Queens - Thursday, 7:30pm
Key Stats:
| | |
| --- | --- |
| Pouākai | Queens |
| 20.1 assists per game (1st in league) | 13 assists per game (last in league) |
| 30.3 made field goals per game (1st) | 29.7 made field goals per game (2nd) |
| 34.3% three point field goal percentage (1st) | 50.3% two point field goal percentage (1st) |
The Pouākai come into the final week of the season needing a win to give themselves a chance to qualify for the Final 4. At their best Kennedy Leonard is able to pick apart defences with her passing skills to find shooters on the perimeter while Jasmine Dickey motors her way to huge performances. Dickey has scored at less than 28 in four games, including 31 twice last round (and averaged 27.5 against the Queens) despite being front and center on every scouting report. The Pouākai find momentum when pushing the pace, making more shots than any other team in the league, but shooting well from three is the main barometer for their success. A return for Kendell Heremaia would help on on both ends of the court, with her value as a secondary ball handler key for a team that hasn't topped 80 against the Queens and multi-postional defence will help slow a team that has looked comfortable against the Pouākai. The interior will be stronger than previous matchups with a fully fit big in Natalie Burton available and able to provide rim protection and rebounding for a team that Maya Dodson had feasted on. Esra McGoldrick has grown offensively, especially from deep, and is possessed chasing down boards. To get a desperately needed win Mainland will need to improve in all facets of their game plan from previous efforts, no time like the final round of the season.
The Queens will face Mainland for the first time without Maya Dodson, whose interior efforts were key to winning the possession game on the glass. Kalani Purcell was an inspired last minute pick up, but it will be difficult for her to match the minutes needed while keeping pace with an uptempo squad after being away from the game to start a family. Chrislyn Carr has been electric all season and will terrorise the backline defenders with her penetration while Stephanie Watts will use Round 8 to find a more consistent level of contribution heading into the Finals. Stella Beck has raised the floor of the Queens with her midseason return, but we have yet to experience the consistent highs of last year's championship run. This game is going to be a clash of styles, the rim attacking Queens against the deep shooting Pouākai, with the winner determined by which team is able to enforce their will on the other.
Matchup to Watch: Kennedy Leonard vs. Chrislyn Carr
Whai vs. Southern Hoiho - Friday, 7:30pm
Key Stats:
| | |
| --- | --- |
| Whai | Hoiho |
| 8.9 steals per game (1st) | 6.7 steals per game (4th) |
| 71.7 field goals attempted per game (1st) | 70.5 field goals attempted per game (3rd) |
| 14.3 free throws attempted per game (last) |  18.3 free throws attempted per game (2nd) |
The Whai come into the final round needing to secure four points over two games to lock in a Finals berth, and they come up against a Hoiho squad that has suddenly become vulnerable with the loss of Ashten Prechtel for the season. The teams have split their season series in games where the starters were counted on for the bulk of the production for both squads with Prechtel featuring heavily. Mikayla Cowling continues her stellar season, and will find more space for her interior play than in previous matchups. Her two-way contributions are always key, with her consistent motor sure to power the Whai on both ends of the court. Rim attacks by Aaliyah Wilson could help bolster a lack of presence at the free throw line, but their pace is undeniable when Sarah Sagerer's shooting and perimeter skills pull interior players away from the rim to create space. McKenna Dale is a key piece, especially coming off a round where she flirted with a triple-double in both games played. The bench depends on Jade Kirisome's energy, with a lack of consistent production being found elsewhere.
The Hoiho will be devastated, despite having locked in a huge turnaround in form from a season ago, with the loss of Ashten Prechtel being felt on a team that may have depended on its starters more than any other. They will need to pick up the pace to take advantage of the skills of Paige Bradley and Ahlise Hurst as the focus of the offence. Bradley showed last round that there is a depth of scoring that has gone unmined as the offense focused on the skills of Prechtel. Zoe Richards will look to make another leap as scorer, but even her non-stop hustle may not be enough to overcome when combined with injury questions.
Matchup to Watch: Aaliyah Wilson vs. Ahlise Hurst
ANZCO Tokomanawa Queens vs. BNZ Northern Kāhu - Saturday, 3:00 pm
Key Stats:
| | |
| --- | --- |
| Queens | Kāhu |
| 78.9 points per game (3rd) | 84.5 points per game (1st) |
| 18.3 free throw attempts per game (2nd) | 27.6 free throw attempts per game (1st) |
| 6.1 made threes per game (tied 4th) | 6.1 made threes per game  (tied 4th) |
The rematch of last year's championship game could be a preview of this year's final if the seeding stays constant through the round. The Queens have dominated the matchup between the teams over two seasons, but they have yet to see a full strength version of the Kāhu that features Krystal Leger-Walker and Tess Madgen. Chrislyn Carr and Stephanie Watts will power a transition attack that consistently finds success at the rim through makes and foul shots. The pace they create takes a hit with Maya Dodson loss, but the low block presence may grow as Kalani Purcell finds form. Improved form from deep would be helpful with Grace Hunter and Stella Beck likely to offer a lift from three. Josie Trousdell and Paris Lokotui may get extra opportunity on court and both have the footspeed to defend in transition and when pulled into on balls by the quick Kāhu lineups. Staying out of foul trouble will be of importance, as no team eats at the line to the degree of the Kāhu, with repeated trips there paying the added bonus of testing the depth of the Queens.
The Kāhu have found form at the end of the year despite experiencing a ton of roster turbulence. The lineup is now as settled as it has been all year, with a team capable of playing 10 finding its 7 or 8 woman rotation. The pace will be driven by KLW and Madgen, with their abilities to play on or off the ball working well off each other. The partnership of Penina Davidson and IImar'I Thomas continues to take advantage of the more favourable matchup, while the emergence of Ritorya Tamilo has offered another interior option for opponents to worry about. Tera Reed continues to impress and her scoring prowess raises the level of a team that will be looking to make a statement heading into the Final 4.
Matchup to Watch: Chrislyn Carr vs. Tess Madgen
BNZ Northern Kāhu vs. Whai - Monday, 7:30pm
Key Stats:
| | |
| --- | --- |
| Kāhu | Whai |
| 7.8  steals per game (2nd) | 8.9 steals per game (1st) |
| 22.4 fouls drawn per game (1st) | 14.3 fouls drawn per game (last) |
| 6.1 made threes per game (tied for 4th) | 10.7 made threes per game |
The first Monday night matchup of the year will feature in the regular season finale and the last game of the year could be one that has meaning to both teams depending on results earlier in the round with both teams on the second leg of the double header. Taking care of the ball will be of paramount importance, with the two top squads in swipes facing off against each other. The Kāhu have proved themselves to be the stronger team in two victories over the Whai this season while dominating the glass to earn second chance opportunities.
If Sarah Sagerer can find some form from deep early on pick and pops out of screening action it will pull one of the Kāhu bigs away from the paint and enable the Whai to find success on penetration. Mikayla Cowling will need to be at her best, which she has yet to show against the Kāhu, but Wilson and Dale will also need to contribute for a team which has struggled finding consistent production outside of Kirisome. But the trey ball will be the equaliser, if they find form from deep they will have a chance, if not the offence could get caught in a half court grind.
The Kāhu will look to take advantage of their post presence, with the Whai lacking options to slow down the contribution of the post. The Kāhu have been growing in comfort in transition, and a team that was amongst the slowest paced has found new speed on offence to finish the season allowing them to play. Defensively they will look to take away the looks from three by harassing passing lanes and ball handlers, with the trio of Reed, Madgen and leger-Walker able to apply pressure the full length of the court. Reed in particular has been key in this matchup, with her defensive abilities providing a challenge for Cowling in the previous matchups. If the Kāhu win the possession game it will be a long night for the Whai, but if they can hold on to it and find their best form defensively they are capable of finishing the season on a high.
Matchup to Watch: Tera Reed vs. Mikayla Cowling
Programming note: Rapid League tips-0ff 1 Hour before Tauihi game time