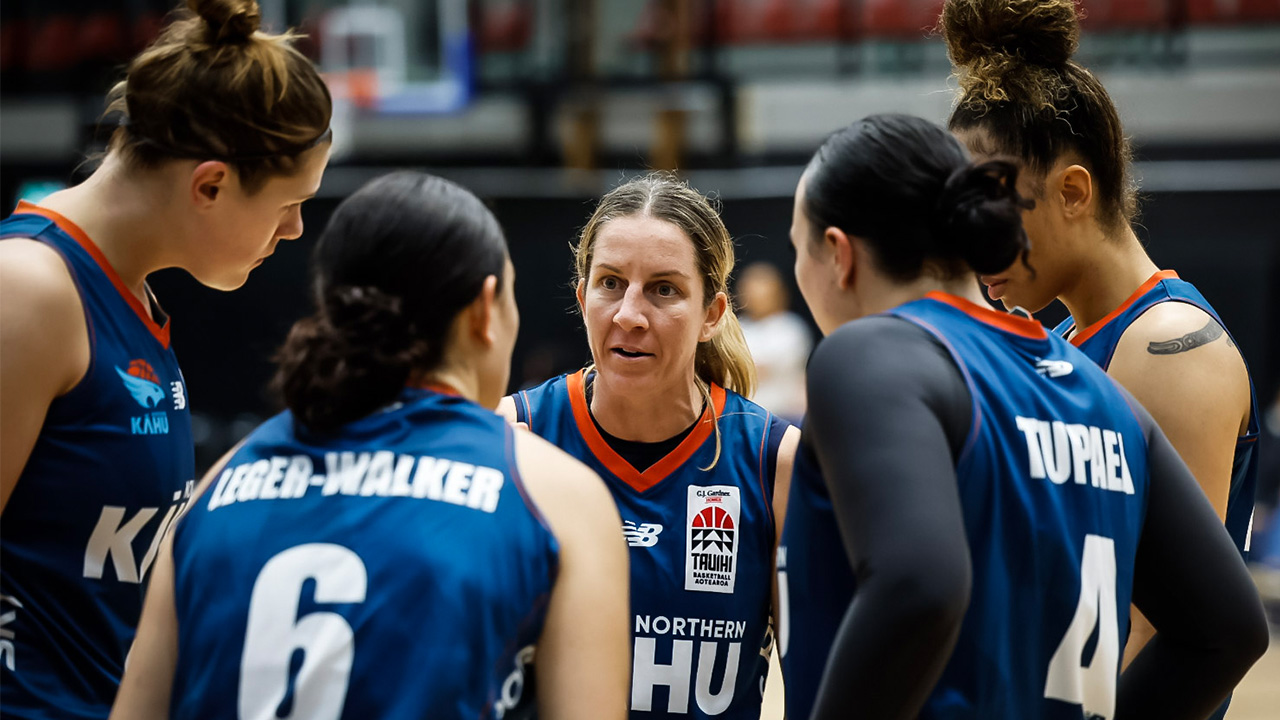 Posted on Friday, September 16th, 2022
Inaugural season showcases local and international talent | Northern Kāhu
This is the final instalment of a five-part series written by Jake Fitzgibbon.
Read the Tokomanawa Queens instalment HERE. Read the Mainland Pouākai instalment HERE. Read the Whai instalment HERE. Read the Southern Hoiho instalment HERE.
--
The Northern Kāhu have plenty to be proud of despite falling in the final. They convincingly claimed the regular season crown with a 10-2 record, had the MVP in Tahlia Tupaea, Tall Ferns legend Micaela Cocks was named to the All-Star Five, Coach of the Year Jody Cameron, GM of the Year Matt Lacey and they were named Club of the Year for the inaugural season.
Accolades aside, we also saw one of the main benefits to the Tauihi league and that's helping local players find more professional opportunities overseas. Krystal Leger-Walker's play this season helped earn her a contract with the Townsville Fire in the Australian WNBL, a tremendous testament to her hard work in her first professional season out of college in the States.
"I'm very pumped to be going to Townsville, I'm excited to be in the WNBL and competing against world class players. I've heard great things from Micaela Cocks about the area, club and coach. I'm excited to go work on my game over there and come back next season to run it back for the Tauihi title," she said.
Leger-Walker isn't going to set the net on fire offensively, but what she brings outside of that is massively valuable to any team she plays on and it's what made her such a fan favourite during her time captaining the Washington State University squad.

Leger-Walker posted averages of 8.9 points, 4.1 rebounds, 4.2 assists (3rd) and 2.4 steals (4th) per game in 14 outings with the Kāhu. Her defensive capabilities earned her a Defensive Player of the Year nomination, and she quickly established herself as one of the best passers in the league.
"Obviously I am still a little heartbroken about the loss but I can't help but be proud of being a part of history!"
"There were so many highlights about the first ever Tauihi season - the pay parity, the fact that we were playing on national TV and of course the high skill level that was on display," said Leger-Walker.
"A common theme throughout the league was the strong female support and empowerment. Having all female staff, teams making a strong effort to involve young girls was great to see and something that I hope continues in the years to come! The Pouākai having the gender equality statement at half way was super cool, as well as the community engagement that all franchises were doing."
MVP Tahlia Tupaea was dominant from the first game of the season. Her shot-making ability and natural feel for the game was evident immediately, but the way she could take over games during stretches is what really separated her from the pack. Tupaea compiled averages of 18.2 points (4th), 3.5 rebounds, 4.3 assists (2nd) and 2.8 steals (1st) per game for the Kāhu.
The combination of Tupaea and Micaela Cocks was a handful for opposing teams this season. The 36-year-old Cocks was named to the All-Star Five and was right in the MVP conversation all season long. She averaged 17.4 points (5th), 3.5 rebounds, 3.6 assists and 1.4 steals on 42.8% shooting from the floor and 44.3% from distance (1st).
Having Cocks play on New Zealand soil truly was special to witness after all of these years playing abroad. For her teammates, the knowledge and experience gained from playing alongside someone of Micaela Cocks' stature is unforgettable, and even those that lined up on the opposing teams would have taken something away from playing against her. With Cocks' basketball future up in the air, like fans and those around the league alike, we're thrilled that we got to witness her play professional basketball in Aotearoa even if it was just for one season.
Following a successful stint playing college basketball in the United States, Tera Reed returned home to Aotearoa to play her first professional season. Reed played in 10 games for the Kāhu, posting averages of 10.4 points, 6.3 rebounds and 1.1 steals per game on 40% from three. Her efforts helped land her a contract with Tampereen Pyrintö in Finland.