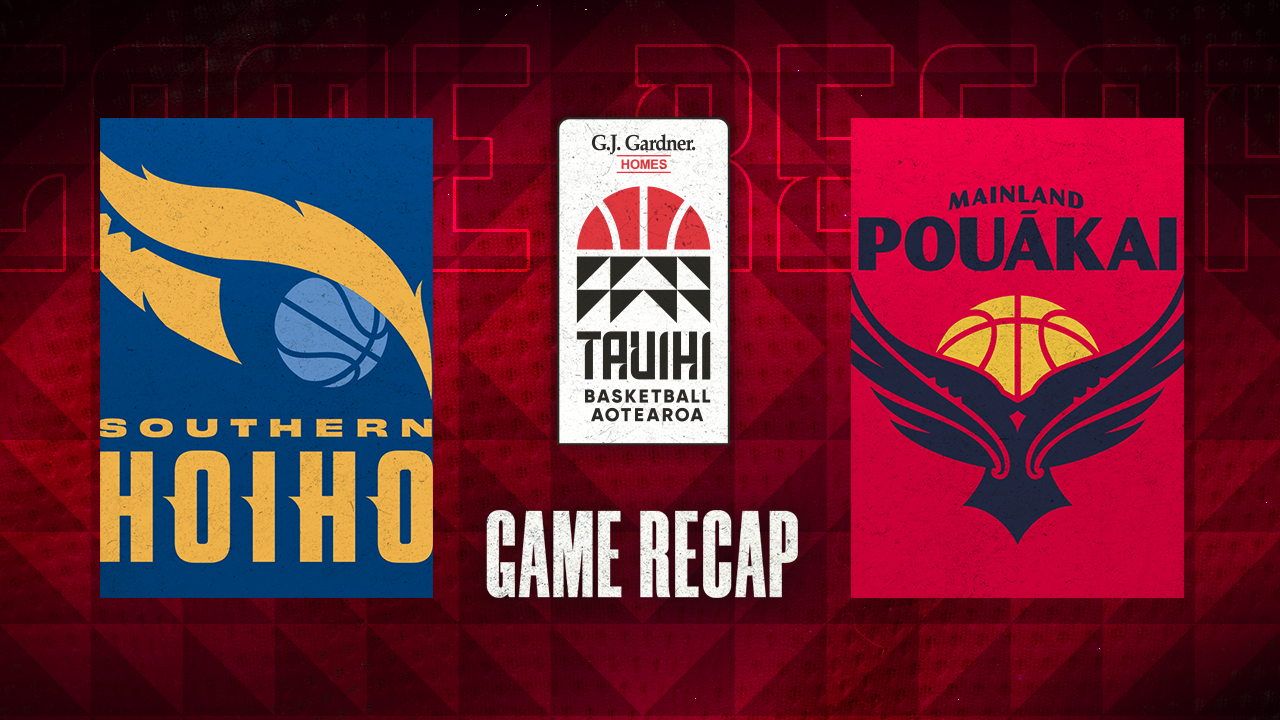 Posted on Monday, August 1st, 2022
GAME RECAP: Tessa Boagni leads Pouākai past Hoiho in Queenstown
Mainland Pouākai enjoyed a bounce back GJ Gardner Homes Tauihi Basketball Aotearoa victory at Queenstown Events Centre on Monday night.
Having suffered a home loss to Tokomanawa Queens on Saturday night Pouākai defeated Southern Hoiho 69-58 with Tessa Boagni putting together a double-double of 20 points (7/10FG) and 11 rebounds.
Laina Snyder was immense in a losing cause. The Hoiho forward finished with a game high 24 points along with 11 rebounds but while Pouākai had four players scoring in double figures, next best for Hoiho was Nicole Ruske with 9 points.
The victory means Mainland Pouākai (4-5) join Whai (also 4-5) and Tokomanawa Queens (4-4) in the jostle for places behind regular season champions Northern Kāhu (9-0), although the win was overshadowed by what looked to be a serious leg injury suffered by Mainland star Mary Goulding. The injury, incurred in the opening quarter, places Goulding in serious doubt for the rest of the Tauihi season and the Tall Ferns programme that follows.
Boagni had opened the scoring for Mainland with a trademark inside move – Tori Dugan replied with a triple for Southern Hoiho who opened up a 13-9 lead in the opening ten minutes.
Lauryn Hippolite (12 points) gave way to Jailan Cherry in the Mainland starting five but coming off the bench made a corner three to pull Mainland within a point at 18-17 three minutes into the second period.
Cherry, the former Louisiana State University standout, took Pouākai into the ascendancy before Ruske drained a corner three to restore the Hoiho lead.
Baptiste had the last say of the half to give Pouākai a 30-26 lead at the interval.
Tauihi leading scorers Baptiste and Snyder had been kept to two points apiece in the opening frame but were far more prominent in the second stanza. Both had 10 points at the break but unfortunately Snyder suffered a clash of heads with Terai Elia and had to retire for stitches to a wound in the closing stages of the half.
As she had in the opening half Dugan was the first scorer in the second half – Snyder back on court sporting a headband to protect her injury then pulled Hoiho to within a point.
Baptiste and Hippolite were the next scorers – Mainland ahead 39-33 at the mid-point of the third.
Erin Whalen (13 points) went back-to-back from deep forcing Nat Visger, the Hoiho coach, to call a timeout. The dependable Snyder scored on the resumption but the equally reliable Baptiste found the response – Pouākai 46-39 ahead.
Hippolite landed her fourth triple of the contest – the Pouākai advantage a handy 52-43 at three-quarter time.
Baptiste and Ruske exchanged threes as the difference remained at 9 points – a Samara Gallaher freebie helped Hoiho but a dagger three from Boagni, with 3:46 to play, made Hoiho's task more difficult – down 60-49.
The task became impossible when Boagni made a further three in the old fashioned way. Her And-1 play, followed by a left handed layup, put the contest to bed.
Hoiho will take on the Queens in Porirua on Wednesday before meeting Pouākai again in six days' time at the Edgar Centre in Dunedin. They will need two wins to keep their slim play-off hopes alive.
SCORE: Hoiho 64, Pouākai 88
Whai: Snyder 25 PTS & 13 REBS | Ruske 9 PTS | Richards 8 PTS 
Pouākai: Boagni 18 PTS & 14 REBS | Baptiste 20 PTS | Whalen 13 PTS | Hippolite 12 PTS
Full box score HERE.
Stuff MVP Votes
Tessa Boagni (Pouākai) - 10 votes
Laina Snyder (Hoiho) - 7 votes
Trinity Baptiste (Pouākai) - 6 votes
Lauryn Hippolite (Pouākai) - 4 votes
Erin Whalen (Pouākai) - 2 vote
Zoe Richards (Hoiho) - 1 vote
Upcoming Opponents
Hoiho - Aug 3 @ Tokomanawa Queens
Pouākai – Aug 7 @ Southern Hohio
--
Round 5 Tauihi Schedule