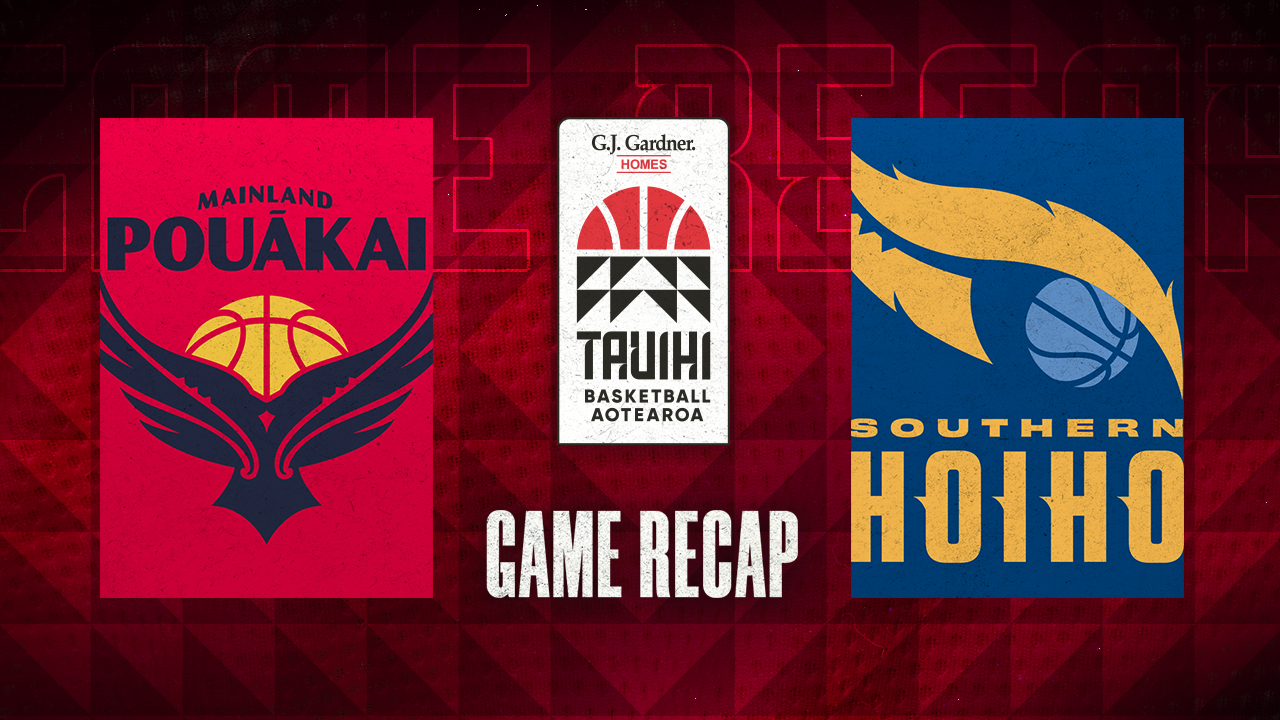 Posted on Wednesday, June 29th, 2022
GAME RECAP: Pouākai soar past Hoiho for opening night win
The Mainland Pouākai have defeated the Southern Hoiho 73-83 on opening night of the inaugural Tauihi Basketball Aotearoa season in front of a sold out Cowles Stadium in Christchurch.
The Pouākai took a couple of minutes to get going, with Hoiho forward Laina Snyder scoring six quick points out of the gate, but Erin Whalen caught fire with nine first quarter points to give Mainland a 21-15 lead after 10 minutes.
They would further separate themselves from the Hoiho in the second quarter behind some hot shooting from beyond the arc, nailing seven 3-pointers as a team in the first half. Tall Fern Mary Goulding and Tessa Morrison each hit two triples.
Laina Snyder was a handful for the Pouākai on the other end with her ability to score in a variety of ways. She had 13 points in the first half and seemed to be the only one that could score with any consistency for the Hoiho. 
The Hoiho were strong in the third quarter, outscoring the Pouākai 23-17. It was again Snyder doing the damage for Southern, as she had worked her way up to 24 points through just three quarters of play. Mainland had cooled off from outside and their 14 turnovers were making life difficult, but they clung to a lead heading to the fourth
Southern got as close as four points in the fourth quarter, but the low-post dominance of Tessa Boagni and defensive prowess of Mary Goulding ensured the Pouākai would hold on for the season-opening win.
Boagni totaled 16 points and 11 boards with two blocks for Mainland, and Goulding finished with 16 points, 10 rebounds, four assists and two steals on 5-of-10 shooting and 2-of-4 from outside.
Despite the loss, we got to witness a tremendous debut performance for American import Laina Snyder. She amassed 32 points, 10 rebounds, four assists for the Hoiho. Snyder has put the rest of the league on notice with her dominant outing and ability to score at will. She'll be back in action with the Hoiho on Sunday against the Northern Kāhu.
SCORE: Pouākai 73, Hoiho 63
Pouākai: Goulding 16 PTS, 10 REB | Boagni 16 PTS, 11 REB | Whalen 15 PTS
Hoiho: Snyder 32 PTS, 10 REB, 4 AST, 2 BLK
Full box score HERE.
Stuff MVP Votes
Laina Snyder (Hoiho) - 10 votes
Mary Goulding (Pouākai) - 8 votes
Tessa Boagni (Pouākai) - 4 votes
Erin Whalen (Pouākai) - 4 votes
Zoe Richards (Hoiho) - 2 votes
Bronwyn Kjestrup (Hoiho) - 2 votes
Upcoming Opponents
Pouākai – July 5 @ Mid-North Whai
Hoiho – July 2 vs. Northern Kāhu
--
Round 1 Tauihi Schedule