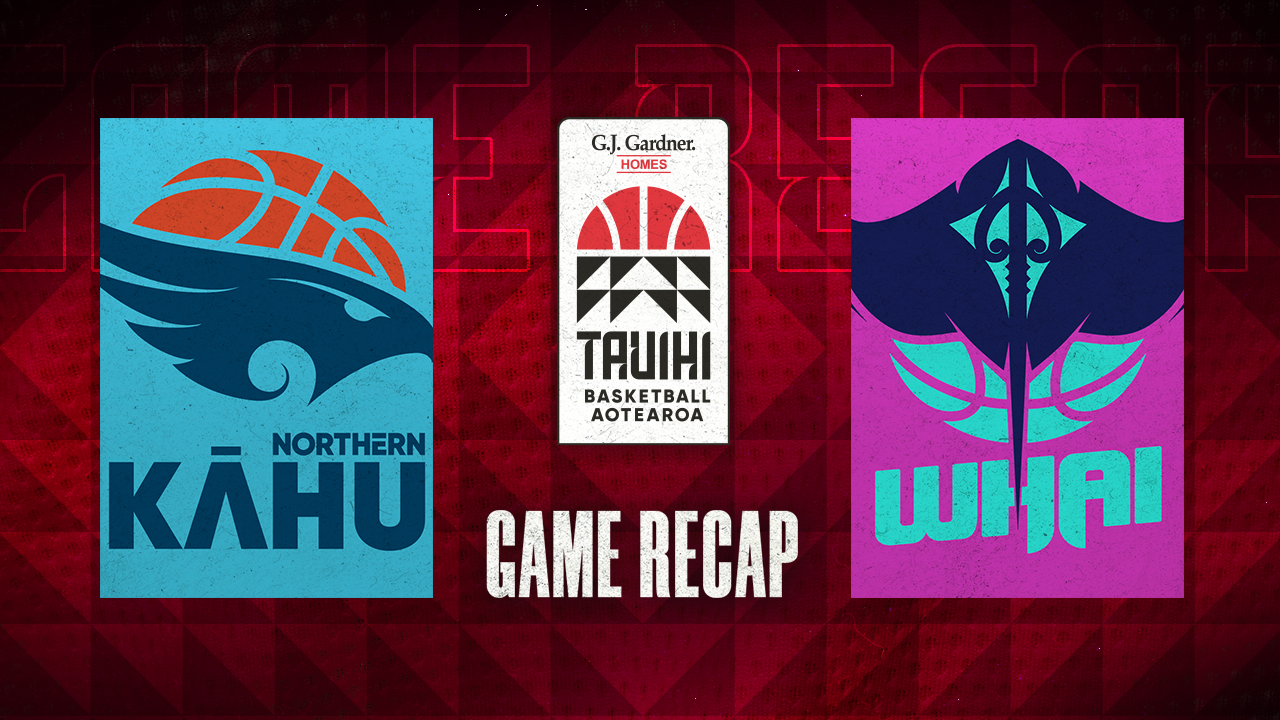 Posted on Wednesday, July 13th, 2022
GAME RECAP: Kāhu stay perfect with gritty win over Whai
The two northern rivals went head to head for the first time in the GJ Gardner Homes Tauihi Basketball Aotearoa at Eventfinda Stadium on Wednesday night Northern Kāhu defeating Whai 79-67.
Micaela Cocks, returning to the court she played a lot of her junior basketball on, put together a commanding performance for the home fans. A defensive dynamo, the Kāhu skipper also scored a game high 29 points making 7 from 12 (58%) from the field and 13 of 15 (87%) at the foul line.
Cocks received fine support from Tahlia Tupaea (18 points) and Krystal Leger-Walker (7 points, 7 rebounds, 5 assists and 3 steals). There were also season highs from Jaz Kailahi-Fulu with 8 points and Ash Kelman-Poto with 7 points.
For Whai, Kyra Lambert top scored with 16 points to accompany 12 rebounds and 7 assists and former WNBA player Nikki Greene had a double-double of 15 points and 10 rebounds.  The consistent Sharne Robati tallied 13 points while Commonwealth Games bound Tiarna Clarke scored 9 points.
Martè Grays scored the opening basket of the game - answered by a Dominque McBryde triple – Whai ahead 11-7 at the mid-point of the first.
Kelman-Poto tied proceedings before Tiarna Clarke nailed a typical high arching three. Multiple trips to the foul line advanced the Kāhu cause – the hosts 16-14 down at quarter time.
Robati, the leading New Zealand scorer in the Tauihi this season, scored down low and with Lambert converting in transition Whai were out to a 27-19 lead.
Gabby Adams-Gavet and Tupaea made scores before McBryde slotted her second triple of the game.
Cocks was the first player into double figures – Lambert's floater meant she was the second – Tupaea concluded the half with a classy finish as Kāhu closed to within 4-points at half-time (39-35).
Wolf hunted down an offensive rebound for a put-back, Kāhu enjoying a 6-0 start to the half. When Kailahi-Fulu made it an 8-0 run Whai head coach Mel Bennett, vying for the Best Dressed Coach Award, needed a timeout.
McGoldrick and Cocks exchanged triples ahead of a Lambert score.
The influential guard took a heavy knock earning free-throws though Whai, kept to 9-points in the quarter trailed 55-48 at three-quarter time.
A Greene And-1 was the perfect start to the fourth for Whai and with the intensity lifting McGoldrick kept the Northern margin to six with six to play (60-54).
A bout of threes followed - Kelman-Poto and Cocks for the hosts, Clarke for the visitors - 70-60 with under 4 minutes to play.
Greene trimmed the lead to five points with three minutes to play but that was as close as Whai would get.
Fittingly it was Cocks that sealed the deal from the foul-line as Kāhu preserved their unbeaten start to the season.
The two teams have weekend fixtures before they meet again in Tauranga next Tuesday.
SCORE:  Northern Kāhu 79, Whai 67
Kāhu: Cocks 29 PTS | Tupaea 18 PTS | Kailahi-Fulu 8 PTS | Leger-Walker 7 PTS, 7 REBS & 5 ASSISTS
Whai: Lambert 16 PTS, 12 REBS & 7 ASSISTS | Greene 15 PTS & 10 REBS | Robati 13 PTS |Clarke 9 PTS
Full box score HERE.
Stuff MVP Votes
Micaela Cocks (Kāhu) - 7 votes
Kyra Lambert (Whai) - 7 votes
Nikki Greene (Whai) - 4 votes
Ash Kelman-Poto (Kāhu) - 4 votes
Tahlia Tupaea (Kāhu) - 4 votes
Tiarna Clarke (Whai) - 3 votes
Sharne Robati (Whai) - 1 vote
Upcoming Opponents
Northern Kāhu – July 15 v Southern Hoiho
Whai – July 17 @ Mainland Pouākai
--
Round 3 Tauihi Schedule