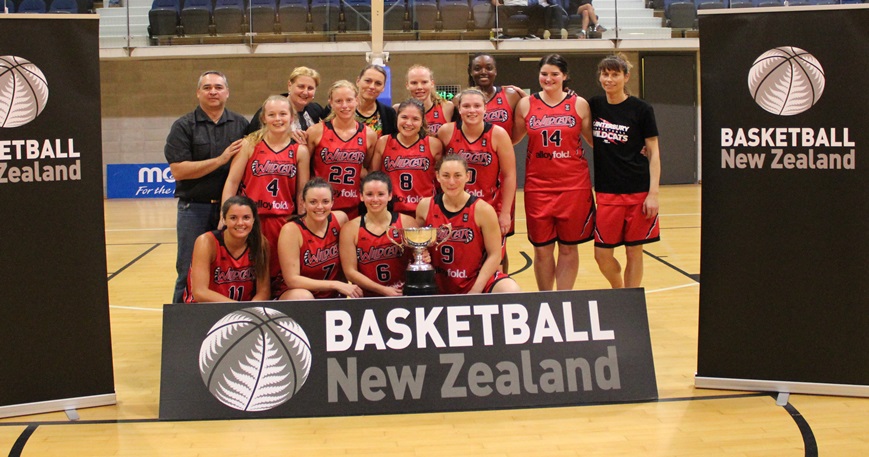 Posted on Tuesday, April 28th, 2020
From the Vault: NBL Classic Matches | #11
Looking for some basketball to watch?
With the Sal's NBL Men's and Women's competitions, along with Women's D-League, currently looking at Modified Competitions for 2020,  we've gone through the archives to bring you some classic NBL games from yesteryear to watch!
If you have any games you'd like to see, or have access to recorded games you can share, please let us know by contacting us here.

Enjoy!
---
NBL Classic Match #11: 2016 WBC Grand Final | Waikato Wizards vs. Alloyfold Canterbury Wildcats
We head back to 2016 to watch the Canterbury Wildcats capture the WBC title. Here's a recap..
Canterbury forward Ashley Gayle scored the first basket of the game, Alyssa Hirawani replied with a lay up in traffic for Waikato but a 12-0 run helped Canterbury to a 21-12 opening quarter lead. But for a running three from just beyond the half way line by Hirawani on the quarter time buzzer the lead could have been even more substantial.
Seven straight points from Courtney Hamblin and two from Terai Sadler stretched the Wildcats lead to 30-14 forcing a time out from Wizards coach Leanne Walker. Miriam Stevens broke the scoring drought for Waikato as a defence dominated quarter ended with the Wildcats 32-19 to the good. The impressive Hirawani led all scorers with 12 points at the break, Fran Edmondson close to a double double with 8 points and 8 boards for the Wildcats.
As in the first half Gayle opened the scoring with opposition centre Stevens converting from short range for Waikato in reply. Gayle began to dominate the key at both ends and she stretched the lead to 40-21 with seven straight points before Hirawani added to her tally with a triple but the lead by then was 20 points in favour of the Cantabs.
Tessa Morrison knocked down a couple of three's either side of a Kelcy Ballantyne bucket and when Shea Crotty grabbed a steal and a break away lay-up the Canterbury captain had one hand on the trophy with her team 57-30 to the good.
Georgia Perrott-Hunt scored twice early in the final period to prompt a Waikato revival but the result was never in doubt as Canterbury won 68-54.
The Wildcats have remained unbeaten during the 2016 WBC campaign, winning 14 straight WBC games to deservedly claim the title.
Wildcats coach Lori McDaniel was naturally delighted, "I'm really proud of the girls performance, not just today, but throughout the season. They have remained unbeaten in WBC (14 games) and that is pretty impressive in it's self.
"It got a bit out of control towards the end but luckily we were up by quite a bit by then but overall they've done a great job. I called a timeout and told them to chill and relax out as you are playing as if we are behind by 20 points not up by 20. Regardless of the turnovers at the end we won well and deserved to win"
McDaniel paid tribute to the Waikato Wizards and their coach Leanne Walker.
"Waikato have done a great job and for Leanne to do what she did without Krystal ( guard Krystal Leger-Walker is in China with the Tall Ferns) is a credit to them. They are a tough team, they are skilled"
In a fine all round team effort McDaniel complimented three individual players.
"Fran Edmondson (10 points, 14 rebounds) has done a great job. She is not a traditional type of post player, a kind of wriggly, bendy kind of an athlete but its great to watch. I also want to commend Ashley Gayle (13 points, 15 rebounds, 4 blocks) on a controlled true posting game today and I'm really proud of how she played.
"I think it is a lot of effort from all the girls, everyone has contributed and Shea Crotty has been a fantastic leader at point guard."
ALLOYFOLD CANTERBURY WILDCATS 68
Waikato Wizards 54


Tier 1 All-Star Five: 
Fran Edmondson (Canterbury Wildcats)
Jessica Tuki (Taranaki Thunder)
Soraya Umaga-Jensen (Otago Gold Rush)
Jodi Hikuroa-Jeffrey (Nelson Sparks)
Krystal Leger-Walker (Waikato Wizards)