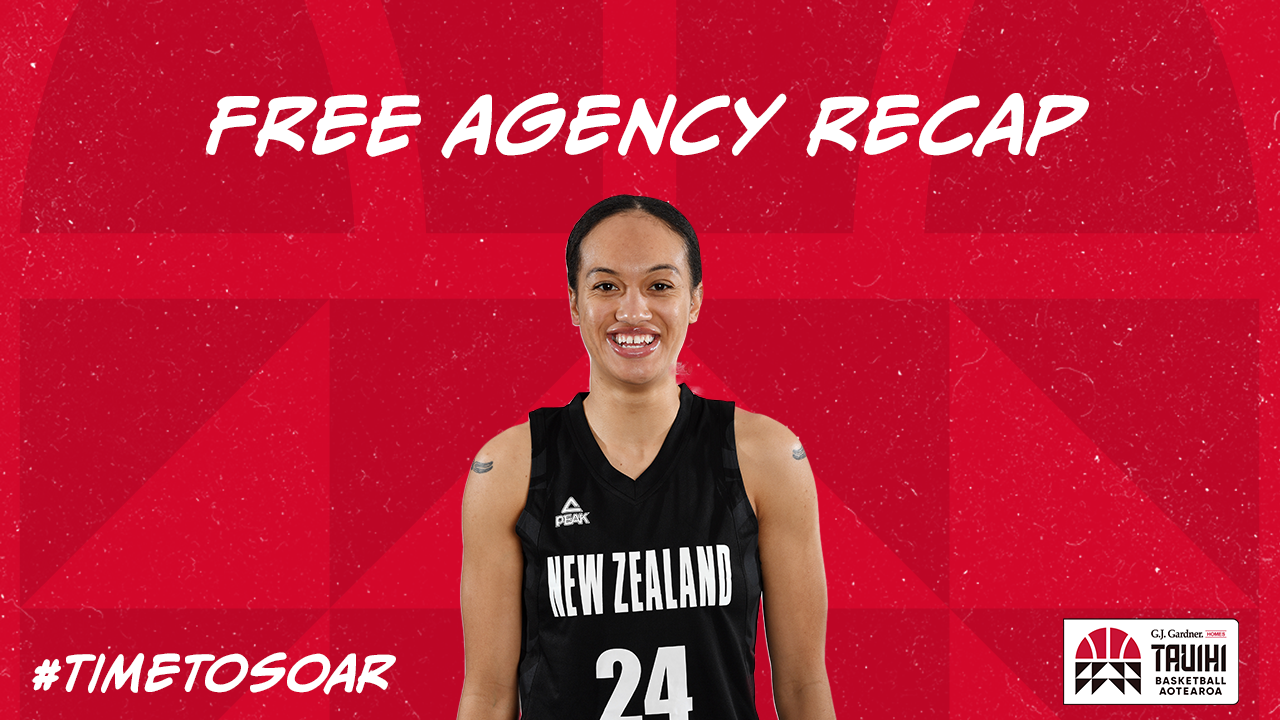 Posted on Friday, May 20th, 2022
Free Agency Recap: Signings galore as Tauihi season inches closer
We've had 20 player announcements since our last free agency update, leaving us with a lot to unpack as the Tauihi season inches closer to tip-off. With top-tier local talent and imports starting to filter in the excitement continues to build leading up to June 29.
The Northern Kāhu became the first team to announce an import in Tahlia Tupaea of Australia. Tupaea is a dual citizen but having lived and played in Australia she is classed as an import. The 24-year-old is a former WNBA draft pick (Round 3, Pick 36) and has spent the past 10 years playing in the WNBL in Australia for the Sydney Uni Flames and most recently the Canberra Capitals. Tupaea is the second youngest debutant in WNBL history (15 years, 133 days).
Former Tall Ferns coach and current Canberra Capitals assistant coach Kennedy Kereama first floated the idea of playing in Tauihi to Tupaea and it wasn't long before she received a call from Kāhu head coach Jody Cameron. The main reason for her decision to play in Aotearoa was the opportunity to play in front of whānau for the first time.
"I've never played on NZ soil, and I saw it as a great opportunity to come over and play. Obviously, a lot of my whanau is here too – as well as my partner - so that was a big draw card," said Tupaea.
"I've played junior basketball in front of them but never at this level so it's exciting. There's going to be a whole bunch of them come to the games. They've been calling me when I was in Australia trying to get me to come home - they're probably just as excited as me."
The Kāhu also announced the addition of former Tall Fern Tera Reed, who has recently returned from an 8-year stint playing basketball in the United States. The 23-year-old moved to the states when she was just 14, playing high school basketball and then spending three years at Virginia Commonwealth University and her senior year at the University of Southern California. She concluded her Division I college career as the second leading scorer of all-time amongst New Zealand woman with 1,624 points.
Reed's experience in the states will prove to be valuable in her first professional season and she's excited to showcase that on home soil.
"Getting to experience that level of play where it's a faster more physical game, I think it's great preparation for my professional career – I'm excited to hit the court," said Reed.
Like her new teammate Tahlia, Tera says the Kāhu have been welcoming and being able to play in front of whānau is nothing short of exciting.
"It's all super exciting talking to the girls, especially Tahlia as I've been talking to her for a while once we knew we were going to be playing together. It's been awesome so far - we've got good experience with the likes of Micaela Cocks and collectively everyone wants to win.
"I've been playing college basketball for five years and my dad never got to see me play so it'll be awesome for him and the rest of my family to get that opportunity. My family is a big motivator for me and my career," said Reed.
The Southern Hoiho announced their first signing of 2022 in Tall Fern Zoe Richards. Richards won a WBC Championship with the Otago Gold Rush in 2018 and was named to the 2020 NBL All-Star five when she led the league in rebounding (10.2 RPG). She most recently played for the Rockingham Flames in Australia's NBL1, averaging 8.2 PPG and 6.6 RPG. Richards will have a sizeable role on the Hoiho this season, who still have imports to announce ahead of their first game on June 29.
The Mid-North Whai have been busy adding top tier local talent in recent week with Tiarna Clarke, Rosalia Samia and Esra McGoldrick among the new additions. Clarke and McGoldrick helped the Tall Ferns 3x3 team qualify for the FIBA 3x3 World Cup along with their new Whai teammate Sharne Robati. Samia has also had success in the 3x3 arena, winning the 3x3 Tertiary Nationals with Lincoln University this past weekend.
The Tokomanawa Queens have signed six players in the past month, including former Tall Ferns Josie Trousdell (formerly Josie Stockill) and Jacinta Beckley. Trousdell won a Bronze Medal with the Tall Ferns at the 2018 Commonwealth Games and has spent time with the Melbourne Boomers in the WNBL in Australia. Beckley has experience playing first division basketball in Europe and Australia and won the Division 1 WAC title with Seattle University in the United States back in 2018. The Queens also signed multi-sport athlete Parris Mason, who is currently playing for the Central Pulse in the ANZ Premiership.
With many more player announcements to come, make sure you stay locked to our social media channels (@tauihinz) for all the latest updates.
The inaugural Tauihi Basketball Aotearoa season begins on June 29, when the Mainland Pouakai host the Southern Hoiho. You can find the full schedule HERE.
CONFIRMED SIGNINGS
Mainland Pouakai
Tessa Boagni
Mary Goulding
Lauryn Hippolite
Ella Fotu
Tessa Morrison
Tsubasa Nisbet
Lauren Whittaker
Maia Jones
Northern Kāhu
Ashleigh Kelman-Poto
Micaela Cocks
Tahlia Tupaea (import)
Tera Reed
Jazzmyne Kailahi-Fulu
Tokomanawa Queens
Lauren Tewhata
Lilly Taulelei
Te Araroa Sopoaga
Grace Hunter
Jacinta Beckley
Josie Trousdell
Parris Mason
Mid-North Whai
Kendell Heremaia
Sharne Robati
Esra McGoldrick
Hineaupounamu Nuku
Makayla Daysh
Tiarna Clarke
Rosalia Samia
Jelena Vucinic
Southern Hoiho
Zoe Richards
Nicole Ruske