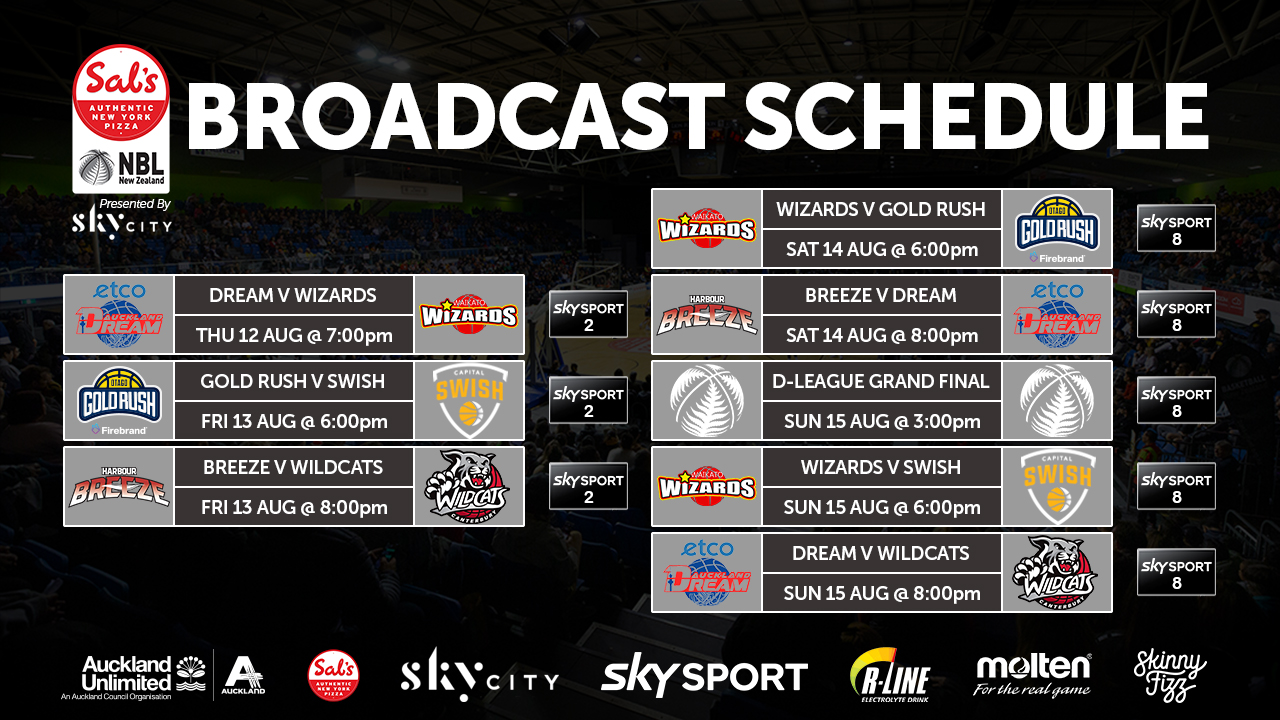 Posted on Monday, August 9th, 2021
23 Games To Tip-Off Season 2021
The Sal's NBL season and D-League competition tips-off this week with 23 games to be played, including the D-League Championship clash on Sunday afternoon.
Eight games in Week 1 will be broadcast live on Sky Sport, starting from Thursday night when the Etco Auckland Dream take on Waikato Wizards from 7pm.
In a boost for women's basketball the annual D-League competition (Under 23s) will be played alongside the Sal's NBL, making for a massive four days of basketball. 
Tickets for NBL games are available at the door or can be purchased online - CLICK HERE.
Prices each night are $10 (adults) and free for anyone U18yrs.
"We are looking forward to a highly competitive season with a number of rising stars and established NBL players ready to entertain us," said League GM, Justin Nelson, adding "The chance to start the NBL season with also having the D-League teams with us is a great initiative.
"We encourage everyone to get along to Pulman Arena and support the teams, but equally for those out of area just switch on to Sky Sport and you won't miss a minute of the action."
WEEK 1
Thursday August 12                                                           
10am: Harbour Cyclones vs Auckland (D-League)
12pm:  Harbour Zephyr vs Rotorua (D-League)
2pm:    Taranaki vs Northland (D-League)
4pm:    Capital vs Tauranga (D-League)
7pm:    Auckland Dream vs Waikato Wizards | Live on Sky Sport 2                                                  
Friday August 13                                                                  
9am:    Harbour Cyclones vs Northland (D-League)
11am:  Tauranga vs Harbour Zephyr (D-League)
1pm:    Auckland vs Taranaki (D-League)
3pm:    Rotorua vs Capital (D-League)
6pm:    Otago Gold Rush vs Capital Swish | Live on Sky Sport 2                                                
8pm:    Harbour Breeze vs Canterbury Wildcats | Live on Sky Sport 2
Saturday August 14                                                            
9am:     Taranaki vs Harbour Cyclones (D-League)
11am:  Harbour Zephyr vs Capital (D-League)
1pm:    Northland vs Auckland (D-League)
3pm:    Rotorua vs Tauranga (D-League)
6pm:    Wizards vs Gold Rush | Live on Sky Sport 8                                            
8pm:    Breeze vs Dream | Live on Sky Sport 8         
Sunday August 15       
9am:     D League – Playoff for 7th/8th
11am:  D League – Playoff for 5th/6th
1pm:    D League – Playoff for 3rd/4th
3pm:    D League – Championship Game | Live on Sky Sport 8
6pm:    Wizards vs Swish | Live on Sky Sport 8                                                
8pm:    Dream vs Wildcats | Live on Sky Sport 8