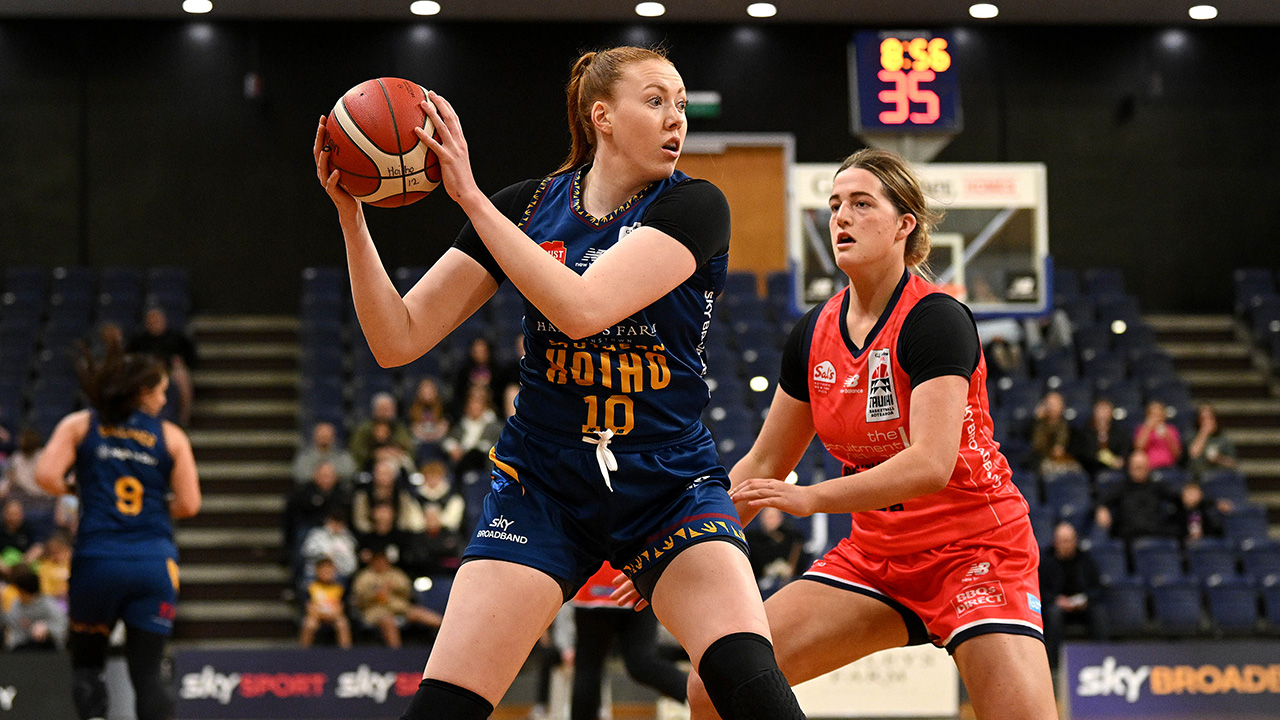 Posted on Thursday, September 7th, 2023
2023 Tauihi Award Winners Announced
Photo Credit: Joe Allison
American centre Ashten Prechtel has been named 2023 Tauihi Most Valuable Player following a dominant campaign for the Southern Hoiho.
Prechtel's numbers are eye popping, recording averages of 19.4 PTS (5th), 15.0 REB (1st), 3.7 AST (7th), 2.7 BLK (1st) and 1.8 STL (4th) in 10 games with the Hoiho. She recorded at least 20 points and 20 rebounds in two separate games this season and reeled in at least 20 rebounds on four occasions.
Prechtel was also named to the 2023 All-Star Five along with her teammate Paige Bradley, Chrislyn Carr (Queens), Mikayla Cowling (Whai) and IImar'I Thomas (Kāhu).
Unfortunately, the 22-year-old's historic campaign was cut short due to a foot injury and has ruled her out of the Final 4 this weekend.
Along with an All-Star Five nod Mikayla Cowling was awarded Defensive Player of the Year. Cowling nabbed 2.0 STL (2nd) per game and was instrumental in leading the Whai defence throughout the season.
Cowling's 15-year-old teammate Pahlyss Hokianga reeled in the accolades in her first Tauihi season, winning Youth Player of the Year and being crowned the inaugural Rapid League MVP. Whether it was Tauihi or Rapid League, Pahlyss' impact on both ends of the floor was highly evident.
Out of Flaxmere in Hawke's Bay, Hokianga is one of the best high school players in the New Zealand and she showcased that with an outstanding 2023 season.
Hoiho head coach Todd Marshall was named Coach of the Year for leading an impressive turnaround in Dunedin. After winning just one game in 2022, the Hoiho earned seven victories in 2023 and a spot at the Final 4.
The Hoiho weren't done there with forward Zoe Richards earning Most Improved Player honours. Richards posted averages of 16.8 PTS, 8.9 REB & 1.7 STL on 52.3% shooting from the field in 2023, which is up from 7.3 PTS, 5.5 REB & 1.1 STL on 30.4% shooting in 2022.
It's a well-deserved accolade for Richards, who spent the Tauihi offseason playing in Luxembourg fine-tuning her skills and then coming back to Aotearoa to put that growth on full display.
The awards panel consisted of the five Tauihi head coaches and three independents – Sky Sport Commentators Casey Frank and Casyn Buchman, and writer Mike Lacey.
The Final 4 referee panel has also been finalised this week, with six officials named to take the court at Te Rauparaha Arena in Porirua.
Melony O'Connor
Matt Bathurst
Sherhon Martin   
Sam Pan
Sasha Nicholson
Brad Clive
The Instant Replay System (IRS) will be available for use throughout the Final 4, applying the same guidelines that were used at the Sal's NBL Final 6.
The Final 4 will take place this weekend at Te Rauparaha Arena in Porirua. Tickets can be purchased here: https://tauihi.flicket.co.nz/
Full List of Award Winners:
MVP - Ashten Prechtel (Hoiho)
Youth Player of the Year - Pahlyss Hokianga (Whai)
Defensive Player of the Year - Mikayla Cowling (Whai)
Most Improved Player - Zoe Richards (Hoiho)
Coach of the Year - Todd Marshall (Hoiho)
All Star Five - Chrislyn Carr (Queens), Paige Bradley (Hoiho), Mikayla Cowling (Whai), IImar'I Thomas (Kāhu), Ashten Prechtel (Hoiho)
Club Awards
Club of the Year - Tokomanawa Queens
Team GM of the Year - Angela Ruske (Southern Hoiho)
Best Game Presentation – Tokomanawa Queens
Best Social Media – Tokomanawa Queens
Best Fan Engagement - Mainland Pouākai
Officials Awards
Referee of the Year - Melony O'Connor
Rapid League
MVP - Pahlyss Hokianga (Whai)
All-Star Five - Grace Hunter (Queens), Pahlyss Hokianga (Whai), Esra McGoldrick (Pouākai), IImar'I Thomas (Kāhu), Jennifer O'Connell (Hoiho)