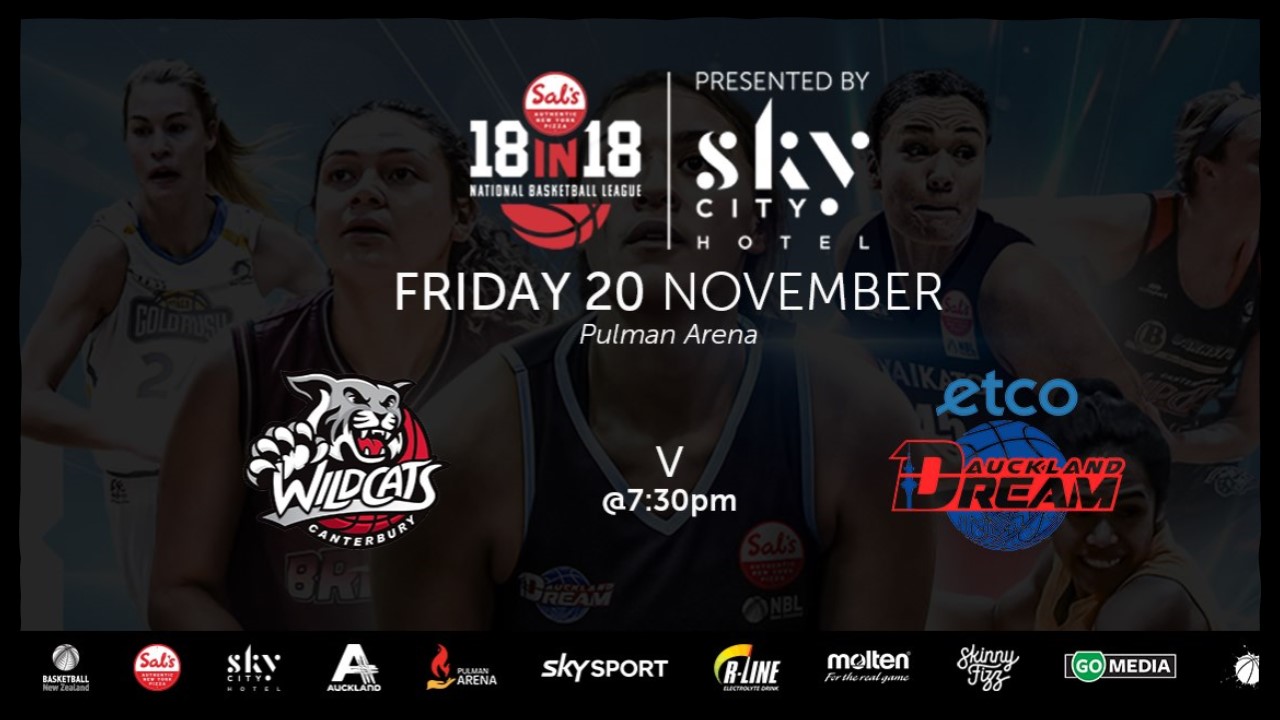 Posted on Friday, November 20th, 2020
18IN18 Preview – Night 2 – Wildcats vs Dream
After a thrilling 61-58 win on Thursday night to open the new season, the ETCO Auckland Dream will step back on court tonight at Pulman Arena in south Auckland and front up to a determined Alloyfold Canterbury Wildcats outfit.
The Wildcats, led by new coach Mel Downer, are here to win and look to have assembled a quality squad for a crack at the Sal's NBL 18IN18 title. On their side will be fresh legs, however they will also be mindful that the Dream have had a chance to settle in and come together as a team on the court, in the real stuff.
All report out of Christchurch suggest the Wildcats have been training the house down, so expect them to come out hard from the opening tip.
Last night's win by the Dream was a thriller. Sharne Robati (23pts, 10rbs), Casyn Buchman (13pts) and Arielle Williams-Mackey (11pts) all delivered, the latter dropping a long-range triple with seconds remaining to clinch the game.
With the Dream Scream Hype Crew in the stands, back-to-back wins to open the season would have the Dream well placed for a top four finish, while the Wildcats are about to enter their own back-to-back set of games and likewise would be happy boarding a plane back to Christchurch on Sunday morning with a pair of wins.
The Wildcats were dealt a blow during the week when guard Tessa Morrison was ruled out for the season after suffering an ACL injury at last week's Schick 3X3 Cup. 
THREE KEYS TO THE GAME
1. Can the Dream back up after a bruising encounter with the Wizards? There were some sore bodies after the game and a high injury concern hanging over Darci Finnigan (knee). 
2. The Wildcats have been training the house down. They look ready and hungry, but they are coming up against a hardened unit and will need to find a way to limit Robati and Buchman. The Wildcats will need a focused effort at the defensive end first and foremost.
3. A good start! The team that jumps out of the blocks here could do enough early to go on and win the game. A slow start, for either team, will make for a tough night.
Here's what you need to know about tonight's game;
Alloyfold Canterbury Wildcats vs ETCO Auckland Dream
What: Sal's NBL 18IN18 - Night 2
Time: 7:30pm
Where: Pulman Arena, Bruce Pulman Park, south Auckland
Entry: Adults $10 (all proceed to the players) | Juniors U18 Free
Parking: Free
Broadcast: Live from 7:30pm on Sky Sport Select (Ch50)