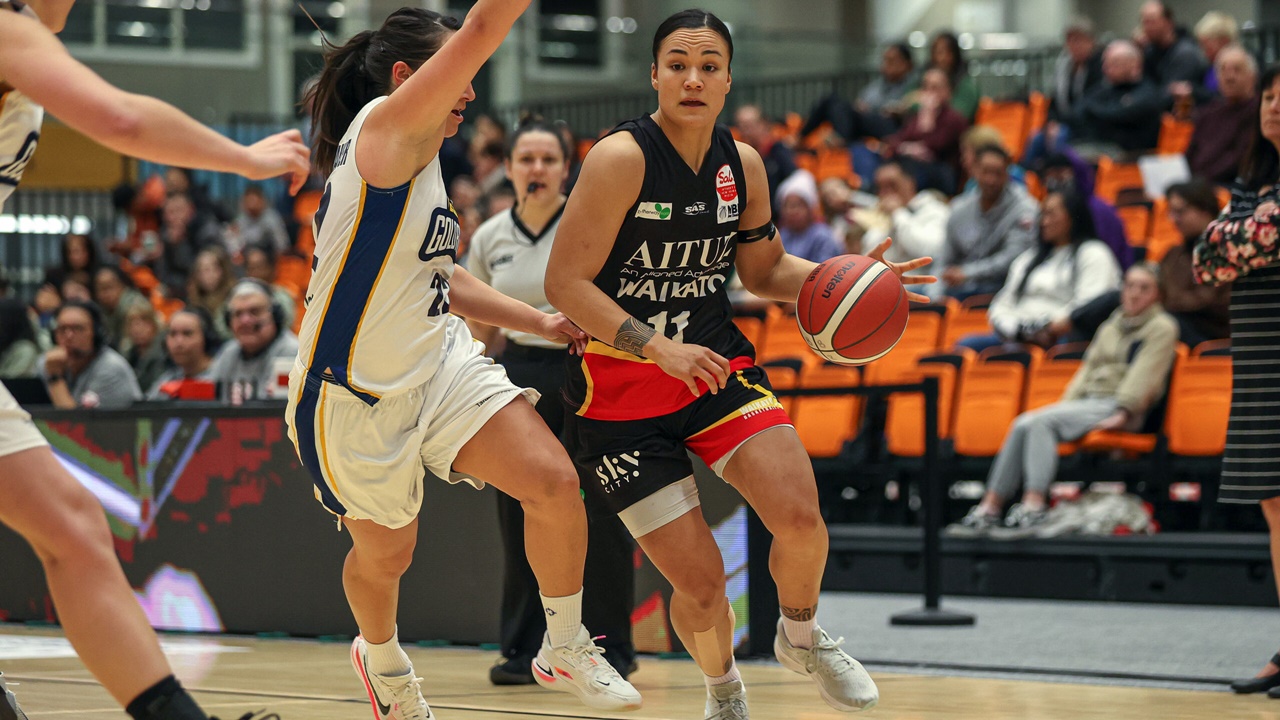 Posted on Saturday, August 14th, 2021
WIZARDS WALLOP GOLD RUSH FOR BACK-TO-BACK WINS
Waikato Wizards made it two wins from two outings with a huge 91-36 victory over Firebrand Otago Gold Rush in the Sal's NBL early game on Saturday night at Pulman Arena in Auckland.
Charlisse Leger-Walker scored 25 points, Maka Daysh tallied 16 points in just 11 minutes and Krystal Leger-Walker filled the stats line with 10 points, 6 rebounds, 7 assists, 5 steals and a block.
Down on personnel due to injury and illness the Gold Rush did receive some good news prior to tip-off with forward Savanna Handevidt passed fit to play after incurring a head knock against Capital Swish on Friday night.
The American was first to score for Gold Rush but her opposite number Maka Daysh had a brace of baskets in the opening two minutes as the Wizards forged a 10-5 lead.
Hannah Beede made an inside basket for Gold Rush but that was answered by a triple from Breana Jones and a coast-to-coast effort from Krystal Leger-Walker – Wizards ahead 20-9 at quarter time.
Charlisse L-W and Arielle Parai made the opening scores of the second period and with his team struggling to cope with the Wizards defensive pressure Gold Rush coach Greg Brockbank needed a timeout.
Caitlin O'Connell sparked a mini revival for the Rush. The former Taranaki standout scored 8 points in the quarter, but the Wizards were well in control at half-time leading 37-19.
That control was magnified in the third period as Maka Daysh, in good early season form, joined Charlisse L-W in double figures.
Daysh scored 10 points in the quarter and the Wizards were almost out of sight at three-quarter time leading 70-25.
Tara Clement made a rare 4-point play but it was a minor inconvenience for the Wildcats as they stretched their lead even further.
The Wizards gave a debut to Sydney Neale and the Hamilton Girls High guard knocked down a three to complete the victory ahead of a mouth-watering clash with Capital Swish on Sunday.
Waikato Wizards (91) defeated Otago Gold Rush (36) – BOX SCORE
WIZARDS: C Leger-Walker 25, M Daysh 16, M Flavell 10, K Leger-Walker 10/6r/7a/5stls, K Manuirirangi 8
GOLD RUSH: C O'Connell 11, S Gallaher 6, T Clement 6, B Kjestrup 5
Talking Points
Could the Waikato Wizards repeat the red-hot form they showed in their explosive start to the season against Auckland Dream? It certainly wasn't flawless from the Wizards but winning by such a wide margin is scary for the opposition.
The Gold Rush will return to Otago to lick their wounds hoping Lisa Wallbutton, Hannah Matehaere and Stirling Walker-Pitman will be available for their next game against Harbour Breeze next Thursday.
Bartercard MVP Votes
10 points - C Leger-Walker (Wizards)
6 points – K Leger-Walker (Wizards)
4 points – K Manuirirangi (Wizards)
3 points – B Jones (Wizards)
3 points – C O'Connell (Gold Rush)
3 points - M Daysh (Wizards)
1 point – S Gallaher (Gold Rush)