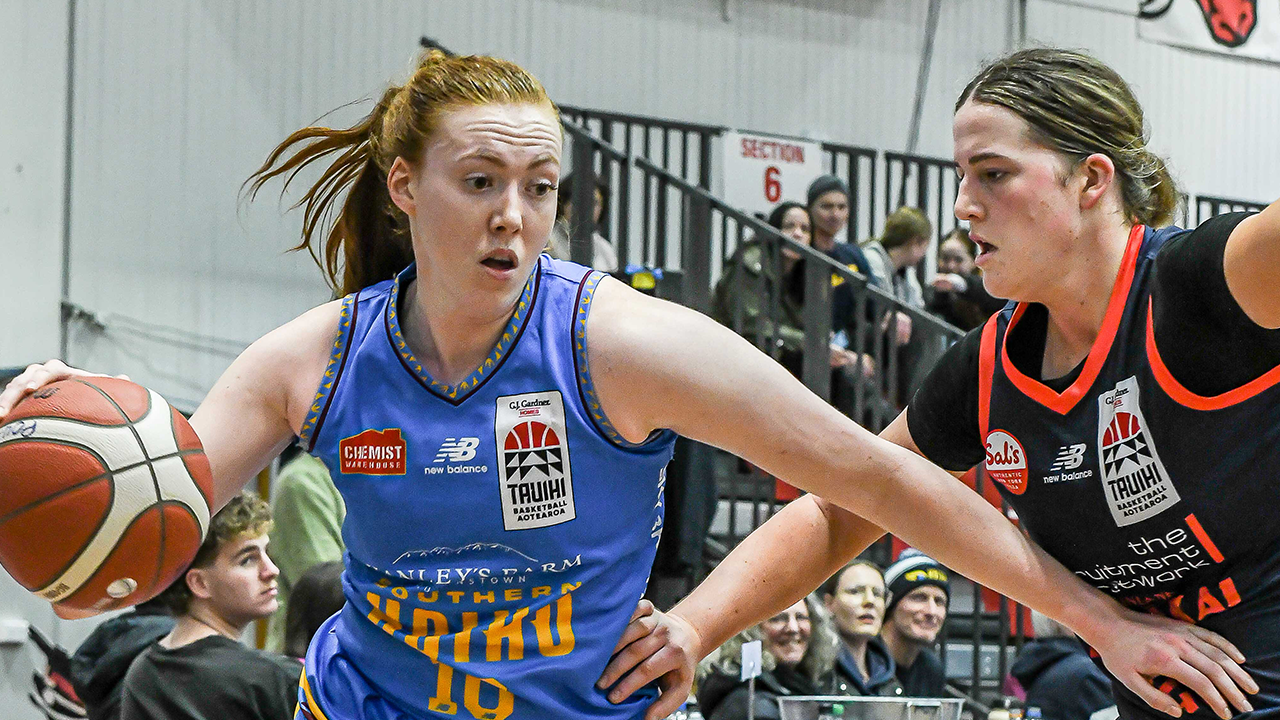 Posted on Monday, July 31st, 2023
The Lacey Log – Round 3
Photo credit: GameFace NZ
Round 3 of GJ Gardener Homes Tauihi Basketball Aotearoa, which featured five fixtures, saw the Tokomanawa Queens and Northern Kāhu the biggest movers. Last year's grand finalists both recorded back-to-back wins and now, ominously for the other teams, fill the top two places on the Tauihi ladder. 
GJ Gardener Homes Tauihi Basketball Aotearoa Round 3 Results
Whai 66, Tokomanawa Queens 89 
A dominant fourth quarter propelled Tokomanawa Queens to an 89-66 win against Whai in Tauranga on Wednesday. 
Having trailed early on, Queens worked their way back into the contest to forge a 67-57 three quarter time lead.  
That lead was quickly extended by Grace Hunter and Paris Lokotui ahead of a couple of Sarah Sagerer buckets in reply. 
Those scores were only a mild inconvenience to the defending champions as American guards Chrislyn Carr and Stephanie Watts converted from beyond the arc to extend the lead to twenty points. 
The biggest cheer of the night belonged to 15 year-old Whai guard Pahlyss Hokianga. Fresh from outstanding performances for the New Zealand bronze medal winning team at the U16 Asia Cup her reverse layup in traffic, plus 6 rebounds, 2 steals and 2 blocks,  showcased her two-way ability. 
That was Whai's final score of the game as Queen's closed out a second successive road win. Talking of successive, Carr (22 points and 8 rebounds) had a 20-point outing for the third time in as many games. Lending her good support were Maya Dodson (23 points), Watts (13 points) and Tegan Graham (10 points and 9 rebounds). 
Sarah Sagerer scored a team high 21 points for Whai, McKenna Dale tallied 13 points, Aaliyah Wilson had 11 points and Mikayla Cowling 14 points and 10 rebounds although the former Cal Berkeley star was kept scoreless in the second half. 
Initially Whai were the quickest out the gate as Dale and debutant Sagerer gave the hosts a 23-18 first quarter advantage. 
Graham gave Queens their first lead of the game at the mid-point of the second period, a quarter in which there would be seven tied scores. 
Cowling had a big quarter making a dozen points while Dodson was a powerful presence in the paint for the visitors, the American centre bowling a couple of defenders to the floor as she scored the last points of the period to give Queens a narrow 45-43 half-time lead.  
Dale opened the second half as she had the first by making a pair of threes but seven straight points from Dodson gave Queens a double figure lead. 
It was an advantage they didn't look like conceding through the closing minutes. 
The Recruitment Network Mainland Pouākai 74, Southern Hoiho 75 
The first South Island derby of the season saw Southern Hoiho steal a 74-75 victory from The Recruitment Network Mainland Pouākai at Cowles Stadium on Thursday to stun the home crowd. 
Following a Lauryn Hippolite triple, with 8 minutes to play, Pouākai appeared in complete control leading 72-59 but remarkably they managed just two more points in the closing minutes.  
Paige Bradley, Zoe Richards and Ashten Prechtel scored a basket apiece to reduce that 13-point deficit and after of a transition basket from Richards, a Prechtel score made it a one-point game (72-71). 
To the relief of the home supporters Natasha Mack made both attempts from the charity stripe to restore a 3-point advantage with under three minutes to play. 
Neither side could score from the field in the closing minutes but crucially Hoiho were able to earn trips to the free-throw line.  
Gracie Roberts-Hare made it a one-point game with 36 seconds to play and on the next Hoiho possession Bradley iced a pair of freebies to give the visitors the lead with just 6 seconds left on the clock. 
There was time for Pouākai to get off a shot but like most of their attempts in the quarter it just wouldn't drop. 
Hoiho centre Prechtel stuffed the stats sheet with 22 points, 8 rebounds, 6 assists and 7 blocks while fellow American Bradley also had 22 points to accompany 8 assists while Richards finished with 12 points and Samara Gallaher 8 points. 
The loss somewhat overshadowed the performance of Pouākai forward Sharne Robati who scored a career high 24 points (7/11FG, 4/6 3PG, 4/6FT) and reached 200 Tauihi points in the process.  
American debutants Jasmine Dickey (16 points and 7 rebounds) and Natasha Mack (10 points), made strong contributions as did Esra McGoldrick (9 points and 9 rebounds) and Kendell Heremaia (8 points and 5 assists). 
A three-point party was the feature of the opening quarter. Hoiho made 3 from 7 at 42% while the hosts went 4 of 6 at 67% - three of those sunk by Robati - Pouākai with a 23-22 lead. 
Mack scored the first 6 points of the second as Pouākai posted 27 points in the quarter. Robati had 20 points on the board by half-time and but for Prechtell's 11 points Hoiho would have been more than 11 points (50-39) adrift at the interval. 
Heremaia, taking on some point guard responsibilities in the absence of Kennedy Leonard was dishing dimes galore as Pouākai advanced their lead to 61-47. Opposing playmaker Bradley also had a productive time – her 8 points keeping the visitors within a dozen (69-57) at three-quarter time. 
Following that Hippolite three it was all Hoiho as they headed for their third win on the bounce! 
BNZ Northern Kāhu 83, Whai 71 
A massive double-double of 25 points and 20 rebounds from Penina Davidson propelled BNZ Northern Kāhu to an 83-71 victory at the Franklin Pool & Leisure Centre on Friday. 
There were three's galore in the opening spell. Awatea Leach nailed one with her first shot in Kāhu colours ahead of Krystal Leger-Walker making a trio of them. Sarah Sagerer made a brace for Whai while Honey Cooney and Aaliyah Wilson dropped one apiece – Kāhu ahead 23-22 after the opening quarter. 
After the scores were tied at 30 points apiece Kāhu closed the first half with a 12-5 run to take a 44-35 lead into the half-time break. Sagerer led all scorers at the interval with 13 points, while Leger-Walker (12 points) and Davidson (11 points) were in double figures for the hosts.  
Kahu's two leading scorers made the first scores of the second half and with Ilmar'I Thomas scoring inside the lead climbed to 22 points. 
Jade Kirisome and Maka Daysh broke the Whai's scoring drought and although they closed the quarter strongly the deficit was a significant 17 points (64-45) at the last break. 
Whai enjoyed the better of the fourth quarter but that sluggish show either side of half-time proved costly. 
Besides the standout effort from Davidson the duo of Leger-Walker and Thomas scored 18 points each with Akiene-Tera Reed tallying 10 points and 9 rebounds for the home team. 
For Whai there were double figure contributions from former St Mary's College, California standout Kirisome (11 points) and the import trio of Sagerer (17 points), Wilson (18 points) and Mikayla Cowling (18 points).  
Tokomanawa Queens 92, The Recruitment Network Mainland Pouākai 79
A spirited performance from an under resourced Recruitment Network Mainland Pouākai wasn't quite enough as they were downed 92-79 by Tokomanawa Queens at Rauparaha Arena in Porirua on Saturday night. 
After racing to a 19-9 lead inside four minutes Queens remained ahead throughout the contest but were unable to shake off their opponents until the closing two minutes. 
When Jasmine Dickey nailed a triple with 3:36 to play Pouākai were sensing a come from behind victory as they trailed by just four points, 81-77. 
However Stephanie Watts hit back with a made three of her own to precede back-to-back inside buckets from centre Maya Dodson. 
Kendell Heremaia kept the Pouākai flame flickering only for Tegan Graham to finally douse that hope of victory with a pair of free-throws inside the final minute. 
Graham (13 points) was one of four Queens players in double figures. Dynamic point guard Chrislyn Carr (21 points and 12 rebounds) made it four straight games with over 20 points,  Watts eased her way to 19 points and 13 rebounds with centre Dodson amassing 25 points. 
Jasmine Dickey scored a game high 27 points for Pouākai while Sharne Robati (21 points),  Kendell Heremaia (18 points and 7 assists) and Natasha Mack (8 points and 9 rebounds) were the other key contributors for the Mainlanders. 
After a fast paced opening Queens were 29-23 to the good at quarter time with former Chicago Sky wing Steph Watts tallying 10 points. 
The in-form Robati also reached 10 points in the opening minute of the second before back to back threes from Graham and Carr stretched the Queens lead. 
The reply came from Heremaia but the pace of Carr and Watts was troubling Pouākai and Queens were out to a dozen points. 
However Dickey, Robati and Heremaia would chip away at the lead to close to within 4 points (53-49) at the main break.  
The scoring slowed in the third quarter - 6 points from Dodson the key reason Queens were able to take a lead (68-63) into the final period. 
Dickey's 11 fourth quarter points weren't quite enough for Pouākai who remain winless after four outings. In contrast the 2022 champions now have three wins from four. 
Southern Hoiho 59, BNZ Northern Kāhu 67
The Northern Kāhu reversed the loss they suffered at the same venue two weeks ago leaving the Edgar Centre in Dunedin with a 67-59 victory over Southern Hoiho on Sunday afternoon – the first loss of the season for the Hoiho. 
In a see-sawing fourth quarter Zoe Richards had given Hoiho a 58-55 lead with 3:40 to play and a fourth straight win looked likely. Thomas and Reed restored the lead for the visitors but when Tyler Mitchell knotted the scores at 59 apiece a minute later that victory was still on the cards. However Kāhu, to the disappointment of the home crowd, would go on to score the last 8 points of the contest to seal victory. 
While all eyes had been on the  fascinating match-up between American Ashten Prechtel and Tall Fern Penina Davidson, the only two players to have recorded 20-points/20-rebounds double-doubles in Tauihi Basketball Aotearoa, it was Kāhu power forward Ilmar'l Thomas that came up with the starring role. 
The Californian finished with a highly efficient 30 points (9/16FG, 2/4 3PG, 10/11FT) to go with 12 rebounds and critically, the last four points of the game. 
Akene-Tera Reed also produced a double-double for Kāhu with 13 points and 12 rebounds while Krystal Leger-Walker was typically busy with 8 points, 7 rebounds, 6 assists and 4 steals. 
Livewire Zoe Richards top scored for Hoiho with 17 points while Prechtel, the League's leading rebounder, had 21 boards and 5 blocks to go with 15 points. In another strong showing the former NCAA Championship winner was also able to keep Davidson (4 points and 7 rebounds) relatively quiet. 
Hoiho had controlled the opening stanza to lead 17-12 and although Kāhu briefly gained the lead in the second quarter a Mitchell three ensured Hoiho carried a 31-29 advantage into the locker room at half-time. 
Ahlise Hurst scored her first points of the game after the interval but with Leger-Walker, Reed and Thomas becoming increasingly influential Kāhu had established a 47-41 lead by the three-quarter time mark. 
Consecutive And-1 plays from Richards and Paige Bradley got Hoiho on level terms, four lead changes and four tied scores then ensued, before Thomas and the Kāhu claimed the spoils with that late surge.  
Sky Broadband Rapid League Round 3 Results
Whai 24, Tokomanawa Queens 35 
Tokomanawa Queens, on the back of 16 points (6/7FG, 2/2FT) from Eva Langton, made it three Rapid League wins on the bounce with a 35-24 win at Whai. 
Whai guard Alyssa Hirawani opened the scoring with a deep three - the reply a brace in the paint from Josie Stockill (8 points). 
Langton opened her account with baskets either side of quarter time to propel Queens to a 13-7 lead. 
New Zealand U17 representative Pahlyss Hokianga (7 points), scored with a reverse layup in traffic highlighting her youthful promise. 
Ahead 16-12 at half-time the Queens increased that margin to double figures (26-16) at three-quarter time. 
Olivia Lassey and Hirawani trimmed the margin slightly before Langton put the lid on the win with her second triple. 
The Recruitment Network Mainland Pouākai 30, Southern Hoiho 21 
Karereatua Williams scored half the points as The Recruitment Network Mainland Pouākai scored the first 14 points of the game before Tyler Mitchell opened the Hoiho account. 
Having gone scoreless in the opening frame Hoiho put on 8 points in the second period. Five of those points came courtesy of Mitchell as they closed the half 16-8 in arears. 
Williams (10 points) and Tsubasa Nisbet, back from a season with Darwin Salties in NBL1 in Australia, combined to stretch the Pouākai lead to double figures. 
Alexa Duff, a Year 12 student at Columba College, nailed a brace of threes for Hoiho before a Rosalia Samia triple saw off the visitors challenge and ensured Pouākai remained unbeaten in the Rapid League 
BNZ Northern Kāhu 25, Whai 17 
With seven points each from  Azure Anderson, Krystal Leger-Walker and Ilmar'I Thomas  BNZ Northern Kāhu posted their first Rapid League win of the season defeating Whai 25-17 in Pukekohe. Kāhu led 9-2 at the first break with their points coming courtesy of threes from  Leger-Walker, Anderson and Awatea Leach. 
Pahlyss Hokianga doubled the Whai score but when Thomas completed the first half action with a And-1 play the Kāhu lead was 17-7. 
Consecutive triples from Honey Cooney trimmed the margin to 4 points although Kāhu, after an Anderson score, led 23-15 at the three-quarter mark. 
Kāhu had little trouble in protecting their advantage in the final frame. 
Tokomanawa Queens 28, The Recruitment Network Mainland Pouākai 29 
The two unbeaten teams in the Rapid League went head to head and it was The Recruitment Network Mainland Pouākai that came out on top defeating Tokomanawa Queens 29-28 in a thriller at Te Rauparaha Arena in Porirua on Saturday night – the hosts held to just two points in the final period. 
Making the highest Rapid League single game score Pouākai's Jacinta Beckley was the star of the show amassing 17 points on 7 from 11 shooting against her former team. 
Pouākai entered the final quarter trailing 26-20 but a Maddie-Morrow triple shaved that deficit before Ivy Brown made it a one-point game. 
Letava Kenny restored the Queens advantage before, fittingly, Beckley made the winning basket with a close close range jump shot. 
Earlier it was Josie Trousdell (6 points) and Teararoa Sopoaga (9 points) that had put Queens in that winning position at three-quarter time. 
Beckley and the Pouākai had other ideas down the stretch! 
Southern Hoiho 15, BNZ Northern Kāhu 31 
BNZ Northern Kāhu defeated Southern Hoiho 31-15 in the Sunday afternoon game at the Edgar Centre in Dunedin. 
Keeley Tini, on her way to a game high 11 points (on 5 from 6 shooting), scored a couple of early baskets as Kāhu opened up an 8-2 lead and after she and Ilmar'I Thomas nailed threes the visitors were out to an 18-4 half-time advantage. 
Sophie Adams and Jennifer O'Connell made inside scores for Hoiho but they were in a hole at three-quarter time trailing 24-8. 
Caitlin O'Connell's 5 points made a dent in the deficit but a neat finish from U16 New Zealand international Bailey Flavell capped off a dominant Kāhu performance.