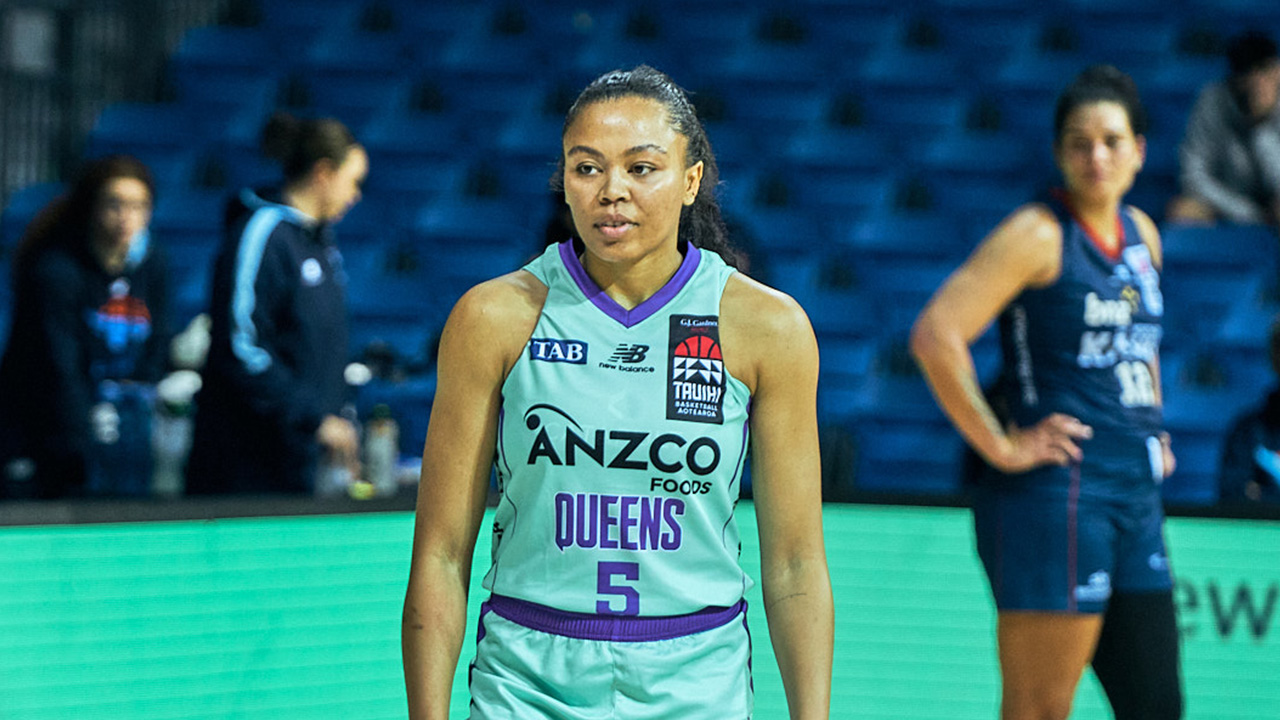 Posted on Wednesday, July 26th, 2023
Tauihi Preview – Round 3
Whai (0-1) v Tokomanawa Queens (1-1) - Wednesday, 7:30pm 
Key Stats:  
| | |
| --- | --- |
| Whai   | Queens   |
| 33 rebounds per game (last in league)  | 7 offensive rebounds per game (last)  |
| 12 made 3's per game (1st)  | 6 made 3's per game (4th)  |
| 38.7% from three (1st)  | 48.8% Field goals (1st)  |
The Whai haven't played since their opening game of the season where they stormed home to a road victory in Christchurch with an 11-0 run late in the fourth. The top of the roster carried the load, led by Mikayla Cowling (27 points, 10 assists, 40 minutes) and McKenna Dale (32 points on 8-of-13 shooting from three in 39 minutes) but with zero points off the bench.  
The Queens bounced back from a season opening loss on their home court with a strong finishing performance in a rematch of last season's championship game where they were able to overcome the interior strength of the Kāhu with timely triples, and the speed and ball handling skill of Stephanie Watts (26 points, 14 rebounds) and Chrislyn Carr (25 points on 9-of-13 on two point field goals). The interior work of Maya Dodson and Parris Mason will be key as they will need to temper a Kāhu attack that punishes deficiencies on the interior. 
Matchup to Watch: Mikayla Cowling vs. Stephanie Watts 
--
The Recruitment Network Mainland Pouākai (0-2) vs. Southern Hoiho (2-0) - Thursday, 7:30pm 
Key Stats:  
| | |
| --- | --- |
| Pouākai  | Hoiho  |
| 68.5 points per game (last)   | 82 points per game (1st)  |
| 13 O boards per game (2nd)   | 18.5 offensive rebound per game (1st)  |
| 37.4%  field goals (last)   | 19.5 assists per game (1st)  |
The Pouākai were unable to chase down victory late on the road after being chased down in Round 2 to suffer a home loss. Back on the home court again they will need to find a way to pick up their efficiency from inside the arc to bolster a league worst scoring average. An influx of talent should help with the team expected to welcome key players Tsubasa Nisbet and import Natasha Mack, but their inclusion alone won't be enough to slow down a Hoiho squad that has been dominant in spurts. .  
Ashten Prechtel has been dominant, dropping 21PPG with 16.5 RPG, and her play has opened up space for Zoe Richards (17 PPG, 11.5 RPG) to bring her game to a new level. A league best effort on the glass has enabled a huge dominance of possession, allowing for the Hoiho to find 45 more shot attempts than their opponents in two games this season. While a habit of sending opponents to the line (opponents have shot 26 more free throws over two games) should be monitored, early signs indicate that opponents will be left scrambling to find ways to slow down their potent attack. 
Matchup to Watch: Natasha Mack vs. Ashten Prechtel 
--
BNZ Northern Kāhu (1-1) vs. Whai (1-0) - Friday, 7:30pm 
Key Stats:  
| | |
| --- | --- |
| Kāhu  | Whai  |
| 22% from three (last)  | Allow 32 points per game in the paint  |
| 7.7 steals per game (2nd)   | 16 assists per game (2nd)  |
| 29 free throw attempts per game (1st)  | 9 steals per game (2nd)  |
The Kāhu will be looking to improve on a slow start where rhythm has been tough to find as players arrived from overseas stints and unexpected niggles kept the team from sprinting out of the gates in the early season. Tahlia Tupaea has been hampered by a shoulder concern, keeping last year's MVP from contributing at her expected level, but that has opened the door for early season dominance from Tera Reed (22.5 PPG, 3.5 APG) on the perimeter and the fierce interior combo of IImar'I Thomas (24 PPG, 9.3 RPG) and Penina Davidson (15.5 PPG, 13 RPG). Despite not yet being at full strength (awaiting Tess Madgen) this is a dominant offensive squad that will test opponents all over the court.  
The Whai were able to finagle a come from behind win thanks to opportunistic defence and timely shooting from three and the free throw line. Their interior defence will be tested to a greater degree in Round 3, but their 31 attempts from three per game will balance the court nicely. An uptick in pace may be on the cards as no team takes fewer field goal attempts then the Whai's 62 per game. 
Matchup to Watch: Tera Reed vs. McKenna Dale  
--
Tokomanawa Queens (0-1) vs. The Recruitment Network Mainland Pouākai (0-2) - Saturday, 7:30pm 
Key Stats:  
| | |
| --- | --- |
| Queens   | Pouākai  |
| 79.5 points per game (2nd)  | 68.5 points per game (last)   |
| 19 attempts from 3 per game (last)  | 39 rebounds per game (2nd)   |
| 24.5 two point field goals per game (1st)  | 4.5 blocks per game (2nd)  |
The Queens will be tested on their first doubleheader of the season, but will take comfort in returning to a home court that acted as a stronghold a season ago. As a team, their skill with the ball in hand is undeniable, creating 24.5 buckets a game inside the arc, but a lack of pop from deep will make it tough to keep pace with teams that attack from behind the arc. Their pace with Steph Watts will put pressure on opponents in transition, and even more so on a Pouākai team that is currently last in the league in scoring.  
The Pouākai will need to to lift their individual defence and force the Queens to make the extra pass, not an easy task for Tokomanawa who averages just 10 assists per game (last in the league).  If the Pouākai defence is forced into rotation it may open up more shots from three, a dangerous option to give the Queens who are shooting 31.6% from deep, but a better option than giving up the two, where the Queens find the net 56.3% of the time 
Matchup to Watch: Chrislyn Carr vs. Kennedy Leonard 
--
Southern Hoiho (2-0) vs. BNZ Northern Kāhu (1-1) - Sunday, 3:00pm 
Key Stats:  
| | |
| --- | --- |
| Hoiho  | Kāhu  |
| 10.5 steals per game (1st)  | 22% from three (last)  |
| 47.5 rebounds per game (1st)  | 37.3 rebounds per game (4th)  |
| 28.4% from three (4th)  | 29 free throw attempts per game (1st)  |
The battle between North and South ignites for the second time of the season, with the Hoiho hosting the Kāhu once again. In the first match-up the Hoiho took advantage of an understrength squad to limit opportunities from deep (Kāhu shot just 3-of-17) and strangle their offensive output by allowing just 13 points a piece over the middle quarters, turning a 4-point first quarter deficit into a 15-point lead heading into the final term.
Penina Davidson will add some resistance to the interior and she and II'marI Thomas will combine to form a potent obstacle for Ashten Prectel and Zoe Richards on the interior. The Hoiho will need to temper their defensive efforts as their opponents were able to find 45 attempts from the charity stripe previously, an area they will look to take advantage of again. 
Matchup to Watch: Zoe Richards vs. Penina Davidson