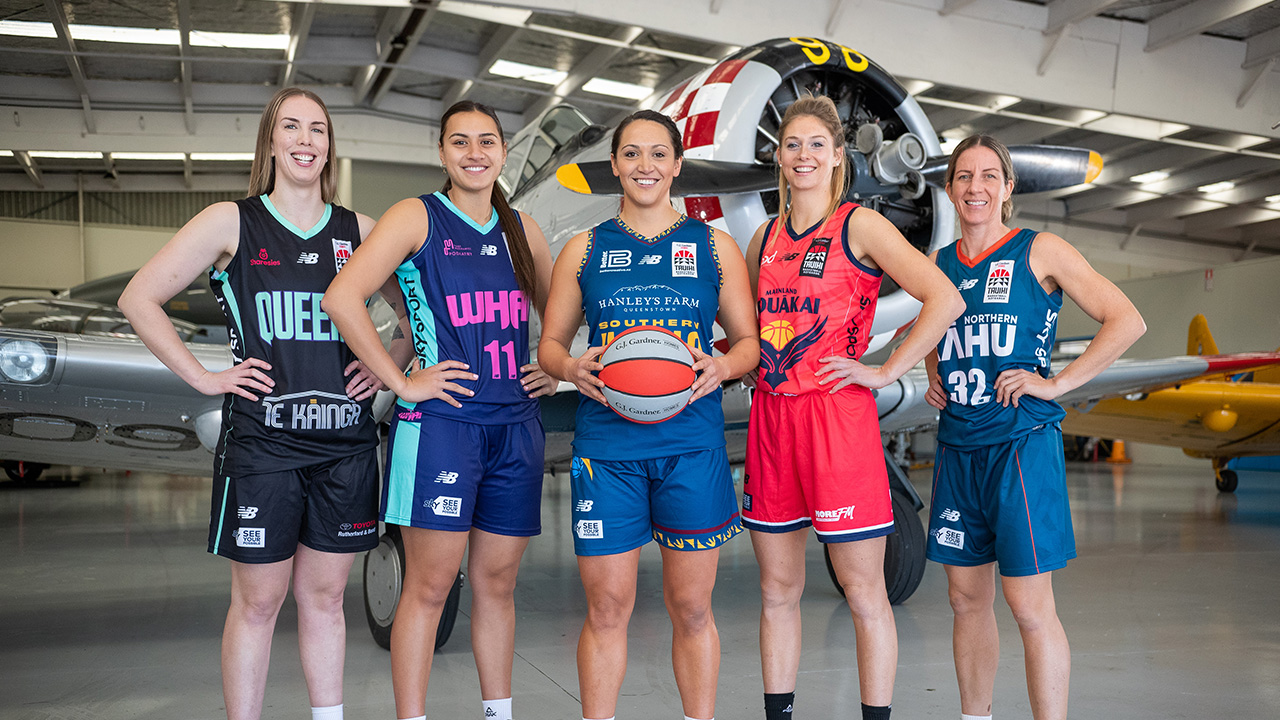 Posted on Tuesday, June 28th, 2022
Tauihi Basketball Aotearoa Season Preview
The GJ Gardner Homes Tauihi Basketball Aotearoa tips-off on Wednesday, June 29 and heralds a new dawn for Women's Basketball in New Zealand.
The first thing to note as Mainland Pouākai entertain Southern Hoiho at Cowles Stadium (tip-off 7.00pm), is the franchise names of the five teams playing in the inaugural league.
Joining Pouākai and Hoiho are Northern Kāhu, Mid-North Whai and Tokomanawa Queens.
The league will officially be named GJ Gardner Homes Tauihi Basketball Aotearoa. Tauihi means "to soar" in Te Reo Māori – a theme which Leagues GM, Huw Beynon says will echo the spirit of the new league and its players.
"Tauihi will be a league that exists to elevate the status of women's basketball, to help take it to the next level in Aotearoa and beyond," says Beynon.
"It will be a unique competition which epitomises basketball's uplifting energy, and which inspires the next generation of young kiwi women to aim higher, both on and off the court.
"And as a product for fans, it will deliver a high level of professional women's basketball action – featuring an exciting mix of homegrown and overseas talent – which will also help grow and develop our next generation of Tall Ferns."
What else is new?
Major partner Sky New Zealand will broadcast all 33 games live including the Finals series scheduled for 26 August at Nelson's Trafalgar Centre.
Each team will have ten contracted players, paid more than any female basketballers in the history of New Zealand women's basketball. As in the Sal's NBL, teams will be permitted up to three paid import players. In addition to the paid players, we will see each franchise nurturing young amateur players, those athletes wishing to preserve their eligibility for North American basketball scholarships.
Here we take a look at each franchise and the playing personnel that will be striving to take out the GJ Gardner Homes Tauihi Basketball Aotearoa Grand Final on Saturday, August 27.
| | |
| --- | --- |
| Northern Kāhu | |
Tall Ferns:
Signings don't come much bigger than that of Micaela Cocks, the most capped Tall Fern of all-time. Factor in the signings of point guard Krystal Leger-Walker and Akiene-Tera Reed, and Kāhu Head Coach Jody Cameron has a potent international triumvirate to manage her back-court.
The vastly experienced Cocks will return to play on Auckland's North Shore 16 years after departing to begin her outstanding collegiate, professional and international career. In the intervening years, the 2008 Olympian played four years at Oregon State University, has amassed 141 Tall Ferns appearances and played a record 240 games, over 10 seasons, for Townsville Fire – winning three WNBL championships along the way.
Returning Collegiate players:
The aforementioned Leger-Walker and Reed will embark on their professional careers having put together record-breaking college resumés. Both have been Conference title winners with Reed second on the all-time list of points scored by a Kiwi woman in NCAA Division I basketball, tallying a small matter of 1,647. Leger-Walker tops the all-time assists list by a Kiwi 621 and also boasts the record for the most NCAA starts by a New Zealander – 139 in 142 games.  
Imports:
The northern most franchise have gone for a one Australian, two American mix to fill their restricted player quota. The Australian is Tahlia Tupea, who boasts a decade of experience in the National Basketball League (WNBL) despite being just 25 years-old. Penrith born, with Tainui-Ngāti Tipa descent, Tupaea became the second youngest debutant in the history of the WNBL when she took the court for the Sydney University Flames in 2012 as a 15 year-old. The 170cm guard has since gone on to play over 140 WNBL games, most recently for 2022 semi-finalists Canberra Capitals.
A four-year starter at De Paul University, American forward Martè Grays also has links to the WNBL having played for Bendigo Spirit in 2019-20. Most recently she has been playing for MBK Ruzomberok, the 2022 Slovakian Cup winners. Former University of Wisconsin forward Madison Wolf boasts European experience having played in Germany, and in the recently completed 2021-22 season, in the Czech Republic for the Lokomotiva Trutnov club.
Up and Comers:
Ella Bradley has spent the last two years at Utah State Eastern University and when she returns to the States after the Tauihi Basketball Aotearoa season, she will head to the University of Texas at Tyler (NCAA Division II). A multiple championship winner with Waikato and St Peter's School, Cambridge she will once again link up with Krystal Leger-Walker, another St Peter's alumni.
One to watch:
2020 18in18 Grand Final MVP Ashleigh Kelman-Poto will be keen to reproduce the form of two years ago as she strives to not only claim another championship ring but also to again attract the attention of the Tall Ferns selectors.
| | |
| --- | --- |
| Whai | |
Tall Ferns:
Four Tall Ferns will wear Whai colours in 2022, with former Nelson and Auckland Dream shooting guard Jelena Vučinić providing veteran backcourt presence.
Cantabrian forward Esra McGoldrick played for the Tall Ferns as recently as 2019 in the traditional  five-on-five format. However, along with fellow Whai players Sharne Robati and Tiarna Clarke, McGoldrick played for the victorious Tall Ferns 3X3 Team at the FIBA World Cup Qualifiers in Doha in March.
Returning College players:
Kendell Heremaia launches her professional career having recently completed an outstanding 5-year NCAA Division I career at Fordham University in New York. During that time she amassed 1,291 career points, 796 rebounds and 317 assists in 145 games.
Earlier this year she set a programme record when she made 11 three-pointers in her career high 35 points against Massachusetts. Back in 2019, she played alongside fellow Kiwis Mary Goulding and Zara Jillings as the Rams won their second-ever Atlantic 10 Championship.
Imports:
Whai have opted for an all-American import line-up of Dominique McBryde, Kyra Lambert and former WNBA player Nikki Greene.
Greene made 12 appearances for Los Angeles Sparks in 2014 and the following year played 11 games for the Connecticut Sun. Her professional career has also taken her to South Korea, Israel, Poland, Australia and France. The 193cm forward is the only player in Penn State history with 1,000 points, 900 rebounds (4th all-time with 994) and 200 blocks (second all-time with 215).
In 2020, her senior year, McBryde became the first Arizona University Wildcat ever to shoot 50% from the field and 40% from three. She arrives in Tauranga having averaged 14 points and 7.3 rebounds per game for Luxemburg League Cup Finalists T71 Dudelange.
Kyra Lambert played three years at Duke University before moving to the University of Texas for her final collegiate season in 2020-21. She averaged 7.1 points, 3 rebounds and 3.1 assists for the Longhorns as they progressed to the Elite 8 at the 2021 NCAA Championship. The exciting point guard averaged 13.0 points, 5.0 rebounds and 4.9 assists per game for Banska Bystrica in the Slovakian League earlier this year.
One to watch:
Tiarna Clarke is one of the most gifted guards in the country and her 3X3 form in 2022 has been excellent both for the national team and in the 3x3.Exe Premier League. Clarke scored a career high 30 points for Harbour Breeze against Canterbury Wildcats in the abbreviated 2021 NBL - that followed a 16-point outing in the 2020 NBL Grand Final.
Will 2022 be the year the 23 year-old translates pockets of brilliance into consistent excellence?
Up and Comers:
Sharne Robati seems to have been around the New Zealand women's basketball scene for a long time but still only 21 years old you feel the former Junior Tall Fern has only scratched the surface of her potential. A WBC championship winner with Auckland Dream in 2019, she was leading scorer in the 2020 NBL season averaging 16.4 points per game. That sort of production will do just nicely for Whai Head Coach Mel Bennett.
| | |
| --- | --- |
| Tokomanawa Queens | |
Tall Ferns:
The Queen B's, Beck and Beckley are back!
The pair won a WBC title with the Hutt Valley Flyers way back in 2013 and would like nothing more than to repeat that success in the inaugural Tauihi Basketball Aotearoa campaign.
In the intervening nine years, the duo have enjoyed success playing in Australia following fine NCAA Division I Collegiate careers. Beckley played four years at the University of Seattle and Beck at St Mary's College, California where she was named to the West Coast Conference All-Academic First Team on three occasions.
Josie Trousdell (formerly Stockill), the third senior international in the Tokomanawa line-up, also followed the American collegiate route. Out of Napier Girls High, she headed to Colgate University in Hamilton, New York set a number of Patriots women's basketball records including the programme's career leader for blocked shots in a game (13), season (105) and career (241).
Returning College players:
Former St Mary's College, Wellington National Championship winning guard Grace Hunter will add depth to the Queens backcourt. In the 2021-22 season at NCAA Division I school Florida International University, Hunter was third on the Panthers scoring list averaging 9.3 points per game. Hunter will return to the States at the conclusion of the Queens season to further her basketball and academic career.
Returning full time from college is Taranaki native Eva Langton. Following high school Langton played two years at Western Nebraska Junior College before moving on to Texas A&M International (NCAA Division II) for three years. She started 25 of 26 games in the 2021-22 season averaging 8.6 points and 5.4 rebounds per game.
Imports:
Queens have recruited from three continents to secure their overseas players. American Jaime Nared is a former WNBA player, Elin Gustavsson has played for the Swedish National team and Italy based Florencia Chagas has represented Argentina.
Interestingly, Chagas played for Argentina against New Zealand at the 2018 U17 World Cup in Belarus. The 180cm guard tallied the small matter of 8 points, 7 steals, 6 rebounds and 6 assists against the Kiwi team that included Sharne Robati (Whai Stingrays), Ella Bradley and Jazz Kailahi-Fulu (both Northern Kāhu). Chagas has played six years in the Italian League - in 2021-22 she averaged 9 points per game for Magnolia La Molisana.
Swedish national Gustavsson played at Colorado State University where she played 131 games for the Rams, the team winning the Mountain West Conference in each of her 4 years. With 1,477 points she sits 8th on the Rams all-time scoring list and 10th all-time on the rebounding list with 698. Since graduating in 2017, she has played in Spain, Belgium and most recently France where she averaged 9.4 points and 5.1 rebounds for Saint-Amand in 2021-22.
Following a four year career at the University of Tennessee, Jaime Nared was a 2nd Round Draft pick by Las Vegas Aces in 2018, and going on to play 32 WNBA games. The 26 year-old began the 2021-22 season playing in Russia but moved to Turkey following the outbreak of the war with Ukraine. She averaged 20.9 points and 7.8 rebounds per game for the  Antalya 07 club.
One to watch: 
The Buenos Aires born Chagas was selected 31st overall by the Indiana Fever in the 2020 WNBA Draft and although she hasn't yet played in the Association, it is believed she is still on the radar of a couple of teams.
Good enough to lace up the shoes in the Argentine League as a 15 year-old, the shooting guard has played in the Italian League, one of the premier competitions in Europe, for the last four seasons. With 35,000 followers on Instagram, she could be the Queens queen of social media too! 
Up and Comers:
Cross-code athlete Parris Mason comes to the Tokomanawa Queens following a successful season with the Central Pulse in the ANZ Premiership Netball League and Central Manawa, the National Netball League winners in 2022.
Whilst Mason has focused on netball in recent years her basketball talent is unquestioned having played on the New Zealand silver medal winning team at the 2019 FIBA U17 Oceania Championships in New Caledonia. Oh, and she's still only 19!
| | |
| --- | --- |
| Mainland Pouākai | |
Tall Ferns:
Tessa Boagni and Mary Goulding are home grown Cantabrian Tall Ferns but luring Ella Fotu down from Auckland is quite a coup for the Pouākai even though the experienced wing will miss some early games with Tall Ferns 3X3 commitments. Add Lauryn Hippolite to the mix and that's quite a quartet of talent for Head Coach Tully Bevilaqua to have at her disposal.
Hippolite won an Australian WNBL title with the Melbourne Boomers earlier in the year and with Goulding now having two years of experience in that same league, with Bendigo Spirit, we can expect big things from the Ferns foursome.
Tsubasa Nisbett returns to add depth to the Pouākai forward stocks. The former Burnside High School standout returns to Canterbury after a four-year career at Georgia Sothern University (NCAA Division I). She played 85 games for the Eagles, captaining the team in her recently completed senior year.
Imports:
Mainland have signed Americans Trinity Baptiste, Cierra Walker and Erin Whalen as their import trio for the 2022 season.
The 22 year-old played the 2020-21 collegiate season at the University of Arizona where the Wildcats went all the way to the NCAA Championship game losing by a single point to Stanford (54-53). Baptiste led Arizona in rebounds (6.1rpg) and was third in scoring (8.6ppg) that season. Walker is undertaking her first professional assignment having recently graduated from West Coast Conference powerhouse Gonzaga University. The left handed guard helped Gonzaga win back-to-back West Coast Conference titles, shooting 41.3% from the 3-point line.
185cm forward Whalen is also a rookie. Following two-years at Vanderbilt University, the 24 year-old played a further two years at Dayton University where in her senior year (2021-22) she averaged 13.3 PPG and passed 1,000 points scored for the Flyers.
One to watch:
It's wonderful to see former Canterbury Wildcat Tessa Morrison back on the national stage. Morrison was a member of both the 2016 and 2017 Wildcats WBC Championship winning teams but hasn't played top level basketball since suffering an ACL injury at the 2021 Schick 3X3 Cup.
The former Wildcats captain will be an influential figure for Mainland on and off the court.
Up and Comers:
The name Jones is synonymous with basketball success in the Nelson region and it will be fascination to chart the progress of teenager Maia Jones. Maia is the daughter of Tall Black great Phill Jones and Women's NBL player and Pouākai assistant coach Kat Jones.
The Year 13 Waimea College student played for the New Zealand U17 team at the 2022 Asia Championship in Jordan.
| | |
| --- | --- |
| Southern Hoiho | |
Tall Ferns:
The Jillian Harmon signing looks a masterstroke by the Hoiho. The 2008 Olympian, having played virtually all her basketball overseas, is a proven winner having claimed silverware in five countries and on three continents. Having won NCAA conference championships at Stanford University she came 'Down Under' in 2014-15 playing a season with Micaela Cocks at Townsville Fire followed by a WBC campaign with Otago Gold Rush – she won a championship with both teams! She has subsequently won titles, during a decade of play, in Italy and in 2021-22 at French Cup with Landes.
The Dunedin raised trio of Zoe Richards, Nicole Ruske and Samara Gallaher have also been championship winners in the past. Gallaher played alongside Harmon in 2015, Ruske was also on the '15 team as well as 2018 with Richards similarly a champion in 2018.
Imports:
Hoiho have gone for a two American, one Australian split with their three imports.
Look out for Shelby Cheslek to provide some aerial entertainment. The 196cm centre finished her stellar career at Gonzaga University as the leading shot-blocker (216) in programme  history and second on the Zags all-time rebounding list with 932 boards. For the last two years she has played in Turkey for Fenerbache Gelisim – in the 2021-22 season she averaged 11.6 points, 11.7 rebounds and 1.9 blocks per game.
Fellow American Laina Snyder is also a former American collegiate player of note. Snyder finished her career as the Ashland University Eagles all-time leading scorer amassing 2,295 points in 138 games. In addition she holds the all-time record for rebounds (1,207) and steals (372). Since graduating she has played in Australia, Germany, Greece and most recently Luxembourg where she averaged 19.2 points and 12 rebounds per game for T71 Dudelange in the 2021-22 season.
Western Australian guard Tori Dugan was named the Canadian College Athletic Association Women's Basketball Player of the Year in 2022. Dugan averaged 13.9 points, 5.8 assists and 3.9 rebounds per game for Lakelands College Rustlers. In five season with the Rustlers she led them to a 98-14 record, winning two Alberta College Athletics Conference titles.
One to watch:
If Samara Gallaher can recapture the form that propelled her into the international arena she could be a game-changer for Hoiho. A ferocious defender with a team first attitude she is the type of player teammates love and opponents fear.
Up and Comers:
Guard Olivia O'Neill made big strides with Otago Gold Rush during the 2020 and truncated 2021 seasons, and looks capable of elevating her game to an even higher level in the inaugural Tauihi Basketball Aotearoa season.
A terrific athlete, look for the former Junior Tall Ferns guard to provide impact off the bench for the Southerners.
A league laced with 18 current or former Tall Ferns, ex-WNBA players, Australian, Swedish and Argentine internationals, GJ Gardner Tauihi Basketball Aotearoa will provide a spectacle and level of competition never seen in women's basketball in New Zealand before.