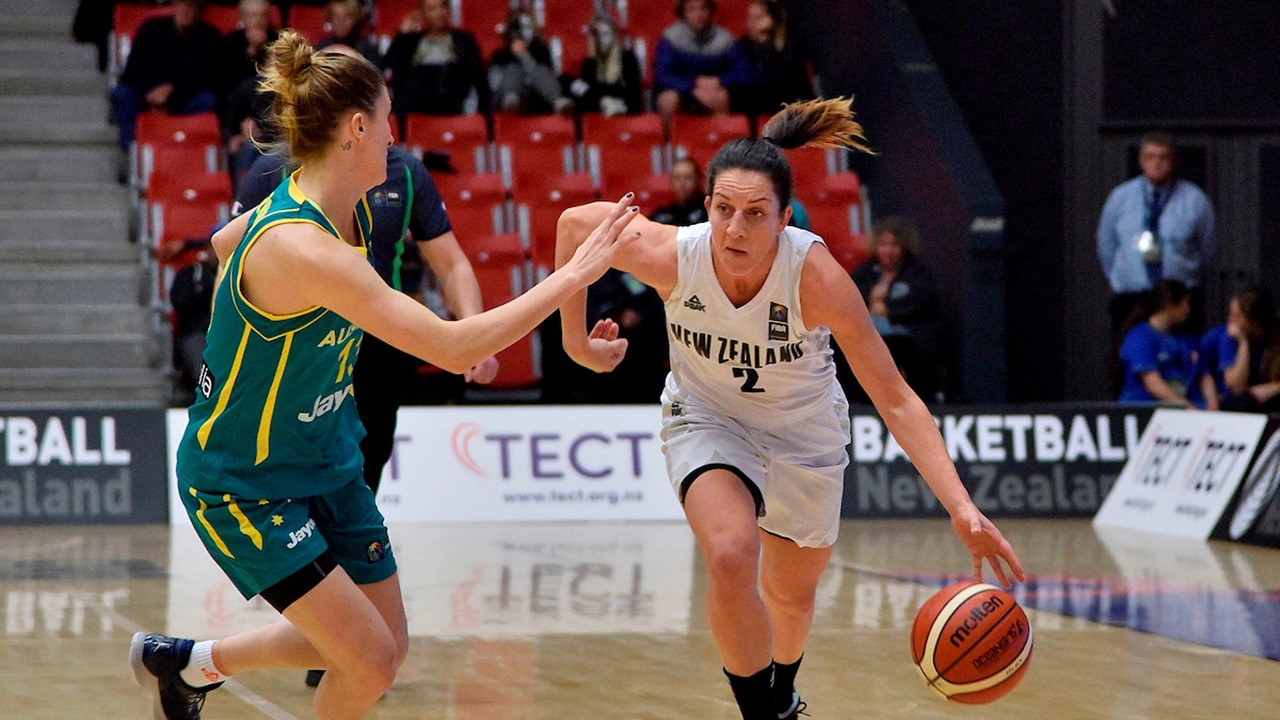 Posted on Wednesday, June 16th, 2021
Tall Ferns Star Returns For Sal's NBL Season
Sky Sport Ferns star Micaela Cocks has signed to play for Harbour Breeze in the upcoming 2021 Sal's NBL season.
It's a major triumph for Harbour Breeze and the Sal's NBL to secure the services of the New Zealand basketball great, the most capped Tall Fern of all-time.
"I'm beyond excited to be coming home, it will be very special and I'm thankful for the opportunity," said Micaela from her home in Townsville.
Micaela's homecoming has been a long time in the making as she last played for the Breeze in 2005 but has always harbored a desire to return and play in New Zealand.
"I have always wanted to get home to play but before Hazel was born I was working full-time and with my other basketball commitments it was just too difficult," she admitted.
Harbour CEO John Hunt was equally ecstatic about the prospect of Micaela once again playing for the Breeze.
"Micaela has consistently been the Tall Fern's best player for the last ten years. We are absolutely thrilled that she will be suiting up again for the Platinum Homes Harbour Breeze in 2021 after a 16 year absence playing at college and in Australia. All of her team mates are equally excited about the prospect of training and playing with Micaela. We are looking forward to welcoming Micaela, Hazel and Sam home to Harbour."
Breeze Head Coach Jody Cameron has a great appreciation of Micaela's capabilities having played with her on Tall Ferns teams and more recently worked with the combo guard in her capacity as Tall Ferns assistant coach.
"Micaela is a legend and her contributions to the game are under-appreciated because the bulk of her career has been played off-shore.
"The vast experience she has will be of huge value to the Breeze, especially the younger players who will see first-hand the professionalism and preparation Micaela provides, on and off court."
Since 2005 the Takapuna Grammar School alumni has forged a dazzling career.
Following high school Micaela took up a scholarship at University of Oregon. She played four seasons with the Ducks amassing 1,195 points in 125 appearances.
During that time she was named to the Pac 12 Conference All-Academic team on three occasions.
Eleven years after graduating Micaela still ranks 7th all-time for games played and 22nd for points scored at Oregon.
Following a brief foray in Europe she signed for Townsville Fire in 2011 and has enjoyed a storied professional career in Northern Queensland ever since.
Micaela is a three-time Australian Women's National Basketball Championship winner with the Fire and in 2015 was named WNBL Grand Final MVP after averaging 14 points, 5.5 rebounds and 4 assists in the Grand Final series win.
She has won the Players' Player Award a record four times and logged 221 appearances in Townsville colours.
Micaela played her ninth consecutive year with the Fire in the 2019-20 season before missing the 2021 campaign to give birth to daughter Hazel.
The combo-guard has made a record 111 appearances for the national team since debuting as a teenager in 2006.
She played at the 2008 Beijing Olympics and is the only Tall Fern to have played at both the 2006 and 2018 Commonwealth Games, winning a silver medal in Melbourne and a bronze on the Gold Coast.
Micaela was also a member of the 2018 Tall Ferns 3x3 Gold medal winning team at the FIBA Asia Cup in China.
Her most recent international appearances were at the 2019 FIBA Olympic Qualifying Tournament in Auckland.
Micaela is looking to add to her record number of Tall Ferns caps.
"I'm still keen to play and I will be available for a couple more years. I attended the Tall Ferns Camp on the Gold Coast last month and I'm keen to make the team for the World Championship Qualifiers."
Micaela will link up with the Breeze in August following her playing commitments with Townsville Flames in the Australian NBL1 League.
Harbour Basketball can't wait to see Micaela back in the maroon singlet.
League General Manager Justin Nelson is pleased to see world-class Kiwis returning home to play in the Sal's NBL, saying "Micaela's incredible career speaks for itself, and now the next generation of rising stars and all the girls looking for a star player to model themselves on will have one of New Zealand's very best to go along and watch play."
(Photo Credit: PhotosportNZ)