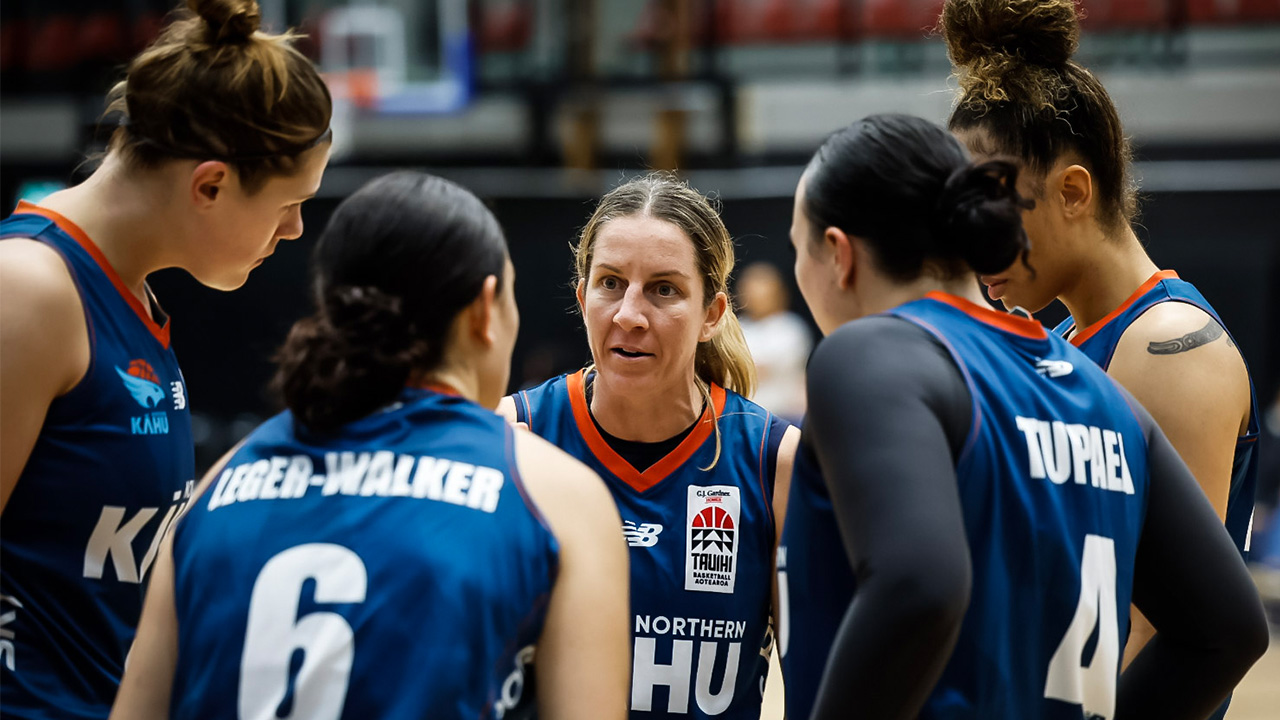 Posted on Thursday, July 7th, 2022
Shonny's Summary: The Kāhu go undefeated as Tauihi takes flight
There was emotion, excitement, and anticipation as New Zealand's first ever semi-professional women's basketball league took off.
The opening game saw the dynamic Mainland duo of Tessa Boagni and Mary Goulding each record double-doubles, combining for 32 points and 21 rebounds to lead the Pouākai to victory over the Southern Hoiho. But the dominance of American import Laina Snyder didn't go unnoticed as she put the team on her back and tallied 32 points.
Jumping to Wellington where the Tokomanawa Queens hosted the Whai, it was hard not to get excited about the trio partnership of Argentinian Florencia Chagas, Sweden's Elin Gustavsson and Tall Fern Stella Beck. The Whai were forced to play catch up as the trio combined for a whopping 59 points. Their smooth offensive play, powered by Chagas' floor general prowess (22 points, eight rebounds, six assist) saw the Whai struggle to play with flow. The Whai increased their intensity in the second half enabling them to get within a few possessions of the Queens, but it was too late in the end.
The Northern Kāhu kicked off the first round as the only undefeated team, posting an early warning to the league. Their victory over the Hoiho was dominated by defence as both sides struggled to find offensive rhythm. The Northern side didn't score until five minutes into the game with Tahlia Tupaea finding herself in some early foul trouble.
But she returned in the second half and instantly made an impact with her willingness to find open looks and create scoring opportunities out of nowhere. A top moment in the game came in the fourth quarter when Micaela Cocks left us stunned when she put Tori Dugan on skates and finished with a 3-point dagger.
The quick turnaround with a flight up to Auckland for their match against the Queens on Monday didn't seem to hamper the Northerners. In fact, it looked like it rejuvenated them. I'm not sure what was spoken about on the trip back home, but whatever it was it worked. The Kāhu looked like a whole new team. Their speed and urgency on defence forced the Queens to shoot only 19% from the perimeter and Chagas was challenged by the lack of space she had to create scoring options.
Favourites going into their last match of the round against the Whai, the Pouākai couldn't back up their strong game one as they went down to an all team effort. Arguably their MVP of the match, forward Dominique McBryde took over recording 12 points, 9 rebounds, six steals and three blocks.
Despite the loss, superstar Pouākai import Trinity Baptiste recorded 29 points, making 10 of her 13 field goals while shooting 76% from the field - INCREDIBLE!
Worth mentioning:
Tahlia Tupaea started the season with a bang, racking up 19 Stuff MVP votes as she helped lead the Kāhu to back to back victories. The Sydney native scored 23 of the Kāhu's 50 points in their win over the Hoiho, adding five rebounds and three steals. Her feisty matchup with Tokomanawa Queens import Florencia Chagas in their second win was a must see show in itself. There was a moment when Chagas was trying to get away from Tupaea's hounding defence. She stuck her hand out and pushed back with Tupaea taking the charge and falling. We all love a matchup that we can circle on our calendars - I say look out for this one as the season progresses.
The Southern Hoiho's Laina Snyder had an extraordinary round, scoring 32 of her team's 63 points while adding 10 rebounds and four assists in their inaugural match. Across the round she averaged 20.5 points, 12 rebounds and 2.5 steals.
Round 2 Preview
Southern Hoiho vs. Whai | Friday, July 8th @ 7:30pm
The Southern Hoiho will travel to Queenstown to open the second round trying to get on the winner's board against the Whai. Snyder will be a threat for the Whai's defence as she leads her team with aggression and an ability to influence the team's energy. The Whai will need to find ways to shut her down especially as the first game proved their need to be tougher on defence when their shots weren't falling.
But the Whai have proven the depth in their starting lineup with everyone able to step up in big moments. As for the Hoiho, there was only one player who scored double-digits in each of their two games. In the first game it was Snyder and in the second, Samara Gallaher (19 points, 10 rebounds). It's still early days so anything could happen.
Mainland Pouākai vs. Northern Kāhu | Saturday, July 9th @ 6pm
The heavy-hitting Kāhu have found their chemistry as their improved connections helped secure their second win of the first round. If they can carry this high tempo and relentless defence into Round 2, it will be hard for the Pouākai to contain.
Northern forward Tera Reed played a more assertive role against the Queens while her teammate Martè Grays came off the bench and made an impact on both sides of the floor. Kiwi hoops great Micaela Cocks showed out with 20 points, six rebounds and two steals. It was performances like this that showcased the Kāhu's star power. Going up against the Pouākai who are shooting a league best 43.8% from the field, as well as facing Baptiste and Boagni will no doubt make for a thrilling watch. If the first round shows anything, this could go down to the wire.
Tokomanawa Queens vs. Southern Hoiho | Sunday, July 10th @ 12:30pm
The Hoiho's depth will once again be put to the test with several scoring threats lined up on the Queens. If ten-cap Tall Fern, Zoe Richards can have more of an impact and improve on her average of seven points and four rebounds, it could ease the pressure off Snyder and Gallaher.
Tokomanawa's Gustavsson showed her all-round abilities this round as a force in the post but also a lethal scorer making 53.8% of her shots from the floor. All eyes will be on her clash with Snyder who showed with her commanding attitude and play, that she is a force to be reckoned with.
Mainland Pouākai vs. Tokomanawa Queens | Tuesday, July 12th @7pm
The Pouākai will meet the Queens for the first time and with Mary Goulding and Ella Fotu away at the FIBA 3X3 Asia Cup, it looks like the Wellington-based side are the favourites. However, it still won't be easy as Boagni will look to back up her big game one in order to fill the void.
Baptiste is also expected to dominate again, adding to her 75% field goal average. She'll need a strong effort from her teammates who will have to rely on their efficient scoring ability and a good scouting report of Chagas and Gustavsson as they aim to withstand a very dangerous Queens backcourt.
Northern Kāhu vs. Whai | Wednesday, July 13th @ 7pm
The Kāhu host the Whai in a matchup that sees young star Sharne Robati play against her Aunty and new Kāhu signing, Gabriella Adams-Gavet. It will also be intriguing to watch athletic guard Olivia Berry face her former Auckland Dream teammates Robati and Esra McGoldrick. Berry showed her potential against the Queens going 1-on-1 with Stella Beck in the second quarter, then using her crazy hops to pull up from mid-range and get the two points over her, despite the size miss-match.
While the Kāhu can fire from downtown, there will be a lot of action in the paint as they'll have to contain the Whai's Nikki Green who pulled down 25 rebounds this round.
The Whai also lead the league in steals per game (10.5) and blocks (4) and if you know how the old saying goes…'defence wins games', I think they have a good shot at challenging the top seeded side.
--
This is the first installment of a weekly article series by AUT Communications student Shontelle Matano.