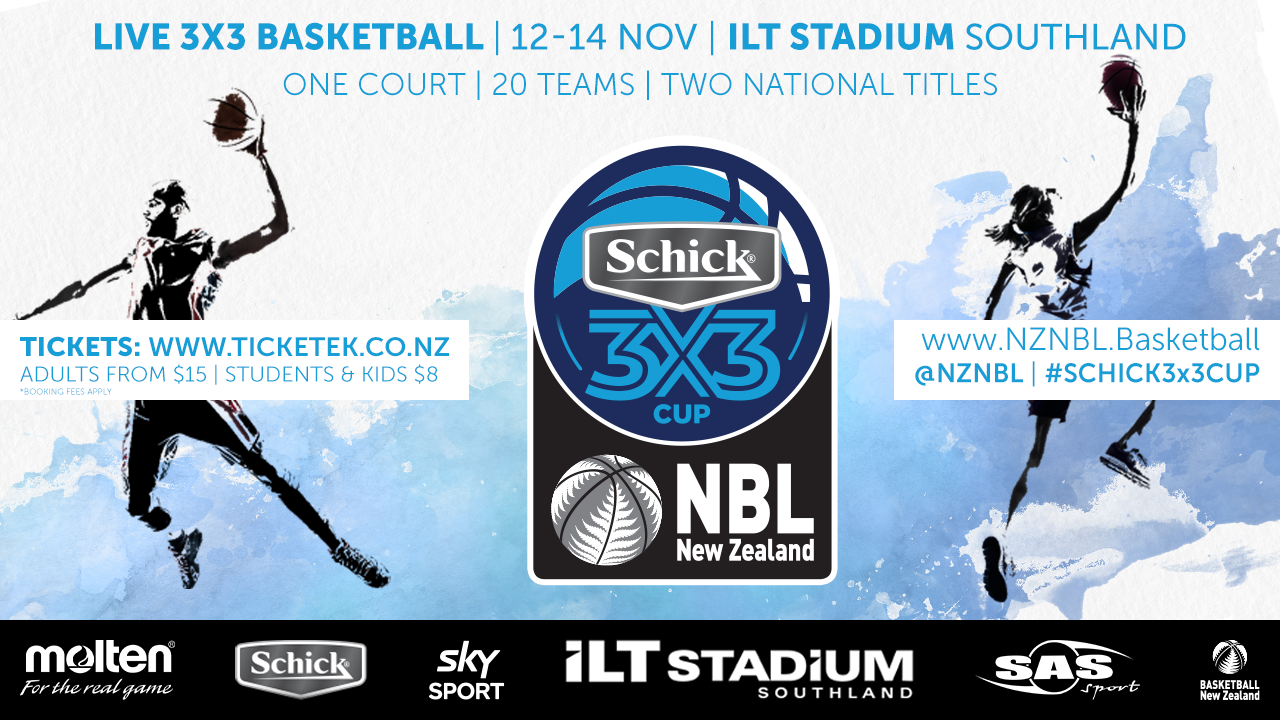 Posted on Thursday, October 29th, 2020
SCHICK 3X3 CUP RANKINGS & POOLS REVEALED
The official team rankings and pools for the Schick 3X3 Cup have been revealed.
The event will take place at ILT Stadium Southland between Thursday November 12 and 14, with all 70 games broadcast live on Sky Sport 3.
Tickets are now on sale - click HERE.
The rankings are determined by the 3X3 ranking points that have been accumulated by the players playing in previous 3X3 competitions, thus giving the team a combined 3X3 ranking points total.
For teams with players who may not have played many (or any) 3X3 games previously, the overall points total will be lower and the team ranking will therefore be lower.
In the men's competition the Steelformers Taranaki Mountainairs have three of New Zealand's top 3X3 players and are ranked number one for the Schick 3X3 Cup, while in the women's competition the NZ Select team has the top ranking.
With the teams ranked from 1 to 10 in each competition (men and women), the pools are then determined via a snake draw.
"We have a number of high level players stepping into the 3X3 arena for the first time, so they come in with no recognised FIBA 3X3 points and as a result their team ranking will be lowered, so it will be very interesting to see the movement of the team's ranking as the event unfolds," explained NBL General Manager, Justin Nelson, adding "I expect a few teams will jump up the rankings a bit."
"If nothing else, there will be some teams very keen to move up the rankings. I think we will also see a number of players emerge as future stars of the 3X3 game on an international stage with New Zealand, which is exactly what this new national-level competition is all about.
"New Zealand has already won multiple medals on the world stage in 3X3, we are a real force, and now with a competition like the Schick 3X3 Cup you can expect even more players putting their hand up for upcoming events like the Olympics, Commonwealth Games, World Cup and Asia Cup," added Nelson.
The NBL will release the Schick 3X3 Cup draw on Friday October 30.
SCHICK 3X3 CUP RANKINGS & POOLS
MEN - POOL 1
Taranaki Mountainairs (rank 1)
Otago Nuggets (rank 4)
Hawke's Bay Hawks (rank 5)
Tasman Suns (rank 8)
Manawatu Jets (rank 9)
MEN - POOL 2
NZ Select (rank 2)
Auckland Huskies (rank 3)
Canterbury Rams (rank 6)
Southland Sharks (rank 7)
Franklin Bulls (rank 10)
WOMEN - POOL 1
NZ Select (rank 1)
Canterbury Wildcats (rank 4)
Northland Phoenix (rank 5)
Auckland Dream (rank 8)
Bay of Plenty Blaze (rank 9)
WOMEN - POOL 2
Otago Gold Rush (rank 2)
Harbour Breeze (rank 3)
Capital Swish (rank 6)
Waikato Wizards (rank 7)
Taranaki Thunder (rank 10)