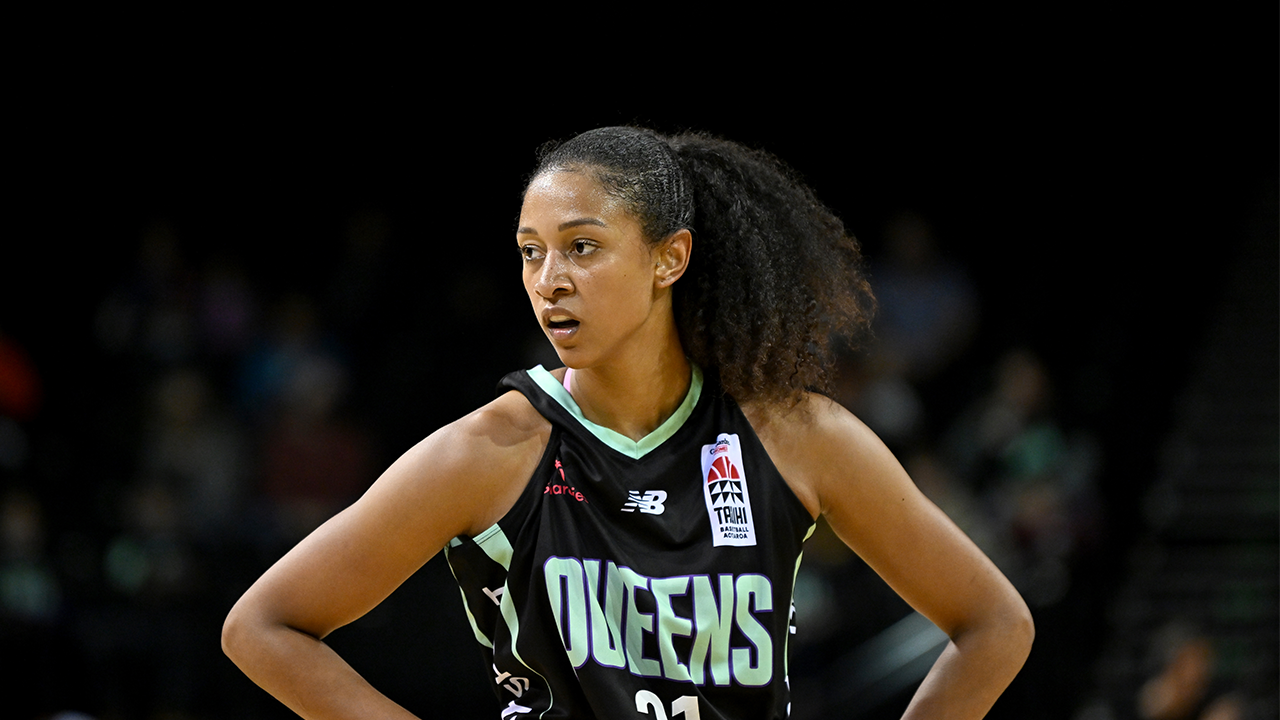 Posted on Wednesday, August 17th, 2022
Queens star Jaime Nared 'playing basketball for a bigger purpose'
Even miles away from home when things get tough and she misses her family, there's one thing that remains constant and provides strength for Tokomanawa Queens import Jaime Nared - her faith.
The Portland native likes to take life as it comes, still embracing the present moment as she works hard towards her goals.
[Faith is] "the most important thing to me but it's always hard going through new situations and learning new things. I think [it helps] relying on your faith and then also giving yourself grace," Nared said.
"When I go overseas sometimes it can get a little frustrating, a little hard but then always remembering and reminding myself what I'm doing it for. I'm playing basketball for a bigger purpose than myself."
That purpose has shined through as Nared has become one of the stars of Tauihi in its inaugural season, just as her Tokomanawa Queens have ascended into a prime position with finals starting on August 26.
After achieving mixed results at the beginning of the season, the Queens became the first team to beat the top seeded Northern Kāhu in round six, and have won four consecutive games.
Nared has helped lead her side to success averaging 18.9 points and 7.4 rebounds, posing a formidable lineup alongside Tall Fern Stella Beck, Argentinian guard Florencia Chagas and Swedish centre Elin Gustavsson.
Nared says what we've seen from the Queens is only a glimpse of what they can do.
"We haven't reached our peak but we're definitely getting there."
"We had been together for five days before our first game. So within a new team it's going to take a bit of time to learn how each other plays, but I think we're figuring out every game how to be a little bit better."
A second-round draft pick by the Las Vegas Aces in 2018, Nared is well-travelled having played in Israel, Italy, France and Turkey before moving to Wellington.
She has enjoyed her time in New Zealand describing it as "the prettiest country that I've been to," also saying that she felt welcomed by Tokomanawa from the beginning.
"It's a very good organisation. I think they do a really good job of taking care of the players as far as when I got here, having food in my apartment and if I need something. Our manager Jasmine Moore, she's absolutely amazing and is there whenever you need something," Nared said.
The forward has found a favourite spot in Wellington at Whitireia Park in Porirua, and enjoyed visiting Tauranga with her mum and sister who travelled from America to watch her play.
When she's not on the basketball court, she seeks adventure and nature.
"I like to go to the beach, I like to go see movies, bowling, literally anything. I like anything that causes a little adrenaline rush. I'm all for doing scary things."
As the final weeks of Tauihi looms, Nared believes the competition has great potential to grow going into the future.
"I appreciate you guys supporting women's basketball here in New Zealand."
"New Zealand has all the tools to have a great women's basketball league for years to come. I'm excited for where this league is gonna go."
You can watch the full video interview HERE.