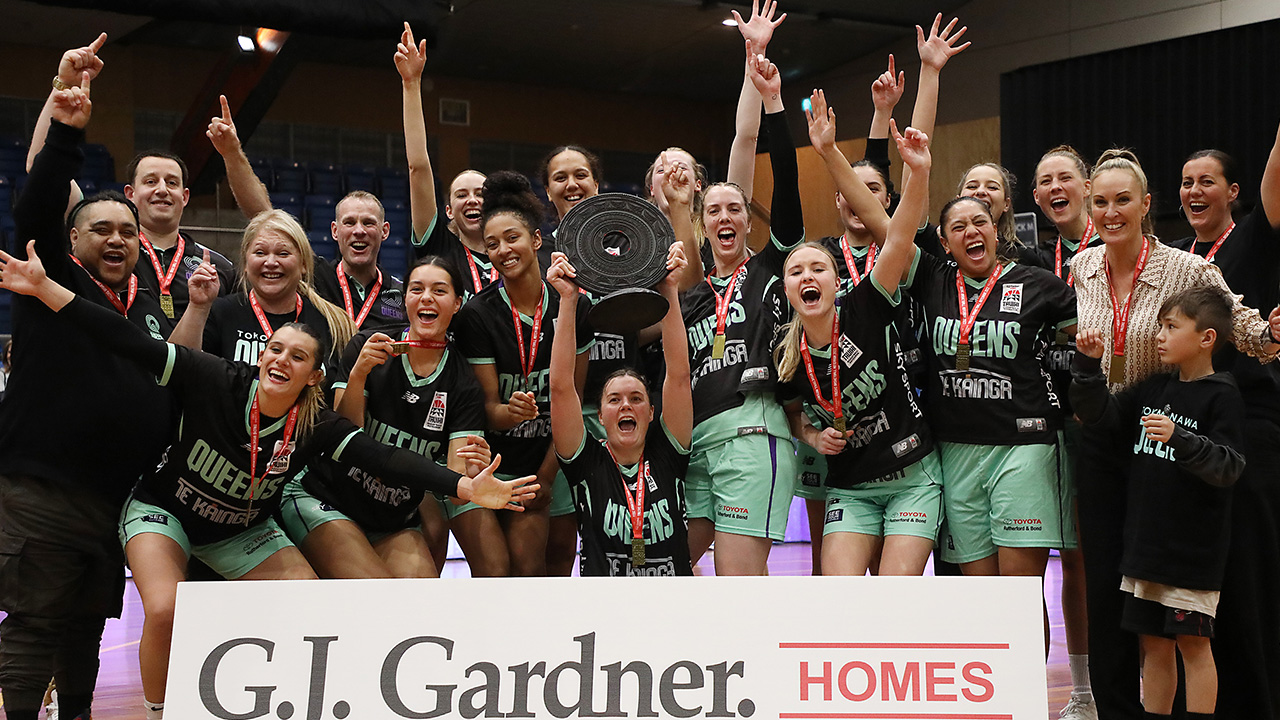 2022 Tauihi Champions: Tokomanawa Queens
The inaugural Tauihi Basketball Aotearoa champions are the Tokomanawa Queens.
The Queens defeated Northern Kāhu 71-62 in the GJ Gardner Homes Tauihi Basketball Aotearoa Grand Final at the Trafalgar Centre in Nelson on Saturday night.
The Queens were powered by a Grand Final MVP performance from dynamic Argentinian point guard Florencia Chagas (22 points, 6 rebounds and 6 assists) with other notable contributions from Jamie Nared (14 points) and captain Stella Beck (11 points, 7 points and 5 steals.
Her tussle with fellow Tall Fern Micaela Cocks (14 points, 4 rebounds and 3 assists) was a major highlight of the final.
In addition to Cocks Northern Kāhu were well served by Tera Reed (9 points and 10 rebounds) while Marte Grays and Tahlia Tupaea scored a dozen points apiece.
The two most successful teams in Tauihi 22 had produced a fitting climax to a wonderful first season of women's professional basketball – the Queens deservedly crowned at the end of a right royal tussle.
SCORE: Kāhu 62, Queens 71
Kāhu: Cocks 14 PTS | Tupaea 12 PTS | Grays 12 PTS | Reed 9 PTS & 10 REBS
Queens: Chagas 22 PTS & 6 ASSISTS | Nared 14 PTS | Beck 11 PTS & 5 STEALS | Gustavsson 10 PTS
Full box score HERE.
—
2022 Award Winners
MVP – Tahlia Tupaea (Kāhu)
Youth Player of the Year – Florencia Chagas (Queens)
Defensive Player of the Year – Nikki Greene (Whai)
All Star Five – Kyra Lambert (Whai), Micaela Cocks (Kāhu), Tahlia Tupaea (Kāhu), Jaime Nared (Queens), Laina Snyder (Hoiho)
Coach of the Year – Jody Cameron (Kāhu)
Club Awards
Club of the Year – Northern Kāhu
Team GM of the Year – Matt Lacey (Kāhu)
Best Game Presentation – Tokomanawa Queens
Best Social Media – Tokomanawa Queens
Best Fan Engagement – Mainland Pouākai
Officials Awards
Referee of the Year – Hayden Pipe