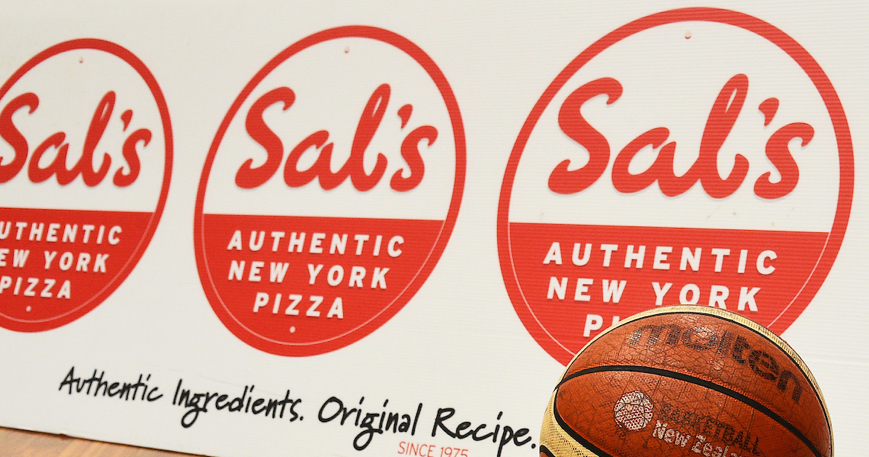 Posted on Wednesday, January 8th, 2020
New National Basketball League Launched – Women Join Sal's NBL
Basketball in New Zealand will forge new ground in 2020 with the nation's governing body backing a move to bring its two elite leagues together under the same umbrella - the Sal's NBL.
No longer will basketball's top competitions sit apart, nor will they be recognised by gender, rather both national leagues will be known as the National Basketball League (NBL).
Formally known as the Women's Basketball Championship (WBC), the national women's league will now sit alongside the men's competition under the NBL brand.
Sky Sport will back the move with all 112 games across both leagues being broadcast between April and July this year.
Excitingly, showing their rising support for all of basketball across the country, Sal's Authentic New York Pizza will extend its naming rights to include both competitions.
The move also coincides with Basketball New Zealand's strategic focus on delivering greater gender equality across all levels of the game.
Both national leagues will be headed by NBL General Manager, Justin Nelson, who moved to New Zealand (from Australia) in early 2019 and promptly delivered a raft of positive changes to the men's league.
BBNZ Chief Executive Iain Potter says the expansion of the Sal's NBL to include both the men's and women's national leagues is a "great step forward" in a positive new direction.
"The decision to have both of our elite leagues under the NBL brand strategically fits with Basketball New Zealand's desire to deliver an equal landscape for its competitions, and we're delighted that Sal's Authentic New York Pizza jumped at the chance to be the naming rights partner of both leagues," said Potter.
"The coverage of the men's league increased significantly last season, and now we're excited to be taking similar steps with the women's league. The community will now see our elite leagues under one brand, the NBL. That's a positive for everyone, especially our players.
"Justin has a great team around him and we have fantastic support in place from Sal's, Sky Sport and Stuff, amongst others. We expect the coverage of both NBL competitions to reach new heights in 2020," added Potter.
Season 2020 in the Sal's NBL will feature eight teams in the men's national league, while six teams will play in the women's national league. Nelson says he is looking forward to the expansion and to pushing more media coverage for both competitions.
"Late last year we announced every game of the men's 2020 season will be broadcast and I'm really pleased to confirm we will also be working with Sky Sport to broadcast every game in the women's league," said Nelson.
"That's unprecedented coverage of basketball in New Zealand. Simply outstanding, and such a great step for a sport that is growing at a significant rate.
"All up, basketball fans across New Zealand will be able to watch one hundred and twelve games in the Sal's NBL this coming season. That sort of coverage really takes the game to a whole new level.
"The opportunity to watch our elite players for as many as five days each week in some rounds will have a huge impact on all the young boys and girls out there who dream of one day playing in the NBL, and even for the Tall Blacks and Tall Ferns.
"Along with the growing coverage, our commercial partnerships are also expanding quickly. There is no doubt businesses have cottoned on to the popularity of basketball and they are starting to seek us out, and our teams. That's such a positive situation for all of us.
"I honestly think we are on the cusp of some very good times for all levels of basketball across New Zealand and our aim is to make sure the Sal's NBL is seen as the pinnacle and leading from the front," Nelson added.
The Sal's NBL will see the men's league start in early April and end in late July, while the women's league will commence in early May and be completed by the end of June.
Sal's NBL Men - Canterbury Rams, Franklin Bulls, Hawke's Bay Hawks, Nelson Giants, Manawatu Jets, Southland Sharks, Taranaki Mountainairs, Wellington Saints.

Sal's NBL Women - Auckland Dream, Canterbury Wildcats, Capital Swish, Harbour Breeze, Otago Gold Rush, Waikato Wizards.