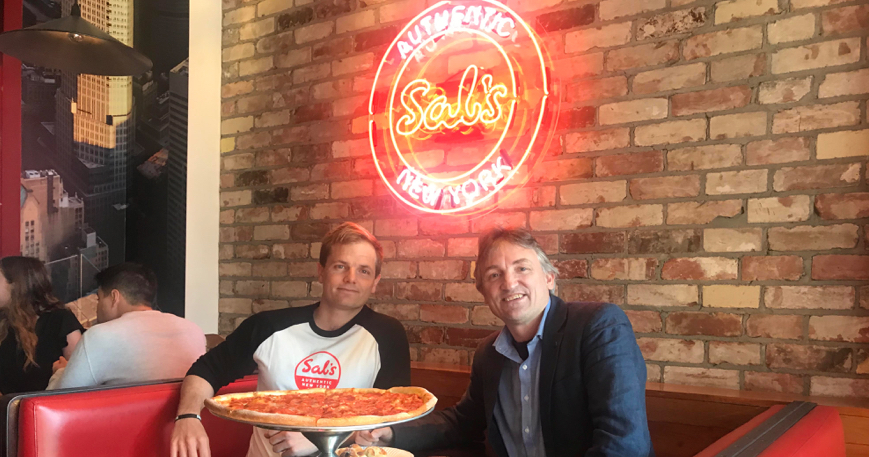 Posted on Tuesday, October 1st, 2019
NBL Announces Massive New Deal With Sal's
The rise of basketball in New Zealand has taken another giant leap forward with Sal's Authentic New York Pizza signing a new four-year deal with the NBL.
Following an already successful partnership during the 2018 and 2019 seasons, Sal's will continue as the league's Naming Rights Partner through to the end of season 2023.
"We're incredibly excited about extending our partnership with Basketball New Zealand for another four years. Basketball has shown tremendous growth over the past few years and we are proud to support young kiwi players and provide a fantastic pathway for them to reach new heights via the Sal's NBL," said Sal's owner Nick Turner.
"We are thrilled with the work that Justin and the team at Basketball New Zealand are doing for the league and we look forward to seeing the next Steven Adams come out of the Sal's NBL in the next few years!" 
The Sal's NBL enjoyed a sharp rise in coverage and fan support during season 2019 via strong media partnerships with SKY Sports and Stuff, backed by increasing popularity at a junior level where the game is the fastest growing at school level.
League General Manager Justin Nelson says the new four-year deal with Sal's is "another significant step forward for the NBL" and is urging other corporates to recognise basketball's growth and to get on board.
"Personally I think the guys at Sal's are the smartest people in the room right now, they recognise how big basketball in New Zealand is, they've been a part of the NBL's growth in recent years and they are in for the long haul. Hats off to them, they are leading the charge," said Nelson.
"The time (for others) to jump on board is right now, basketball is booming and the fans love watching and getting along to see the best players in the Sal's NBL. 
"The kids out there are rapidly connecting with great role models. Personally, I think we engage with our fans better than any other sport, you only have to see the kids rushing up to players after every game for photos and autographs," said Nelson, adding "why wouldn't you want to be a part of a sport connecting with the community like that? Like I said, the Sal's guys know how good basketball is and we're rapt to have them with us.
"A big thanks to everyone right across the Sal's family, to all thirty stores and all of the news stores opening soon, thank you. This is a great partnership that everyone throughout the NBL and at Basketball New Zealand is proud to be a part of."
The four-year Naming Rights deal with Sal's comes on the back of the League announcing its new 3X3 National Cup last week, while the Sal's NBL 2020 season schedule is set to be released soon.