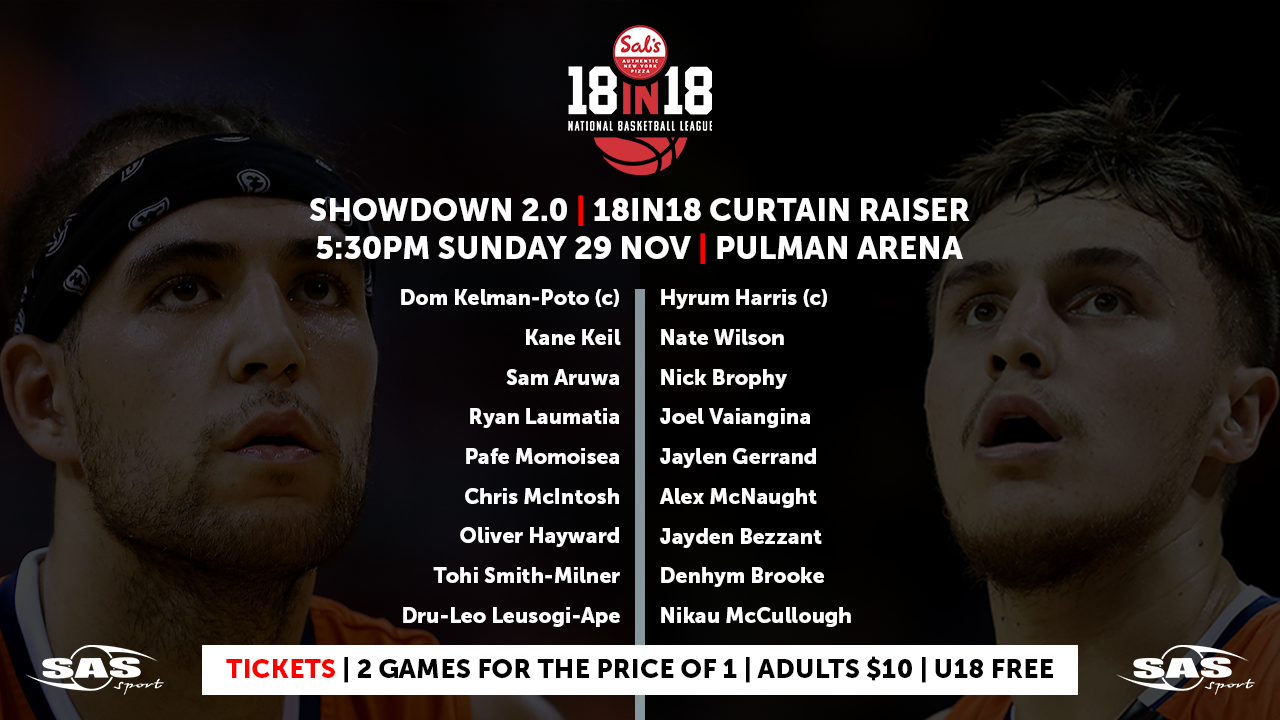 Posted on Saturday, November 28th, 2020
Men's NBL players ask to be curtain raiser in support of women's NBL
A phone call on Thursday morning by star Sal's NBL player Dom Kelman-Poto to League General Manager Justin Nelson was short, brief and to the point – the man dubbed 'DKP' amongst the basketball fraternity had an idea and wanted the NBL boss to say "YES!"
With the NBL's 18IN18 currently being played by New Zealand's elite women at Pulman Arena in south Auckland, Kelman-Poto has already made two visits to the competition to support his sister, Breeze star Ashleigh Kelman-Poto, but he wants to do more.
Dom has personally rounded up 20 other NBL Showdown players to form a NBL curtain raiser, to be called NBL Showdown 2.0, ahead of the Sunday 18IN18 feature game. He will step on court to show his support for Ashleigh, and the other 60-plus players currently battling it out for the women's NBL title, at 5:30pm this Sunday.
"I called Justin and asked if we could get some of the NBL men together to play in a curtain-raiser to an 18IN18 game. He said yes straight away and then the phone calls out to players started," explained Kelman-Poto.
"Within about 20 minutes I had two full teams ready to go. The guys wanted to be a part of supporting the NBL women. We are all excited to have an opportunity to play at the 18IN18.
"We've all been watching the games and really love the 18IN18 concept. The games are great and we just want to do what we can to help shine a light on this awesome event. Every basketball fan in Auckland should be at least planning to get to the Grand Final 6 December, if not any games before then."
Kelman-Poto believes the recent Schick 3X3 Cup where the NBL's men and women shared equal billing was something the players loved and his idea to throw support behind the 18IN18 is an extension of the camaraderie being built amongst the players.
"That 3X3 Schick Cup was awesome. To have all of us there, together, supporting each other and sharing the court together, it was a great.
"I think the idea to support the women and their season is probably an extension of that support for each other that we had at the 3X3," added Kelman-Poto.
The game is set to feature Schick 3X3 Cup champions Kelman-Poto and Tall Black Hyrum Harris as the captains.
According to Nelson, getting the call from Kelman-Poto was both a pleasure and a real "step forward" for the NBL, and sport in general.
"We are working very hard to build the Sal's NBL for all of our players, we want to keep increasing our visual presence and show all the businesses out there, big and small, that basketball is a great sport with an equal mix of very talented athletes, men and women," said Nelson.
"We are applauding Dom and his fellow players – this was their idea and what a great one it is! This Sunday's game is their creation and we are thrilled to help put it on.
"The basketball family across New Zealand is really close-knit and our elite players don't often get the chance to share the same court, so following what we saw at the 3X3 this move by the guys to come and support the 18IN18 is brilliant."
Showdown 2.0 Teams:
Team Harris
Hyrum Harris (Captain)
Joel Vaingnia
Nate Wilson
Jayden Bezzant
Alex McNaught
Jaylen Gerrand
Nikau McCollough
Denhym Brooke 
Nick Brophy
Team DKP
Dom Kelman-Poto (Captain)
Pafe Momoisea 
Sam Aruwa
Kane Keil
Druleo Leusogiape
Oliver Hayward
Ryan Laumatia
Chris McIintosh 
Tohi Smith-Milner
More info:
WHAT: NBL Showdown 2.0 follow by 18IN18 game: The Auckland Dream vs Otago Gold Rush
WHEN: Sunday November 29
WHERE: Pulman Arena, south Auckland
COST: Adults $10 / U18s Free (you get both games for the one entry)
TIME: 5:30pm, men's curtain raiser | 7:30pm, 18IN18 Dream v Gold Rush
MORE INFO: nznbl.basketball