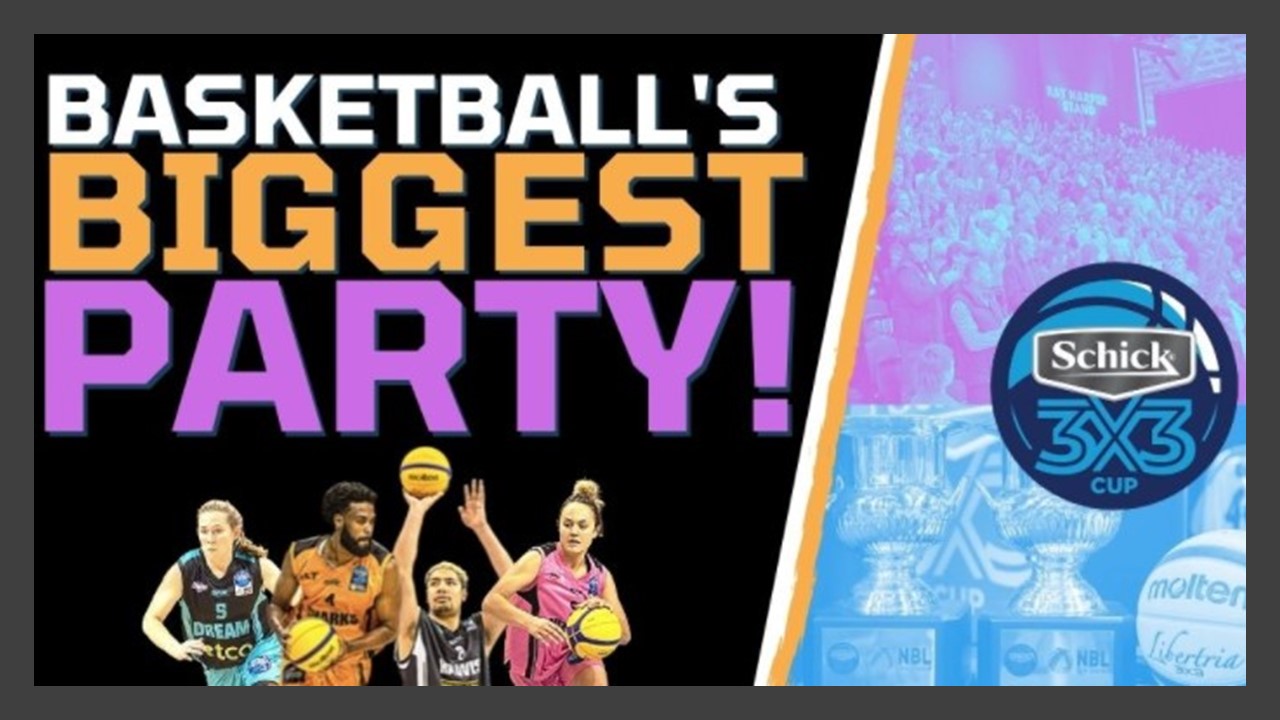 Posted on Friday, July 30th, 2021
How The 3X3 Draft Works – What You Need To Know
The NBL's 3X3 season is just around the corner and this year the Schick Cup and Schick Christmas Classic will take on a new look with a number of new innovations - including a Captains Weekend, two Player Drafts and a Trade Weekend.
Here's what you need to know!
WHO CAN PLAY IN THE NBL 3X3 SEASON?
The chance to play in this year's NBL 3X3 competitions is open to any player (aged 15 and over) in New Zealand, but to be eligible for selection you must register - click HERE to register.
HOW DO YOU GET SELECTED TO PLAY?
There are three ways you can be selected to play.
A team signs you as a Captain on August 7 or August 8 (Captains Weekend). Each of the 20 teams are permitted to sign one player ahead of the Player Draft - this player will be the team's captain.
A team can draft you at the Player Draft. Each of the 20 teams will have three selections each at the draft, which means 30 men will be drafted and 30 women will be drafted.
Provided you have registered and sit in the draft pool, you can be selected after the Player Draft if a team needs to replace a player they have drafted due to illness, injury or if they have signed a contract in the Australian NBL (men and women) or a European league.
WILL PLAYERS BE PAID TO PLAY?
Yes, players receive a set fee of $1000 per event. This is the same for all players, men and women, except for captains, who receive a $500 bonus given the extra duties they have. No matter which team selects a player, the payment is the same at every team - it is a regulated system.
If you are an amateur player holding NCAA eligibility you will not be paid and will sign an Amateur Agreement. Again, this is the same at all teams regardless of which team drafts you.
CAPTAINS WEEKEND - AUGUST 7/8
The Captains Weekend takes place over the weekend of August 7/8, where all 20 teams must sign a captain. If a team fails to sign a captain, they will be given an additional selection (to draft a 4th player) at the Player Draft, which will be allocated at the completion of the 3rd round.
A player can only sign on as a captain of one team. Captains will be announced on Monday August 9.
WHEN WILL THE DRAFT ORDER BE ANNOUNCED AND HOW WILL IT WORK?
The draft order for each Player Draft (men and women) will be announced on Wednesday August 18 and will be conducted live on the NZNBL Facebook page. 
The first two rounds of each draft will be via a Snake Draft - meaning the team with selection 1 (first pick of the 1st round) will also get selection 20 (last pick of the 2nd round), and the team with selection 10 (last pick of the 1st round) will get selection 11 (first pick of the 2nd round).
For each Player Draft, the 3rd round will be drawn live on the night, meaning each team won't know the order of the 3rd round until the completion of the 2nd round.
DRAFT NIGHT - WEDNESDAY AUGUST 25
The two Player Drafts will be held on the same night and will last for approximately 45-60 minutes.
The women's draft will be held first, followed by the men's draft. Both drafts will be live and available to watch.
Each team will have 60-seconds to make their selection once they are told they are "on the clock".
If a team fails to make a selection in the allotted time they will drop back one place and take their next selection (the one they missed) after the next team. This same process will continue if they keep 'timing out' on their selection.
TRADE WEEKEND - AUGUST 28/29
Once the drafts are completed there will be a Trade Weekend where teams can trade players (one for one) with another teams. Trades can involve multiple teams, but you can only trade out the same number of players as you are trading in. For example, one for one, two for two etc. You cannot trade one player out and receive two players in return.
SCHICK CUP - OCTOBER 14-16
The first event of the season is the Schick Cup at ILT Stadium Southland, which will involve all 20 teams across six sessions of fast, furious and physical action. 
Tickets are now on sale and available HERE.
SCHICK CHRISTMAS CLASSIC - DECEMBER 9-11
The top five teams in each competition at the Schick Cup will progress to the Schick Christmas Classic, which will be held at the SkyCity Theatre. Tickets will be on sale soon.