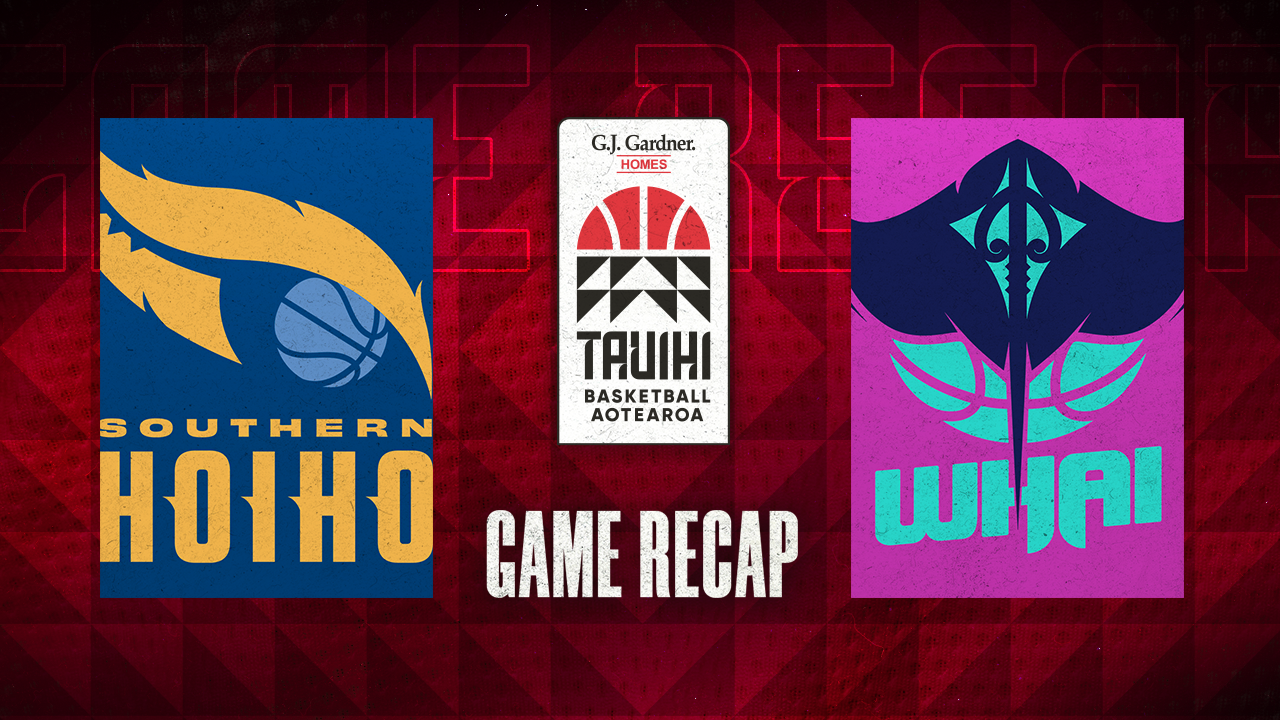 Posted on Friday, July 8th, 2022
GAME RECAP: Whai use big third quarter to get past Hoiho
The Whai have used a big third quarter push to take down the Southern Hoiho 65-38 in Queenstown on Friday evening.
The Hoiho were moving the ball well in the first quarter and whilst it was low scoring overall, they managed to grab a two point advantage after 10 minutes of play. Outside of Laina Snyder's 32 points in the opening game, the Hoiho have struggled to score with consistency so the key for them is playing sound defence and pushing for fast break opportunities. 
That's exactly what Southern were able to do throughout the first half and it resulted in a 25-24 lead at the break. It was a real team effort scoring wise for the Hoiho, who lead 21-11 at one stage in the second quarter.
The defence wasn't there in the third quarter for the Hoiho, though, as the Whai were able to open up a 23 point lead outscoring Southern 29-5 in the quarter. American guard and former Duke University standout Kyra Lambert had a dominant quarter for the Whai, carrying on after her 20-point performance against the Pouakai on Tuesday night.
The Hoiho had committed 16 turnovers through three quarters of work and were shooting just 23%. It wasn't a good recipe for success and the Whai were able to pile on the points. Lambert was attacking at will and getting whatever look she wanted and Tall Fern Sharne Robati was going to work in the paint.
The Whai possess multiple scoring weapons in Lambert and Robati, paired with defensive aces in Dominique McBryde and Nikki Greene, and it makes them a dangerous team to make mistakes against. They're getting better with more time together on the court which is a scary prospect for opposing teams. 
They would limit the Hoiho to eight points in the fourth quarter to cap a solid road win, their second straight overall to get their 2022 campaign off to a promising start. 
Southern have a date with the Queens up next in the capital. Containing Argentinian guard Florencia Chagas will be key, as she's the motor to their offence, and it'll be on Hoiho F/C Shelby Cheslek to limit interior threat Elin Gustavsson of the Queens. It's certainly a tough task but it's a winnable game with solid defence over 40 minutes.
SCORE: Hoiho 38, Whai 65
Hoiho: Snyder 7 PTS, 8 REB, 4 STL | Cheslek 9 PTS, 6 REB | Maoate-Breen 8 PTS
Whai: Lambert 17 PTS, 13 REB, 7 AST, 2 STL | Greene 11 PTS, 14 REB | Robati 16 PTS, 7 REB | Vucinic 11 PTS, 3 3PM
Full box score HERE.
Stuff MVP Votes
Nikki Greene (Whai) - 9 votes
Sharne Robati (Whai) - 7 votes
Kyra Lambert (Whai) - 7 votes
Shelby Cheslek (Hoiho) - 4 votes
Laina Snyder (Hoiho) - 2 votes
Janet Maoate-Breen (Hoiho) - 1 vote
Upcoming Opponents
Hoiho - July 10 @ Queens
Whai - July 13 @ Kāhu 
--
Round 2 Tauihi Schedule