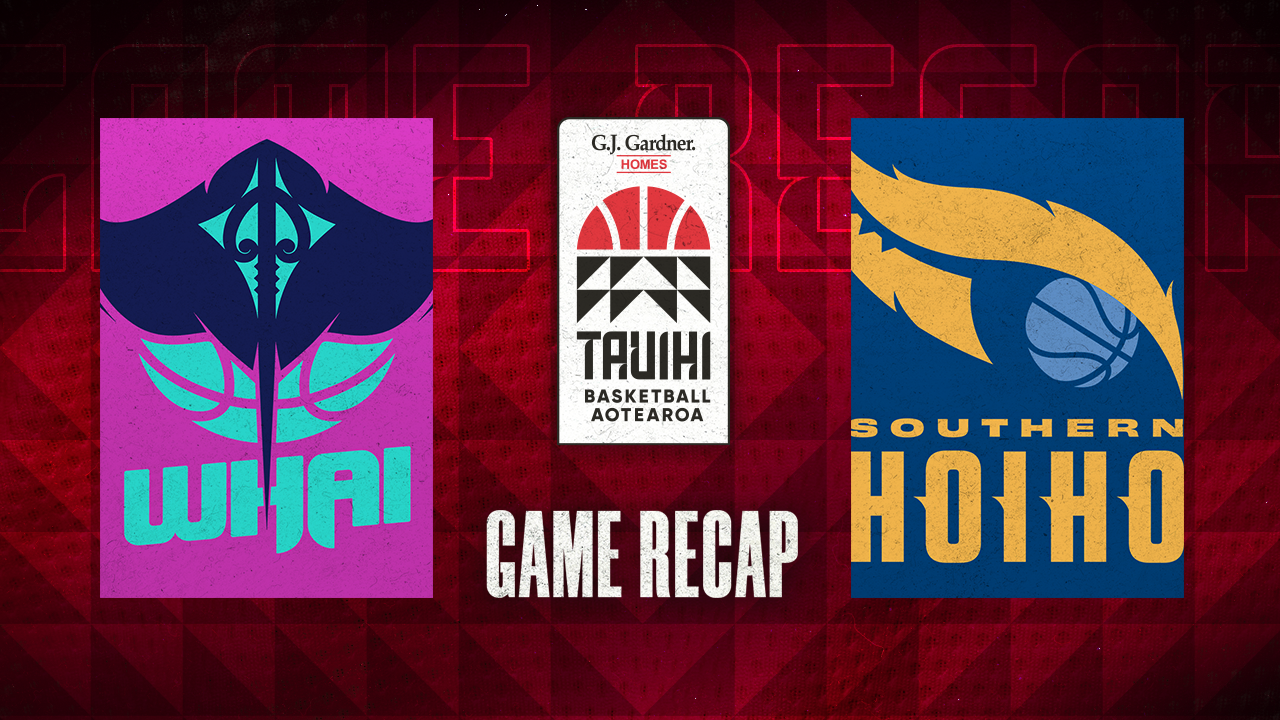 Posted on Sunday, August 21st, 2022
GAME RECAP: Whai storm back to defeat Hoiho
The Whai will head to the GJ Gardner Homes Tauihi Basketball Aotearoa Final 4 buoyed by a victory. In their final regular season game the Whai defeated Southern Hoiho 63-53 at the Queen Elizabeth Youth Centre in Tauranga on Sunday afternoon.
Buoyed by the appearance of Jillian Harmon Southern Hoiho were in the ascendancy for long periods but came up short in the fourth quarter scoring just six points.
Making her first competitive appearance in New Zealand since 2015, Harmon showed all the experience she has accrued playing in Europe with 10 rebounds, 4 assists, 2 steals and 7 points. The dependable Laina Snyder had a double-double of 21 points and 15 rebounds while Samara Gallaher picked up 13 points.
The kiwi duo of Sharne Robati (14 points and 9 rebounds) and Esra McGoldrick (13 points and 8 rebounds) were excellent for Whai as was centre Nikki Greene. The American centre had to navigate some early foul trouble but still finished with 10 points and 10 rebounds.
Dominique McBryde, returned to the Whai lineup for the first time in two months after injury, knocked down a triple with her first touch. With Kendell Heremaia and Robati also successful from deep Whai led 15-13 at quarter time.
Harmon made her first score in Hoiho colours but a couple of costly turnovers gifted Whai a 22-18 lead.
That advantage was short lived as Hoiho reeled off nine straight points to take the lead. Tiarna Clarke made a difficult drive look easy but Whai, outscored 19-14 in the quarter, trailed 32-29 at half-time.
Snyder, the leading scorer in the Tauihi '22 (averaging 20.6ppg), was the top scorer at the interval with 9 points.
Tall Ferns McGoldrick and Gallaher exchanged threes early in the third but Snyder's 8 consecutive points kept Hoiho ahead – but only just (43-40).
When Heremaia reduced the margin to a single point Hoiho coach Nat Visger called a timeout.
Despite a banked three from Olivia O'Neill scores from Greene and Robati ensured it remained a one-point game at three-quarter time. – Hoiho ahead 47-46.
Kyra Lambert gave Whai its first lead of the game since the early minutes and with Greene dominating at both ends of the court the hosts moved to a 55-49 lead with under 5 minutes to play.
McGoldrick's drive moved the advantage to 8 – Hoiho with just 2 points in six fourth quarter minutes.
Snyder did manage a turn-around jumper but the impressive McGoldrick sealed the deal with 6 points in the closing three minutes to send the Whai to the semi-finals with a confidence boosting victory.
SCORE: Whai 63, Hoiho 53
Whai: Robati 14 PTS | McGoldrick 13 PTS | Greene 10 PTS & 10 REBS |Clarke 9 PTS
Hoiho: Snyder 21 PTS & 15 REBS | Gallaher 13 PTS | Harmon 7 PTS & 10 REBS
Full box score HERE.
Stuff MVP Votes
Laina Snyder (Hoiho) - 9 votes
Sharne Robati (Whai) - 8 votes
Nikki Greene (Whai) - 6 votes
Esra McGoldrick (Whai) - 5 votes
Jillian Harmon (Hoiho) - 1 vote
Samara Gallaher (Hoiho) - 1 vote