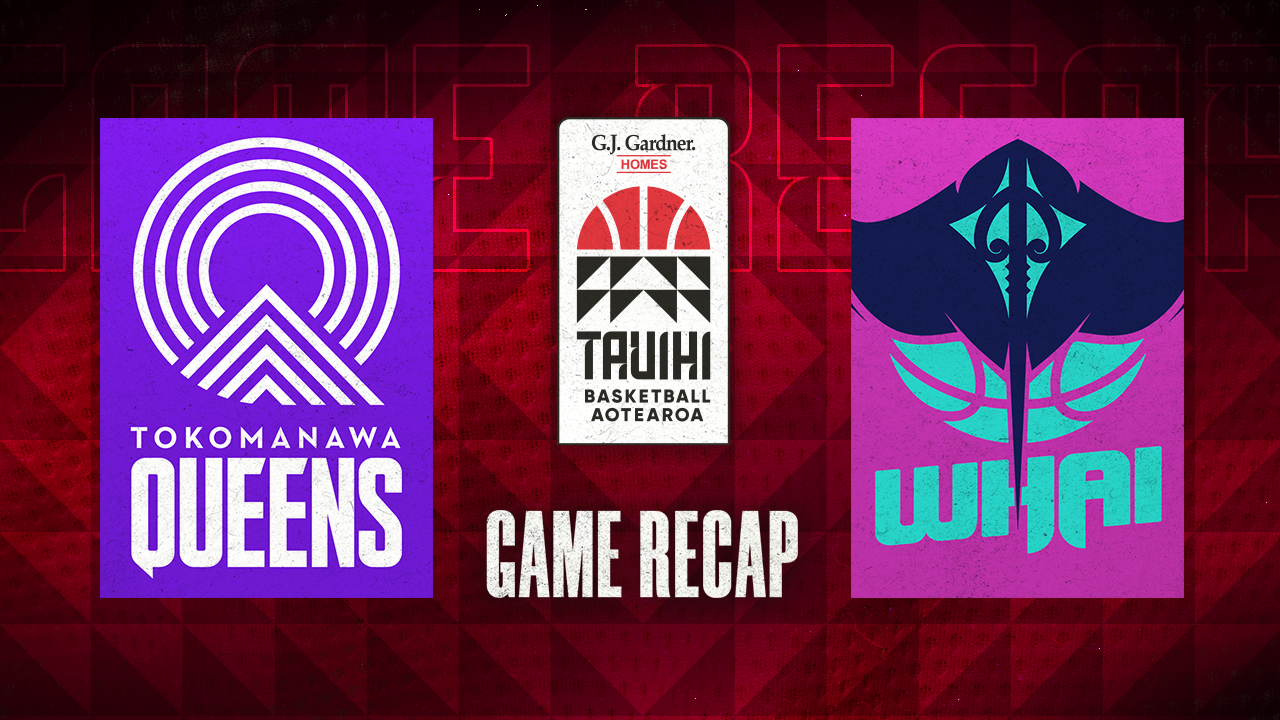 Posted on Monday, July 25th, 2022
GAME RECAP: Whai hold off Queens' comeback to grab win
The Whai held off a stirring fourth quarter comeback from Tokomanawa Queens before closing out a 78-70 victory in the GJ Gardner Homes Tauihi Basketball Aotearoa Round 4 clash in Porirua on Monday night.
Having lost at Southern Hoiho on Sunday Whai enjoyed a bounce back performance but after leading by as many as 24 points they were required to work extremely hard by the resilient Queens before closing out a fourth win of the season.
It all looked very straightforward for Whai when at three-quarter time they held a 63-46 lead and they were still 70-57 ahead with 5:30 to play.
When Swedish international Elin Gustavsson made a pair of free-throws – remarkably her first points of the contest – and Jamie Nared added points the Whai lead was just 9 points with 4 minutes to play.
A Nared drive reduced the margin to 7 before a Kyra Lambert corner three took some wind out of the excited home supporters.
However, captain Beck raised their hopes again when she made back to back scores and with under two minutes to play there were only 6 points in it.
Guard Florencia Chagas reduced the margin to three but just when the excited crowd were anticipating the stunning comeback to reach a crescendo Lambert nailed her second corner three of the fourth to settle the contest.
Whai were indebted to Lambert and Matangiroa Flavell with 22 points apiece – Flavell making 6 from 9 threes in just her third game of the season. Lambert was typically busy adding 12 rebounds and 5 steals to her equal season best points tally. Sharne Robati scored 15 points, in so doing becoming the second Kiwi after Micaela Cocks to score 100 points this season.
Argentine international Chagas led the way for Queens scoring a season high 23 points while Beck and Nared scored 14 points apiece.
Earlier, Queens made a sluggish start, Grace Hunter's triple was one of Tokomanawa's few successes as they struggled to penetrate the Whai zone defence – the visitors ahead 23-13 at the quarter time break.
Lambert took advantage of sloppy Queens passing to convert two open layups and when she made her third in as many minutes the 25 year-old Texan was into double figures.
Nared made back to back scores but the lead was a healthy 33-20 for Whai.
Jacinta Beckley and Chagas made much needed triples but Robati found inside points to be the answer as she too moved into double digits.
McGoldrick drained Whai's fourth triple to end a half they had completely dominated; 45-28 their lead, scoring 18 points off turnovers.
Robati and Beckley exchanged triples before Flavell completed her fourth make from beyond the arc – the Whai lead 53-31.
The deficit for the hosts reached alarming proportions before Grace Hunter and Beck landed from deep.
New Zealand U17 representative Lily Taulelei scored on her Tauihi debut, Chagas added an And-1 play, but the Queens deficit was still a significant 63-46 at three-quarter time.
Queens would win the final quarter 24-15 but will reflect on what went wrong in the first three periods before their next outing.
Both teams are in action again at the weekend. On Saturday Queens (3-4) will be at Cowles Stadium to take on Pouākai attempting to avoid a third straight loss to the Mainlanders.
Whai (4-4) face the same scenario on Sunday when they host Kāhu in the battle of the north in Tauranga – Kāhu the winners of the previous two meetings.
SCORE: Queens 70, Whai 78
Queens: Chagas 23 PTS | Beck 14 PTS & 9 REBS |Nared 14 PTS & 11 REBS |Beckley 9 PTS
Whai: Flavell 22 PTS (6/9 3PG) | Lambert 22 PTS, 12 REBS & 5 STEALS | Robati 15 PTS | McGoldrick 9 PTS | Greene 7 PTS & 9 REBS
Full box score HERE.
Stuff MVP Votes
Kyra Lambert (Whai) - 10 votes
Matangiroa Flavell (Whai) - 7 votes
Florencia Chagas (Queens) - 6 votes
Jaime Nared (Queens) - 4 votes
Sharne Robati (Whai) - 2 votes
Nikki Greene (Whai) - 1 vote
Upcoming Opponents
Queens - July 30 @ Mainland Pouākai
Whai – July 31 vs. Northern Kāhu 
--
Round 4 Tauihi Schedule