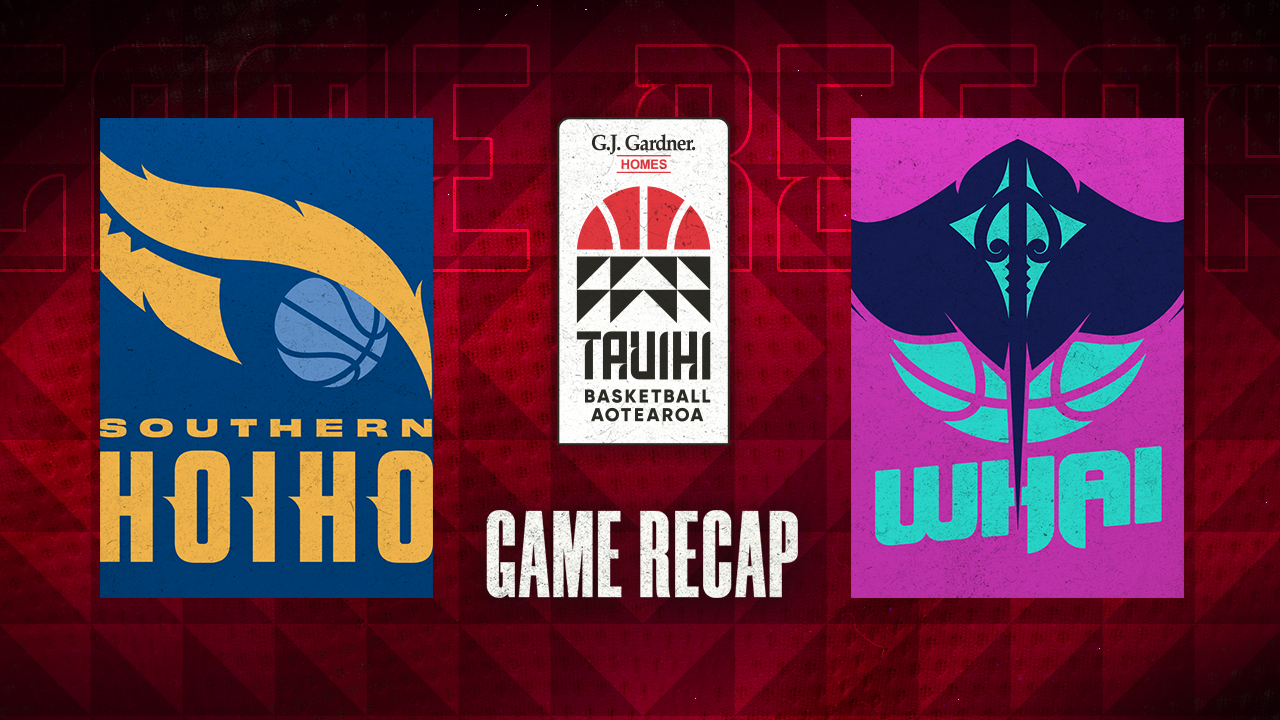 Posted on Sunday, July 24th, 2022
GAME RECAP: Hoiho stun Whai to secure first win
There was joy at the Edgar Centre in Dunedin on Sunday afternoon as Southern Hoiho registered a first GJ Gardner Homes Tauihi Basketball Aotearoa win of the season. After six successive defeats Hoiho came up with a morale boosting 60-52 victory against Whai.
Trailing 38-37 at three-quarter time and 46-42 with under six minutes to play Hoiho were indebted to the fourth quarter efforts of Samara Gallaher, Zoe Richards and Laina Snyder - the trio combining for all 23 of their teams points in the final period.
After Snyder and Richards had given Hoiho a four point lead deep into the fourth Esra McGoldrick reduced the margin to two. When Kyra Lambert claimed a steal and finish at the two-minute mark, to tie proceedings, it looked as if fourth quarter nerves would get the better of the hosts.
The scores were still level when Gallaher came up with arguably the play of the game. The former Tall Fern had missed her previous eight shots but unperturbed she released a three-point attempt that found nothing but net.
Though there was still 75 seconds left to play Whai were unable to come up with a scoring response enabling Richards and Gallaher to ice the game from the free-throw line for a deserving Whai win.
Richards finished with 12 points, Gallaher 7 points and the ever impressive Snyder a game high 21 points (along with 8 rebounds, 4 assists and 4 steals). Centre Shelby Chesley did a great job on the boards coming up with 15 rebounds in a terrific dual with Whai's Nikki Greene.
Whai, who led by 12 points in the first half were well served by Sharne Robati (15 points), Greene (11 points and 14 rebounds) and Lambert who filled the stats line with 9 points, 11 rebounds, 6 assists and 4 steals.
Tori Dugan had opened proceedings with a long three, Snyder adding a mid-range jumper for the home side.
That early lead was cancelled out by Kendell Heremaia and McGoldrick, former Fordham standout Heremaia's triple giving Whai their first lead of the contest. Lambert doubled the advantage - her second steal of the period, and the ensuing layup, propelled the visitors to an 18-8 quarter time advantage.
Hoiho began pounding the offensive glass and were rewarded with Cheslek and Olivia O'Neill baskets.
Whai had gone almost six minutes without a basket before the scoring drought was punctured by McGoldrick.
Snyder executed an And-1 play and when the Hoiho's leading scorer scythed through the Whai defence for a left handed finish the home side were well and truly back in the contest, trailing by just four points (23-19) at the interval. Whai were held to a meagre five points in the second ten minutes.
Dugan opened the Hoiho second half scoring, as she had the first, with a triple – Snyder's fall away jumper giving the hosts the lead.
The lead changed hands three times in as many minutes – five points from Robati giving Whai a 34-31 lead.
Greene dropped a baseline jumper before O'Neill and Snyder drained triples in response – Hoiho behind by the slimmest of margins at three-quarter-time (38-37).
The triumvirate of Gallaher, Richards and Snyder would dominate the closing minutes.
Whai will have to re-group quickly as they are back in action on Monday taking on Tokomanawa Queens in Porirua.
Hoiho won't be able to celebrate for too long as they have to front up a day later in Auckland where they meet up with top of the table Northern Kāhu at Eventfinda Stadium.
SCORE: Hoiho 60, Whai 52
Hoiho: Snyder 21 PTS, 8 REBS, 4 ASSISTS & 4 STEALS | Richards 12 PTS | Cheslek 4 PTS & 15 REBS
Whai: Robati 15 PTS | Greene 14 PTS & 11 REBS | Lambert 9 PTS, 11 REBS, 6 ASSISTS & 4 STEALS
Full box score HERE.
Stuff MVP Votes
Laina Snyder (Hoiho) - 10 votes
Zoe Richards (Hoiho) - 5 votes
Nikki Greene (Whai) - 5 votes
Sharne Robati (Whai) - 5 votes
Kyra Lambert (Whai) - 4 votes
Samara Gallaher (Hoiho) - 1 vote
Upcoming Opponents
Whai – July 25 @ Tokomanawa Queens
Hoiho – July 26 @ Northern Kāhu 
--
Round 4 Tauihi Schedule