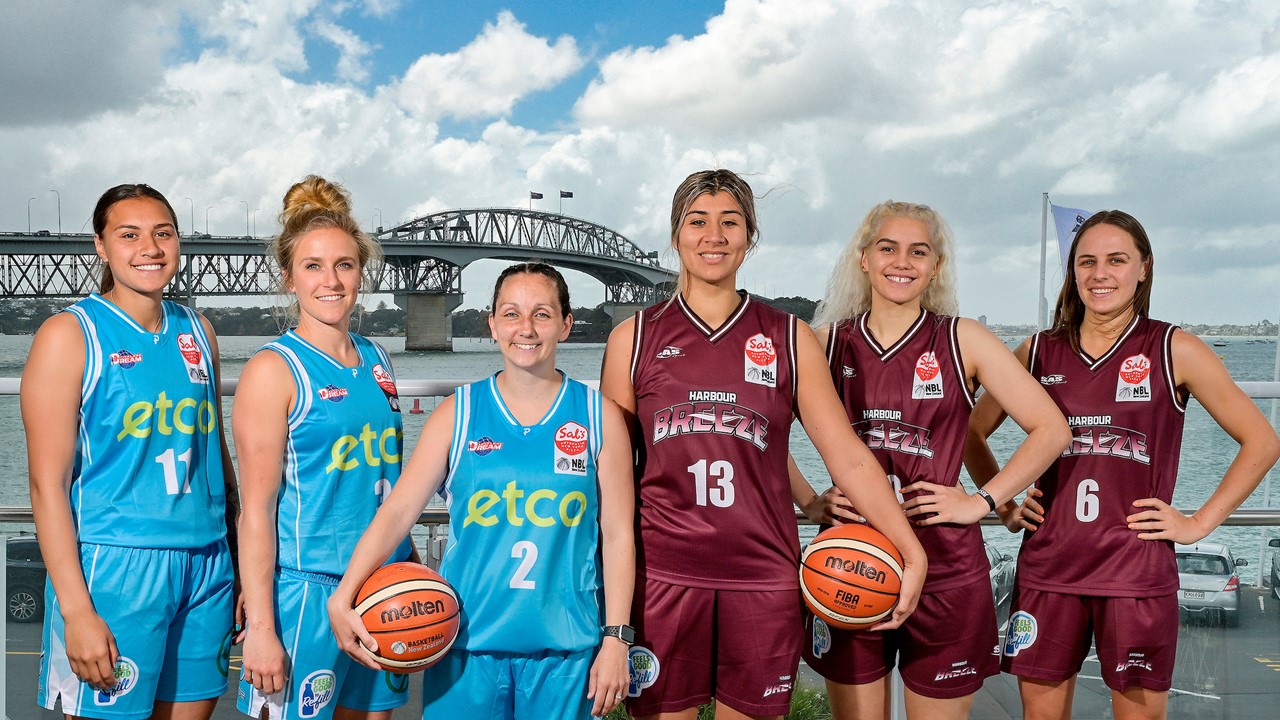 Posted on Thursday, November 19th, 2020
Dream, Breeze Loom As 18IN18 Favourites
League media partner Stuff has cast an eye over the Sal's NBL 18IN18. 
Read the full story HERE.
Crosstown rivals, the ETCO Auckland Dream and Platinum Homes Harbour Breeze, shape as early favourites for the 18IN18 women's basketball competition.
The 18IN18 tips off at south Auckland's Pulman Arena on Thursday (November 19), where one game each night will be played for 18 consecutive nights.
Six teams, Harbour, Auckland, the Waikato Wizards, Capital Swish, Alloyfold Canterbury Wildcats, and Firebrand Otago Gold Rush, will be looking to take out the title with the grand final set for December 6.
The top four teams make the semifinals, which will be played over December 4-5.
Defending women's basketball championship (WBC) winners, the Dream, loom as one of the sides to beat, but they will be without the Purcell sisters (Natalie Taylor and Kalani Purcell).
Harbour have assembled a talented squad, led by Gabriella Fotu and Zara Jillings, while the Canterbury Wildcats and Otago Gold Rush are traditionally in the mix for titles.
The Dream will be a much-changed outfit in 2020, but do retain a number of their championship-winning team. Some notable names being Amanda Buck, Sharne Robati, Casyn Buchman, and Rionne Papa.
Dream coach Aik Ho admitted it had been a long wait to put their national title on the line.
"This is an exciting time for women's basketball. We have been waiting for a very long time to showcase the women's game.
"We're excited to have some women's basketball on again after such a long drawn out year. The players have been preparing for 10 months with no certainty of playing, so it is great they are finally getting some reward."
Harbour, runners-up in the 2019, have just three players returning from last year's tense grand final, an 89-86 overtime loss to the Dream. They are Keeley Tini, Ashleigh Kelman-Poto and Tall Fern Fotu.
Otago are much changed from recent seasons, although Bronwyn Kjestrup, Olivia O'Neill, Hannah Matehaere, Kelly Thompson, and Zoe Richards remain from the 2018 winning squad.
Richards, a Tall Ferns debutant in 2019, was a key player for the Gold Rush last season, averaging 16.4 points and 6.8 rebounds per game. A similar output will be required from the power forward this season if the southerners are to claim gold.
Despite the unavailability of some players, traditional title contenders Canterbury have put together a strong squad.
Shea Crotty and Francesca Edmondson feature for the Wildcats, along with Sapphire Wairau, who were all members of their championship-winning teams in 2016 and 2017. Also returning from that group is Terai Sadler – the Cook Island international now residing in Whangarei.
All 18 games will be broadcast live on Sky Sport Select and internationally on the league's NZNBL pass.
NBL general manager Justin Nelson was confident fans and viewers will enjoy what they will see in the 18IN18.
"There is some serious talent in this league, from all the rising talent through to recognised Tall Ferns. This will be a lot of fun, especially with a game every night to enjoy, be it at Pulman Arena, or watching on television or a mobile device.
"Even though a global pandemic has done all it can to stop us this year, we are very happy that the 18IN18 season will complete what has been a hugely successful year for the NBL.
"Most importantly, I'm thrilled we have been able to get our athletes back on court, back doing what they love to do. I'm also rapt for the fans, they have been hanging out to see our women's league in action and here we are. We're back."
The opening game sees Auckland and Waikato meeting in a local derby. Tip-off is at 7:30pm, tickets available at the door.
Adults $10 to all games, juniors U18 are free.
AT A GLANCE:
ETCO Auckland Dream
Squad: Amanda Buck, Amanda Wayment, Casyn Buchman, Darci Finnigan, Jelena Vucinic, Sharne Pupuke-Robati, Rionne Papa, Arielle Williams-Mackey, Tania Uluheua, Katelin Noyer.
Coach: Aik Ho
Platinum Homes Harbour Breeze
Squad: Olivia Bell, Brooke Blair, Tiarna Clarke, Gabriella Fotu, Zara Jillings, Jazzmyne Kailahi-Fulu, Ashleigh Kelman-Poto, Jessica Moors, Waiaria Putaranui-Henderson, Keeley Tini, Luye (Lily) Murphy, Safenunuivao Te Nana-Williams, Leata Te Nana-Williams.
Coach: Jody Cameron
Waikato Wizards
Squad: Matangiroa Flavell, Arielle Parai, Kelcy Ballantyne, Courtney Wilson, Natasha Lenden, Makayla Daysh, Alyssa Hirawani, Kayla Manuirirangi, Alana Paewai, Zarya Poulava, Breeje Schuler, Jayze'Lee Waihi, Quaye Walker-Eketone.
Coach: Leanne Walker
Capital Swish
Squad: Te Amo Amaru-Tibble, Tia Calais-Remuera, Paris Lokotui, Jenna-Rose Mafua, Leah Mafua, Sariah Penese, Dalen Pilitati, Jordan Rangitawa, Te Huinga Reo Selby-Rickit, Grace Vaofusi, Lily Taulelei, Bulou Tuisue, Maia Watene, Letava Whippy.
Coach: Deslea Wrathall
Alloyfold Canterbury Wildcats
Squad: Brittany Richards, Gemma Etheredge, Kat Jones, Tiana Placid, Terai Sadler, Tessa Morrison, Shea Crotty, Lauryn Hippolite, Rosalia Samia, Francesca Edmondson, Sapphire Wairau, Isabella Luhetoa, Millie Knight.
Coach: Mel Downer
Firebrand Otago Gold Rush
Squad: Lisa Wallbutton, Zoe Richards, Tara Clement, Fayreen Fualau, Hayley Gray, Savanna Handevidt, Bronwyn Kjestrup, Hannah Matehaere, Olivia O'Neill, Millicent Simpson, Te Araroa Sopoaga, Georgia Te Au, Kelly Thompson.
Coach: Gavin Briggs
Women's 18IN18 opening 5 games (All at Pulman Arena, south Auckland)
Thursday Nov 19: Auckland v Waikato; 7.30pm - live on Sky Sport Select, Sky Sport Next, Stuff, Tribe Sports, NZNBLpass | and then delayed on Prime from 10:30pm
Friday Nov 20: Canterbury v Auckland; 7.30pm
Saturday Nov 21: Capital v Canterbury; 7.30pm
Sunday Nov 22: Harbour v Capital; 7.30pm
Monday Nov 23: Otago v Harbour; 7.30pm