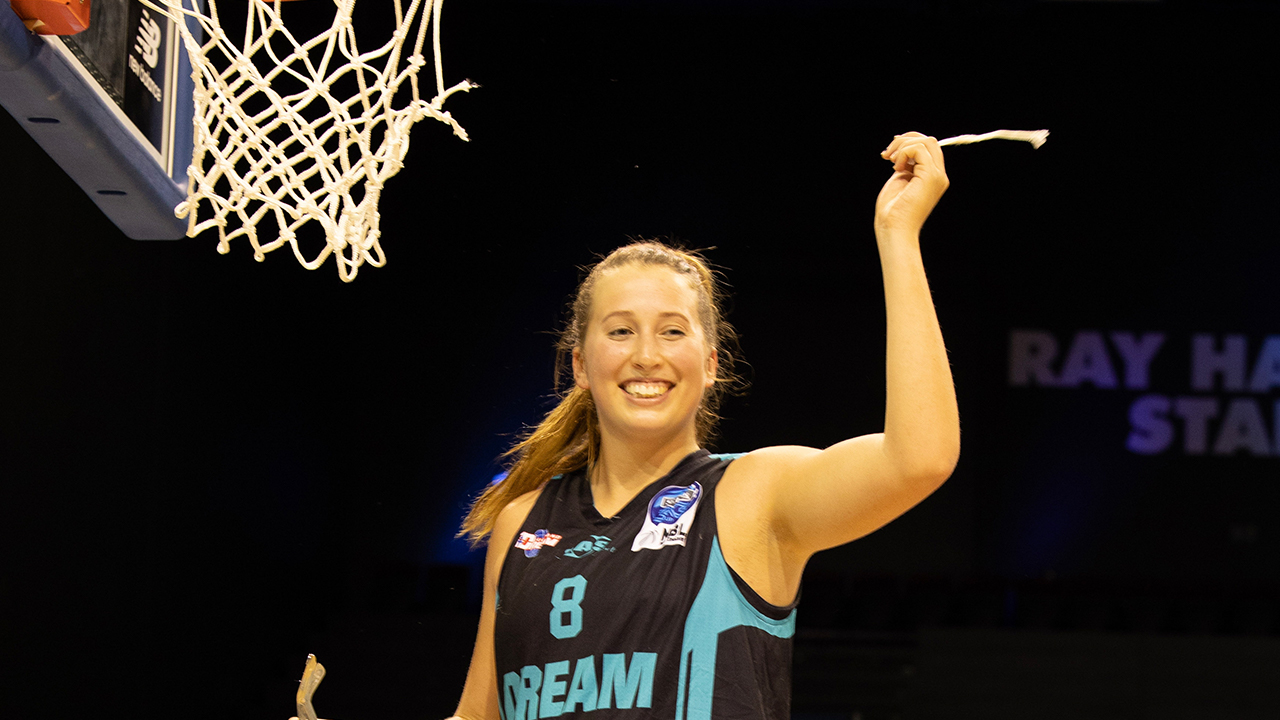 Posted on Friday, August 27th, 2021
Player Draft Lists Revealed
The current registration lists for the 3X3 Player Drafts have been revealed.
The Player Drafts wil take place next Wednesday September 1 - the women's draft at 7pm, followed by the men's draft at 8pm.
Players wishing to register for the drafts have until 6pm on Wednesday September 1 - any player registering after this time will not be available to be drafted.
To register for the Player Draft - click HERE.
Each team has already contracted a Captain, who will now have the responsibility to select a further three players at the draft.
The Draft Orders have been revealed - click HERE for details.
Players Registered for 3X3 Women
| | |
| --- | --- |
| Azure Anderson | |
| Jacinta Beckley (Swish Captain) | |
| Olivia Bell | |
| Olivia Berry | |
| Brooke Blair | |
| Lucy Brown | |
| Casyn Buchman (Dream Captain) | |
| Rikki Burgess-Fiatau | |
| Alessandra Burke | |
| Tiarna Clarke | |
| Tara Clement (Thunder Captain) | |
| Hannah Crabtree | |
| Nicole Cutler | |
| Hayley Dawson | |
| Maka Daysh | |
| Aliyah Dunn (Storm Captain) |   |
| Gemma Etheredge | |
| Darci Finnigan | |
| Matangiroa Flavell | |
| Ella Fotu | |
| Libby Francis | |
| Fay Fualau-Searle | |
| Nicole Gleason | |
| Grace Gordon | |
| Hayley Gray | |
| Sarah Hamilton | |
| Savanna Handevidt | |
| Opal Hardy | |
| Jodi Hikuroa-Jeffrey | |
| Lauryn Hippolite (Wildcats Captain) | |
| Joellen How | |
| Anika Hyland | |
| Maia Jones | |
| Kat Jones | |
| Jazzmyne Kailahi-Fulu (Breeze Captain) | |
| Lucy Kean | |
| Ashleigh Kelman-Poto | |
| Zoe Kensington | |
| Millie Knight | |
| Awatea Leach (Blaze Captain) | |
| Paris Lokotui | |
| Beth Mackie | |
| Kayla Manuirirangi (Wizards Captain) | |
| Parris Mason | |
| Mariah McCarthy-Wilson | |
| Esra McGoldrick |   |
| Hannah Mischewski | |
| Hailey Moala | |
| Kaitlyn (KJ) Morrell | |
| Luye Murphy | |
| Shakani Murray | |
| Milomilo Nanai | |
| Teghan Ngatai | |
| Katelin Noyer | |
| Olivia O'Neill | |
| Rionne Papa | |
| Arielle Parai | |
| Kararaina Pene | |
| Audrey Po'e-Tofaeono | |
| Lisa Po'e-Tofaeono | |
| Sharne Pupuke-Robati | |
| Riana Rangi-Brown | |
| Jordan Rangitawa | |
| Zoe Richards | |
| Brittany Richards | |
| Nicole Ruske (Gold Rush Captain) | |
| Terai Sadler | |
| Rosalia Samia | |
| Chelseah Savage | |
| Renee Savaiinaea | |
| Breeje Schuler | |
| Grace Simi Vaofusi | |
| Millie Simpson | |
| Petra Sparks | |
| Josie Stockill | |
| Lauren Tewhata | |
| Emma Trolove | |
| Elianna Tuaiti | |
| Olivia Tuipulotu | |
| Natalie Visger | |
| Jelena Vucinic | |
| Sapphire Wairau | |
| Stirling Walker-Pitman |   |
| Amanda Wayment (Sparks Captain) | |
| Courtney Wilson |   |
Players Registered for 3X3 Men
| | |
| --- | --- |
| Joe Ahie |   |
| Tysxun Aiolupotea |   |
| Josh Aitcheson |   |
| Derek Albertsen |   |
| Samuel Aruwa |   |
| Quintin Bailey |   |
| Matthew Bardsley |   |
| John Barr |   |
| Everard Bartlett |   |
| Jayden Bezzant |   |
| Josh Book |   |
| Ben Bowie |   |
| Taylor Britt |   |
| Denhym Brooke (Bulls Captain) |   |
| Walter Brown |   |
| Jarred Burnett  |   |
| Ben Carlile-Smith |   |
| Jayden Chan |   |
| Reef Churches |   |
| Joel Coffey |   |
| Connor Coll |   |
| Dante Collier |   |
| Benjamin Constable |   |
| Tukaha Cooper |   |
| Tom Cowie |   |
|   |   |
| Max Darling (Rams Captain) |   |
| Carlin Davison |   |
| Dylan de Bres |   |
| Junior De Young |   |
| Sam Dempster (Giants Captain) |   |
| Zac Easthope |   |
| Jacob Errey |   |
| Jack Exeter |   |
| Amosa Faitaua |   |
| Rory Fannon |   |
| Tommy Fergusson |   |
| Reuben Fitzgerald |   |
| Tafara Gapare |   |
| Jaylen Gerrand |   |
| Matt Graham |   |
| Anamat Haku |   |
| Ben Hall |   |
| Zach Hannen |   |
| Lis Haraqia |   |
| Hyrum Harris |   |
| Rhys- Heem Tupe |   |
| Johnny Helu (Sharks Captain) |   |
| Jack Henry |   |
| Tyler Herbert |   |
| Matangirei Hipango  |   |
| Jordan Hunt |   |
| Theo Hurdley |   |
| Brayden Inger |   |
| Tom Ingham |   |
| Braydon Iuli |   |
| Anthony Jones |   |
| Michael Karena (United Captain) |   |
| Dominique Kelman-Poto |   |
| Pita King |   |
| Darcy Knox |   |
| Mark Komene Stowers |   |
| Simon Lafaele |   |
| Ryan Laumatia |   |
| Tanae Lavery |   |
| Petelo Leaupepe |   |
| Joshua Leger |   |
| Kainoa Lepou |   |
| Dru-Leo Leusogi-Ape |   |
| Te Tuhikiterangi Lewis |   |
| Emmanuel Maagdenberg |   |
| Patrick Maagdenberg |   |
| Jerami Macdonald |   |
| Steph Mak |   |
| Tyler March |   |
| Akira Marsters |   |
| Corban Mason |   |
| Tinashe Matambanadzo |   |
| Tre Mauriohooho |   |
| Nikau McCullough |   |
| Chris McIntosh (Huskies Captain) |   |
| Jake McKinlay |   |
| Tyrone McLennan |   |
| Alex McNaught |   |
| Ashton McQueen |   |
| Liam McRae |   |
| Matt Mischewski |   |
| Rangimarie Mita |   |
| Ethan Mitchell |   |
| Pafe Momoisea |   |
| Kalib Mullins |   |
| Francis Mulvihill |   |
| Bradley Murray-Macgregor |   |
| Joshua Nickel |   |
| Karl Noyer |   |
| Joseph Nunag |   |
| Kalani Ohlson-O'Callaghan |   |
| Kody Paurini |   |
| Zavier Pearn |   |
| Brody Perry |   |
| Corey Perry |   |
| Dorian Preece |   |
| Derone Raukawa |   |
| Anzac Rissetto |   |
| Richie Rodger (Nuggets Captain) |   |
| Klay Rouse |   |
| Ethan Rusbatch (Hawks Captain) |   |
| Will Sykes |   |
| Danyon Tana |   |
| Scott Telfer |   |
| Dylan Thompson |   |
| Jett Thompson |   |
| Nic Trathen |   |
| Kenneth Tuffin (Saints Captain) |   |
| Joshua Tutagalevao |   |
| Meka Udesike |   |
| Haize Walker |   |
| Taine Wattie |   |
| Dylan Wilkie |   |
| Connor Woodbridge |   |
| Michael Woodbridge |   |
| Tautoko Wynyard |   |
| Tai Wynyard (Airs Captain) |   |
| Alex Yang |   |