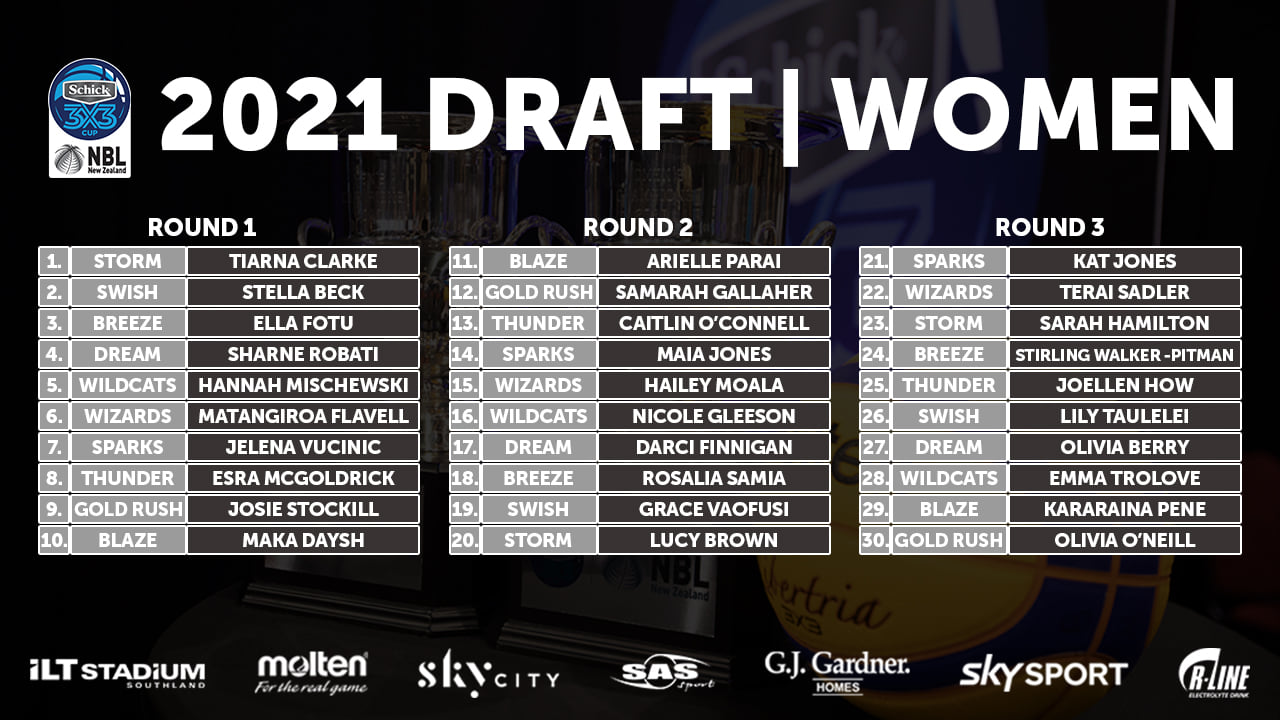 Posted on Thursday, September 2nd, 2021
3X3 Teams Decided – Who Did Your Captain Draft?
The NBL's first ever Schick 3X3 Cup draft was an instant success with more than 10,000 viewers tuning in to witness a total of 61 players being drafted to 20 teams across New Zealand.
The Nelson Giants (men) and Southland Storm (women) had the number one picks in each draft. Here's how your team fared.
NBL 3X3 Women
Southland Storm
Aliyah Dunn (captain)
Tiarna Clarke
Lucy Brown
Sarah Hamilton
Capital Swish
Jacinta Beckley (captain)
Stella Beck
Grace Vaofusi
Lilly Taulelei
Harbour Breeze
Jazz Kailahi-Fulu (captain)
Ella Fotu
Rosie Samia
Stirling Walker-Pitman
Auckland Dream
Casyn Buchman (captain)
Sharne Robati
Darci Finnigan
Olivia Berry
Canterbury Wildcats
Lauryn Hippolite (captain)
Hannah Mischewski
Nicole Gleason
Emma Trolove
Waikato Wizards
Kayla Manuirirangi (captain)
Matangiroa Flavell
Hailey Moala
Terai Sadler
Nelson Sparks
Amanda Wayment (captain)
Jelena Vucinic
Maia Jones
Kat Jones
Taranaki Thunder
Tara Clement (captain)
Esra McGoldrick
Caitlin O'Connell
Joellen How
Otago Gold Rush
Nicole Ruske (captain)
Josie Stockill
Samarah Gallaher
Olivia O'Neill
Bay Of Plenty Blaze
Awatea Leach (captain)
Maka Daysh
Arielle Parai
Kararaina Pene
NBL 3X3 Men
 Nelson Giants
Sam Dempster (captain)
Tom Ingham
Alex McNaught
Tyler Marsh
Northland United
Hyrum Harris (captain)
Sam Aruwa
Tu Kaha Cooper
Haize Walker
Hawke's Bay Hawks
Ethan Rusbatch (captain)
Derone Raukawa
Marcel Jones
Everard Bartlett
Otago Nuggets
Richie Rodger (captain)
Jordan Hunt
Pafe Momoisea
Nikau McCullough
Auckland Huskies
Chris McIntosh (captain)
Dom Kelman-Poto
Derek Albertsen
Zac Easthope
Franklin Bulls
Denhym Brooke (captain)
Jayden Bezzant
Quintin Bailey
Brayden Iuli
Wellington Saints
Kenneth Tuffin (captain)
Tafara Gapare
Jake McKinley
Marni Mita
Canterbury Rams
Max Darling (captain)
Taylor Britt
Josh Book
Sam Smith
Southland Sharks
Johnny Helu (captain)
Nic Trathen
Josh Leger
Tom Cowie
Taranaki Airs
Tai Wynyard (captain)
Carlin Davison
Josh Aitcheson
Dru-Leo Leusogi-Ape