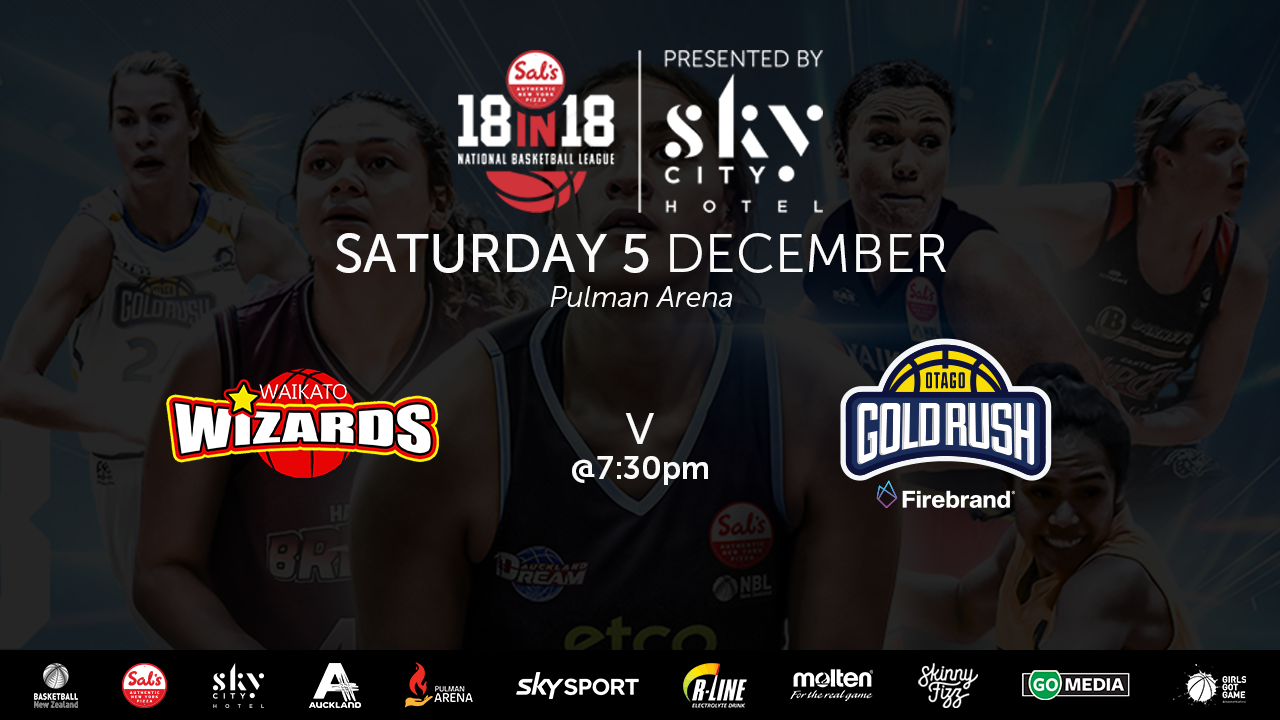 Posted on Saturday, December 5th, 2020
18IN18 Preview – Semi Final 2 – Wizards vs Gold Rush
It's time for the second of the Sal's NBL 18IN18 Semi Finals and one thing the Waikato Wizards and Firebrand Otago Gold Rush won't be thinking about right now is the Platinum Homes Harbour Breeze and Sunday's Grand Final - one step at a time and this clash promises to be fierce and require full attention.
Both teams finished the regular season with a 3-2 record. The Wizards played Gold Rush back on night 6 with the Waikato-based team grabbing a 63-55 win, which signaled a second straight loss for the Gold Rush to start their season.
Since that time the Gold Rush have won three straight games and seemingly have looked to have improved with every outing.
In their night 6 match-up the Wizards had four players score in double digits (Flavell, Manuirirangi, McGoldrick, Hirawani) while the Gold Rush had just the one player do the same (Richards).
On the upside, the Gold Rush won the rebound count 51-35 with Wizards rebounding force Maka Daysh limited to just six boards. That's a stat the Gold Rush would love to perfect again.
Lisa Wallbutton looms as a key factor for the Gold Rush, the experienced veteran continues to keep everything balanced and calm for the Gold Rush. Similarly, Kayla Manuirirangi will be asked to do the same for the Wizards.
Statistically, on a head-to-head basis not much separates the teams. though the respective efforts in shooting beyond the arc is a concerning difference.
Points Per Game
Wizards 65pts / Gold Rush 61pts
Rebounds Per Game
Gold Rush 52.6 / Wizards 44
Assists Per Game
Gold Rush 14.2 / Wizards 11.8
Steals Per Game
Wizards 13.6 / Gold Rush 10.8
Field Goal Percentage
Wizards 36.4% / Gold Rush 34.2%
3pt Goal Percentage
Wizards 31% / Gold Rush 18.5%
THREE KEYS TO THE GAME
Zoe Richards vs Esra McGoldrick. It remains to be seen how much time these two young and versatile forwards spend matching up on each other, but it's the positive impact they make to their team that's the key here. Both players can be damaging at both ends of the floor, and both bring a certain level of confidence to their teammates. A win from this match-up might be a strong determining factor on which team wins the game.
Young stars Te Araroa Sopoaga and Alana Paewai just keep getting better every time they step on the court. Sopoaga is a starter for the Gold Rush and has just been named the League's Youth Player of the Year, such has her 18IN18 stint been, while Paewai is progressively being given more opportunity and it is to Waikato's benefit. Look for the two youngsters to play a key role in tonight's game.
Maka Daysh is another player getting better with every game. The physical centre is both powerful and very team-orientated. If Daysh dominates the boards (again) and constantly gives her team possession of the ball, it might be a telling factor in the result. It's also strongly advisable that the Gold Rush talk-up on screens because Daysh is a master at setting good screens to ensure her guards get open looks.   
WHAT: Sal's NBL 18IN18 Semi-Final 1
WHEN: Saturday December 5 at 7:30pm
WHERE: Pulman Arena, south Auckland
COST: Adults $10 | U18s Free