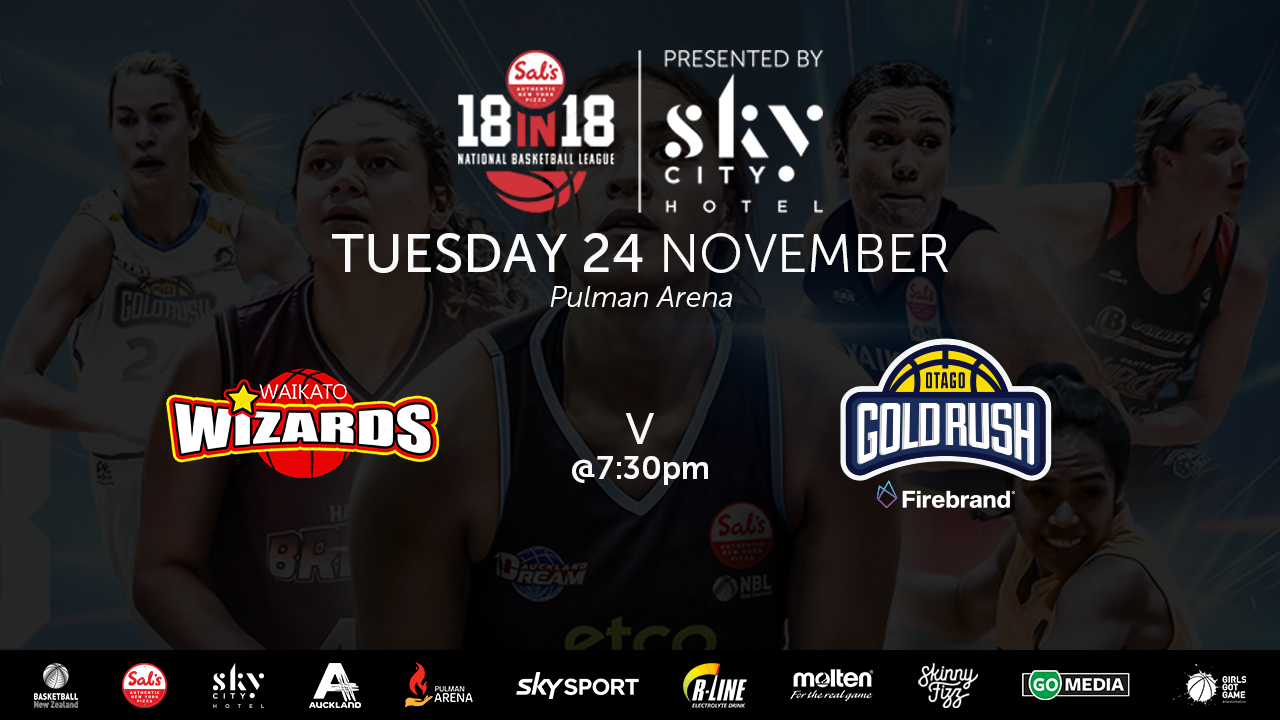 Posted on Tuesday, November 24th, 2020
18IN18 Preview – Night 6 – Wizards vs Gold Rush
It might only still be week one in the Sal's NBL 18IN18 season, but the pressure will go up a level tonight when the Waikato Wizards (0-1) take on the Firebrand Otago Gold Rush (0-1). 
As the days tick by the battle for a spot in the finals will heat up and after tonight one of these two teams will be feeling satisfied with a level 1-1 record, while the other will be a little concerned with a 0-2 result from their opening two games.
The Wizards lost on the opening night of the unique season in a thriller to the ETCO Auckland Dream. Though they had chances to win it, a long-range shot by Arielle Williams-Mackey in the dying seconds left the Wizards wondering what could have been.
Five nights on and the Wizards will have done an enormous amount of homework for this game, plus they got to see the Gold Rush in action last night. 
The Gold Rush came into last night's game against the Breeze with a plan, and it nearly worked, but wayward shooting put them on the back foot and bit them hard down the stretch when the Breeze edged clear.
Zoe Richards will need some help offensively tonight if the Gold Rush are to win.
Will we see a zone defensively from the Gold Rush again tonight? Will the Wizards have a zone offence ready to roll out?
This looms as the game that both teams will look back on as the one that either set them up or left them behind.
Game on!
THREE KEYS TO THE GAME
1. The Gold Rush came up with a game plan against the Breeze and if not for some wasteful shooting, they should have pulled off an upset win. With their first game now behind them, the Gold Rush have hopefully settled and we will see a better shooting performance (a 23% clip last night). They will need to drop shots if they are to win this game.
2. Both teams should be desperate for the win. They both come in at 0-1 and will want to even the ledger. It will be the 'one-percenters' that count the most in this contest - who is more prepared to dive, deflect and chase rebounds? Look for plenty of energy in this game.
3. The Wizards will be hoping the break (from opening night) has served them well. Unlike every other team, the Wizards have enjoyed some space in between their opening two games - meaning they have had time to reflect and dissect game one, and train towards getting the job done in game two. Expect to see a very well drilled Wizards team working to a game plan tonight.      
WHAT: Sal's NBL 18IN18
WHERE: Pulman Arena, south Auckland
WHEN: 7:30pm tip-off
COST: Adults $10 | U18s free
PARKING: Free
BROADCAST: Live on Sky Sport Select (Ch 50)