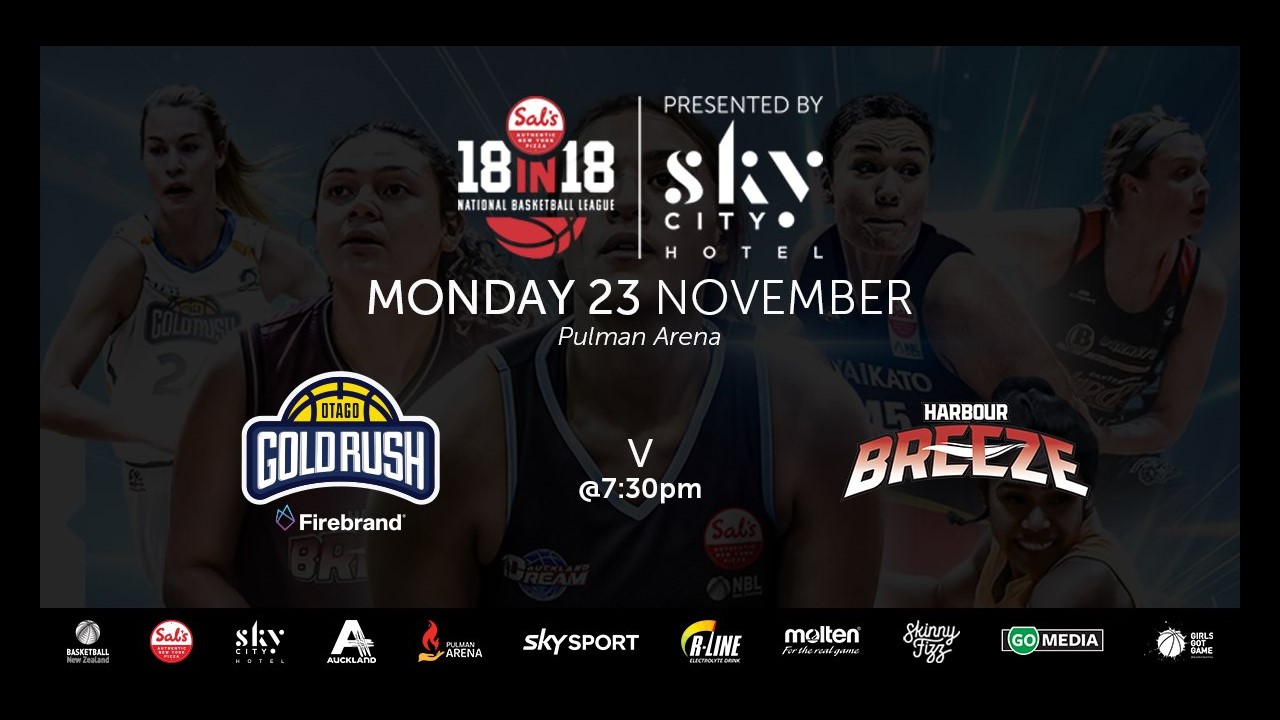 Posted on Monday, November 23rd, 2020
18IN18 Preview – Night 5 – Gold Rush vs Breeze
The Platinum Homes Harbour Breeze will take plenty of confidence into tonight's clash with the Firebrand Otago Gold Rush after a barnstorming win over the Kapura Capital Swish last night, 88-65.
Though the game was locked at 38-38 at half-time, a second-half blitz by the Breeze pushed them to victory with the likes of Brooke Blair (19 points), Ash Kelman-Poto (14 points), Ella Fotu (11 points) and  Keeley Tini (10 points) all finding their shooting touch.
The Breeze rotated well with all 10 players on court for between 13 and 26 minutes, a critical tactic given the need to back up 24 hours later against a fresh opponent.
The Gold Rush enters the Sal's NBL 18IN18 for the first time, and after what has been a long build-up they will be eager to get going.
A mix of youth and experience will serve the Gold Rush well, but they will need to settle quickly against the in-form Breeze. Maybe even look for some quick change-ups at the defensive end early in the game to keep the breeze guessing.
The team from the deep south must limit Harbour's running game. If the contest opens up, it could be a long night for the Gold Rush. 
The Breeze will start favourites, as they should given their big second-half against the Swish, but as we have already seen through the first four days of the season - anything can happen.
THREE KEYS TO THE GAME
1. The Gold Rush have to find a way to limit the scoring power of the Breeze, which is no easy task when you look at the depth of the Harbour team. A huge defensive mindset will be needed by the Gold Rush - closing the gaps and creating a bit of congestion might be a good way to go.
2. The Gold Rush will need to find a scorer, or two. Given what we saw from the Breeze last night, you would think they will put up 70-plus points in every game, so the Gold Rush will need to find a way to the basket if they hope to grab a win first up.
3. Run, run, run! The Breeze need to get out and run early, not wait until the second half. When they opened up the floor against the Swish and ran the lanes strongly, they powered away. If the Breeze run the floor from the opening tip, look out.
WHAT: Sal's NBL 18IN18
WHERE: Pulman Arena, south Auckland
WHEN: 7:30pm tip-off
COST: Adults $10 | U18s free
PARKING: Free
BROADCAST: Live on Sky Sport Select (Ch 50)