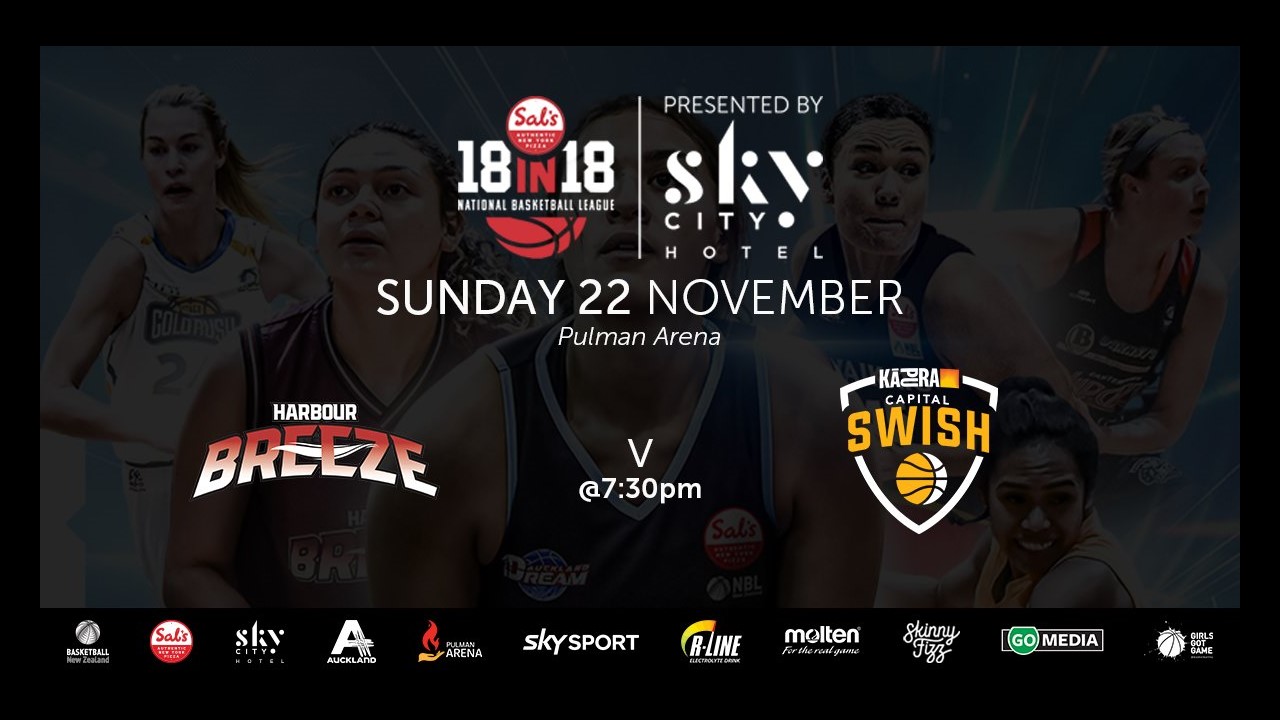 Posted on Sunday, November 22nd, 2020
18IN18 Preview – Night 4 – Breeze vs Swish
Touted as one of the teams to beat in the Sal's NBL 18IN18, tonight we get our first look at the Platinum Homes Harbour Breeze when they hit the Pulman Arena court for a clash with last night's winner, the KAPURA Capital Swish.
The Swish are on the road with just an 8-player roster, but it galvanized them last night as they mustered a solid 55-42 win against the Alloyfold Canterbury Wildcats.
Paris Lokotui (14 points, 13 rebounds), Letava Whippy (10 points, 9 rebounds, 3 assists, 4 steals) and Te Huinga Reo Selby-Rickett (8 points, 10 rebounds, 4 steals) were the stars for the Swish and will again be the players to look for tonight.
Excitingly, 15-year old Lilly Taulelei made her NBL debut playing 21 minutes and looks to be a rising star for the Swish, and New Zealand basketball.
The Breeze come in with a star-studded line-up featuring Sky Sport Tall Ferns Brooke Blair, Ella Fotu, Ash Kelman-Poto and Zara Jillings, making for a formidable roster that will see them start warm favourites.
THREE KEYS TO THE GAME
1. The Swish must find away to combat Harbour's size and experience. It will take a team effort and some exceptional defence.
2. Shooting has been factor in every game so far as players battle with finding form after such a long lay-off. Right now we are seeing a lot of sub-30 percent games on shooting, which will always make it hard to win games. As players settle and find their feet that shooting clip will rise. Land your shots and the wins will come!
3. While the Breeze will start warm favourites, they must respect what the Swish accomplished last night. The team from the capital had a long day of travel prior to last night's game, and only arrived with eight players, but they played with ferocity and delivered a tough win over the Wildcats. Respect must be shown and given!
WHAT: Sal's NBL 18IN18
WHERE: Pulman Arena, south Auckland
WHEN: 7:30pm tip-off
ENTRY: Adults $10 | U18s Free
PARKING: Free