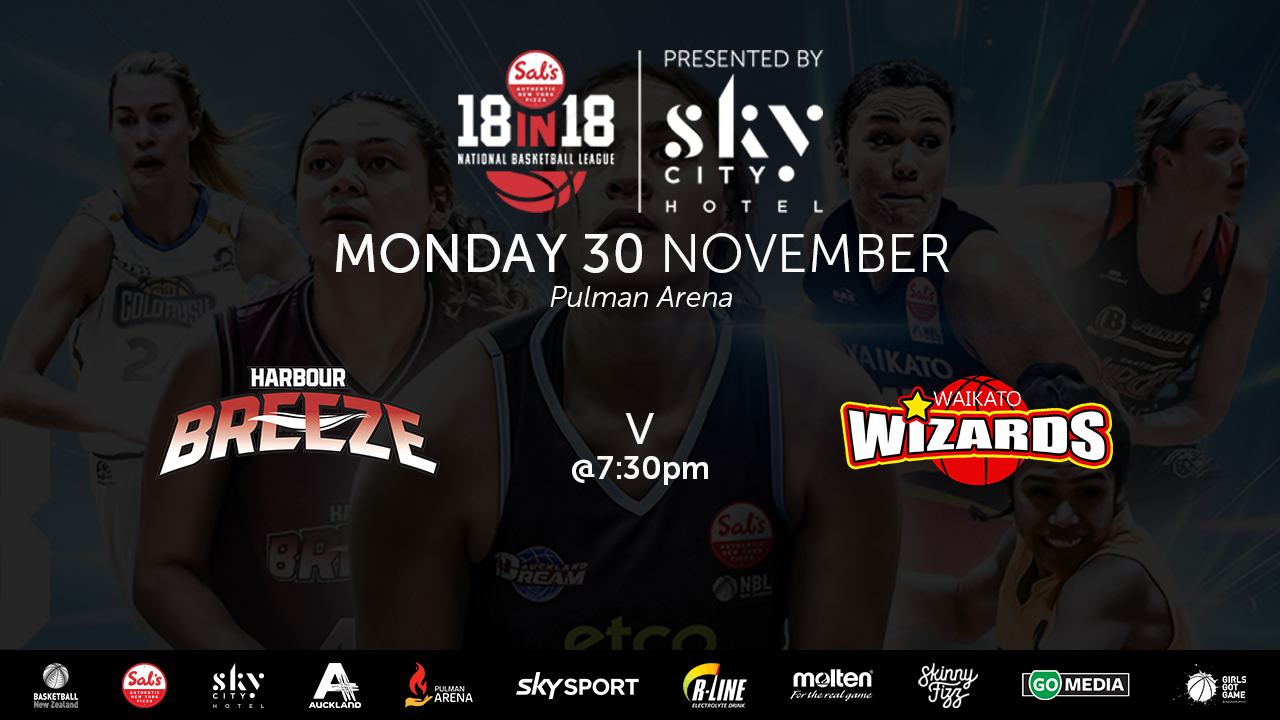 Posted on Monday, November 30th, 2020
18IN18 Preview – Game 12 – Breeze vs Wizards
The Platinum Homes Harbour Breeze (3-0) and Waikato Wizards (2-1) start what is going to be a tense few days as five teams remain in the battle for the Sal's NBL 18IN18 playoffs.
The Breeze have already cemented their spot in the semi-finals, but the Wizards seemingly need one more win, either here against the Breeze on on Wednesday night against the Swish. Neither game is a given, and in the case of the Swish they too will be hoping a win gives them a passage through to the finals.
While the Breeze have an unblemished record, coach Jody Cameron would agree that the edges are still a little rough and some work is needed, so expect nothing less than the best as the title favourites look to hit peak form this week.
The Wizards have had wins against the Gold Rush and Wildcats, plus a loss to the Dream. The average margin across those three games has been under 6pts.
If the Wizards can scoop a win tonight it would certainly make a few sit up and take notice on the eve of the finals.
To get that win the Wizards will need to shut down prolific scorer Brooke Blair, while they must at the very least match Ella Fotu and Ash Kelman-Poto on the boards. Esra McGoldrick and Maka Daysh will be vital in the height department, while Kaya Manuirirangi will probably get the job on Blair.
Look for 16-year old Alana Paewai to get more minutes as she continues to find her feet at this level.
The Breeze will start warm favourites, but it's all on the line now for the Wizards and a win tonight or on Wednesday is a must.
Key Breeze Players: Ashleigh Kelman-Poto, Brooke Blair, Ella Fotu.
Key Wizards Players: Esra McGoldrick, Kayla Manuirirangi, Maka Daysh.
THREE KEYS TO THE GAME
1. The rebounding battle will be crucial. Kelman-Poto and Fotu are two of the best board bangers in the league, so Daysh and McGoldrick need to at least square the ledger here.
2. The Wizards must limit Brooke Blair's scoring. Blair continues to look a step above everyone at the offensive end and if she is left to do her thing the Breeze will get the win. The Wizards must keep her under control.
3. Esra McGoldrick is starting to look comfortable with her new team and has the ability to do it at both ends of the floor. The Wizards have to let their young forward loose tonight, play her big minutes and hope that she proves to be a tough match-up for the Breeze.
WHAT: Sal's NBL 18IN18
WHERE: Pulman Arena, south Auckland
WHEN: 7:30pm tip-off
COST: Adults $10 | U18s free
PARKING: Free
BROADCAST: Live on Sky Sport Select (Ch50)